Fifth home
Ryan Breymaier (USA) and Boris Herrmann (GER) aboard Neutrogena crossed the finish line of the Barcelona World Race at 1513 GMT to take fifth place on a perfect spring Sunday afternoon.
In Brittany, the epicentre of solo and short handed ocean racing which is their adopted home area, they had only moved in similar circles but had never even met before they were brought together only last year, united to pursue a dream they both shared. Their first meeting, like a bizarre blind date, was over dinner in Concarneau's Verriere bar, 30 minutes from where Herrmann lived.
Today the pre-race poster boys not only fulfil that dream in a placing which achieves their pre-race target, but the execution of their entire 25,200-mile course has earned them widespread and considerable acclaim for a maturity which belies the fact that this Barcelona World Race is their first IMOCA Open 60 ocean race together. They did not let crucial damage to a hydraulic ram keel control affect their philosophy, even though it knocked 20-25% off their maximum performance since before Cape Horn.
Docked in the late afternoon sunshine at the foot of the iconic Columbus monument before a large international crowd Ryan Breymaier said: "The goal of this was to get around the world non-stop, especially this being our first time, and not being the newest boat in the fleet, the goal was never that we were going to win, we were just out to do the best that we possibly could, and make our sponsors proud, to make our friends and family proud, and that is the overriding thing: to have done this race to the highest level we were capable of doing it at, not to have left anything on the field of battle, so to speak. And to just know that when we stand here in Barcelona that we did the best we could, that everyone else who knows us knew that we did the best we could. We have never given up, yes it is difficult, we started going upwind for 19 days, from the Equator and when you are missing the last 25% of your keel, it is like having a 50 foot boat against a 60 foot boat. We just did the best we could. That is the only philosophy you can have: 1: make sure you finish, 2 do the best that you can."
Only the third team to finish this edition of the race without stopping, Herrmann becomes the first German sailor ever to complete a non-stop racing circumnavigation and to finish an IMOCA Open 60 race, while Breymaier – a late adopter to sailing who only started sailing seriously at college in 1993 – is the first American to finish the Barcelona World Race.
Among the highlights of a race which they often made look effortless has been close boat-for-boat duels. First with the event's most experienced duo Dominique Wavre and Michèle Paret on Mirabaud, who they tussled with from the descent of the South Atlantic to the threshold of the Pacific, when Neutrogena finally eased away from the Swiss-French couple, and then a match race up the Atlantic with Estrella Damm which only finally escaped just north of the Cape Verde Islands to earn fourth place, finishing yesterday morning.
Herrmann: "For me, remembering especially the very long match race in the Indian ocean with Mirabaud remains the essence of this race for us. Every update the distances changed a bit for either them or us, I remember one moment when we could just see them, maybe four miles away. Both boats with very reduced sails, going very fast in rough seas. And we said, 'Okay, now we've caught them we can take a reef and we would still be faster.' We were then taking a reef and still doing 33 knots, the fastest moment of the race was just then.
"The next position report they had run away 10 miles, that was a very intense time of the race."
To the west of Cape Horn, some days after Breymaier revealed that they had leaked oil from a keel ram, their pace slowed slightly but it was only when they passed Cape Horn, speaking by video simultaneously to Race HQ and to their team in Concarneau, Brittany, that Herrmann confirmed that they had a damaged keel ram which would progressively compromise their performance. In the end that was a major contributing factor when Estrella Damm finally broke away to set up a fast reaching return to Gibraltar, while Neutrogena was left slogging upwind, close to the rhumb line.
Their repair skills were tested rebuilding the autopilot hydraulics, the hydrogenerators, a costly 90 minutes odyssey to the lee of Isla Nueva at the entrance to the Beagle Channel to fix a Solent headstay fitting which cost them miles, and a major repair to a water ballast pipe.
One of their most memorable moments for sure will be when a key sail tumbled off the deck when they broached. Their rapid, seemingly forlorn search, in the tumultuous waters was suddenly successful when they spotted a number of albatross resting on the semi-waterlogged, bagged sail.
It is the German co-skipper's second round-the-world race, after winning the two handed Portimao Global Ocean Race in 2009, which is a with-stops race in 40-foot Class 40's.
Despite having no past history as a partnership before their preparation started with the 2004-launched Marc Lombard-designed IMOCA Open 60 – which was previously the Route du Rhum winning, (and second in the Vendée Globe until losing its keel) Veolia of Roland Jourdain - Herrmann and Breymaier have gelled as a very strong team which took early cognisance of their respective strengths, weaknesses and different characters. Herrmann lived with Breymaier and his wife Nicola in the lead-in months.
Their complementary skills have been the bedrock of their success, but the duo have also developed a strong rapport, a working relationship which has taken account of their different strengths. Breymaier knows every centimetre of the boat and rig, while Herrmann, a former 49er and 505 high performance dinghy racer who graduated through the Mini Class to the Class 40, brought the circumnavigation experience. Both proved, from Day 1, that they had the skills to sail the boat consistently fast.
Breymaier, who moved to Europe six years ago to pursue his dream, worked as a preparateur and rig specialist with Jourdain's team. In fact in 2007 he prepared the red IMOCA Open 60 for the French skipper's attack with Jean Luc Nélias on the first Barcelona World Race, as well subsequently for the Vendée Globe in 2008-9.
Ironically this will be the boat's first fully completed circumnavigation after retirements from two successive solo Vendée Globe races. The pair completed the theoretical course of 25,200 miles at an average of 10.49 knots, actually sailing 27,850 miles at an average speed of 11.59 knots, arriving 6 days, 4 hours, 53 minutes and 25 seconds after race winners Virbac-Paprec 3.
Their race has been underpinned by rock solid consistency, very strong, assured weather strategies in each ocean – they will be one of the few teams who will be almost entirely happy with their weather choices – and a youthful endurance which allowed them to hold pace, or be faster, than many newer generation boats. Even so theirs has been a big learning curve, the fruits of which Herrmann hopes to take forwards to the solo Vendée Globe.
Ryan Breymaier and Boris Herrmann crossed the finish line to complete their Barcelona World Race at 15:13:25hrs GMT on Sunday April 10th in fifth place. Their elapsed time for the course was 100 days, 3 hours, 13 minutes and 25 seconds, an average speed for the course of 10.49kts for the 25,200 miles theoretical course. They sailed an actual course of 27,850 miles, at an average 11.59 knots.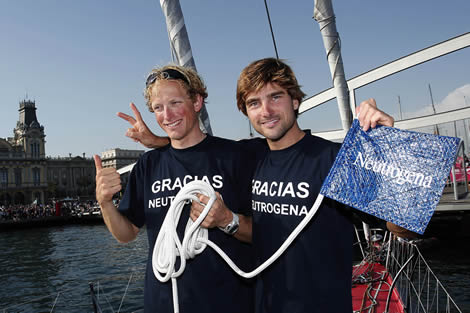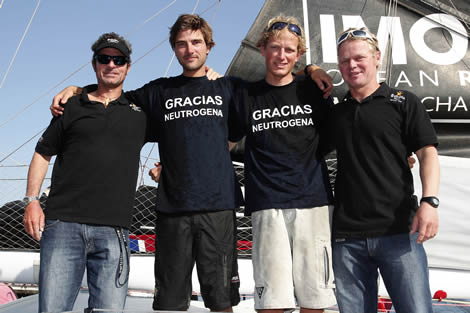 The Race of Neutrogena
• 3 January Mid-fleet through Med, then briefly to third as they head south to Morocco. But..
• 4 January Struggle to get out of Gibraltar Straits. Finally exit in 5th, alongside GAES.
Boris Herrmann 4 January: "It's been the worst of our lives! We have this challenge in the Gibraltar Straits with incoming current and trying to sail against it with not enough wind, so we can make some metres sideways but it is impossible to get against the current. In fact in 24 hours we have not moved no metres west. It's frustrating, disappointing. It is tough. We still make the odd joke, but at the moment if there is no wind coming we could stay here forever and that's frightening."
On expectations at the outset:
Ryan Breymaier 6 January: "In summary our first week, the beginning of the week was great, the middle absolutely terrible and now we are just pushing as hard as we can to try and stay ahead of the three boats who are just behind us.
"I would say that as far as our expectations go we are capable of doing well. We did well in the Mediterranean and now we are sort of where we expected to be in general."
Ryan Breymaier 8 January: "We try to be pushing at 110 % all the time. We make sure we have the biggest sails we can have up all the time, always have someone on deck all the time and pushing. […] once we get to reaching conditions we can relax a little. But when you are alongside another boat next to you its impossible not to push. We are definitely happiest pushing.

"I think Bilou's Vendée Globe proved the boat is pretty competitive against the newer boats and we never lay back and wait. It is a testament to the original design and the work we have done to the boat."
• 8 January Pass Canaries in eighth. Up to 6th/7th for much of Atlantic.
• 22 January On the battle with Renault Z.E.:(Renault Z.E. and Neutrogena closely matched after fleet regroups in south Atlantic, with just 0.1 of a knot splitting the pair over the past 24 hours.)
Boris Herrmann 22 January: "Every position update we try to get in front of them. It's not easy, they have this Farr-designed boat which works well in these conditions and we have to be really perfectly trimmed to keep up with their speed or to be a little bit faster."
• 28 January Renault have got away, Neutrogena chasing Mirabaud – approx 70 miles behind going into 1st ice gate for battle that will last across the Southen Ocean.
On the partnership:
Ryan Breymaier 2 February: "We sail together well as a team and living together on the boat is quite easy. We take our turns with pretty much everything and it is going quite well.
"When we are not doing well I have a tendency to get very, very frustrated and that creates a shitty atmosphere on board and we are working on that a bit. I have a tendency to get overly worked up about things. I try myself harder to keep myself calm and that helps a lot for sure."
Recovering sail from it going overboard:
Boris Herrmann 5 February: "The boat wiped out and in this whole episode we lost one sail over the side. We were sailing with the small kite and one reef in the main and so it takes quite a while to take sock the kite.
Once we had done that we looked at each other and said do we really do this because we had at least one and a half miles to go back and it was big waves, and gusts and everything. We did not expect to find it, so we said 'lets try' and we turned and on the trace on the navigation programme we could find the point where we wiped out, we went to the position with a couple of tacks, going upwind with very small sails.
From there we went downwind very slowly. And all of a sudden I could see a few albatross and they were sitting on our sails.
I think we have something going on with the albatross. Each time we make a stupid mistake it seems like there is one near the boat.
First of all it was quite stressful but in fact finding the sail and then managing to get it back on deck in these big waves was a miracle."
On a consistent, regular battle with Dominique Wavre and Michèle Paret on Mirabaud which ran from Jan 23rd when they were 1.5 miles through the Indian Ocean together, compressing and expanding, until Neutrogena gets ahead on 17th February, south of Australia, with just 500 miles of the Indian Ocean left.
Ryan Breymaier 13 February: "It is a good game. This little rubber band effect happens when there is a difference in breeze. They get ahead or we catch up, we are not sure if Dominique has the magic touch and just gets away into the breeze or we just make little errors.It is nice to have a boat to sail against.
"We have had of communication by e-mail, it is subtle, it is like Dom needs to shave and is snoring right now, and we say 'yes Boris is snoring right now as well'.
"It keeps me motivated for sure, but my mood changes from day to day for sure, based in whether we are 100 miles away from them or 30 miles away I am a completely different person."
• 17 February Neutrogena pass Mirabaud to move into 6th, just south of Hobart.
Boris Herrmann, 17 February: "[The battle with Mirabaud] is very motivating for us and for them. They wrote us in an email saying they are enjoying this duel as much as we are. It pushes us - every position report we look first at their speed, their positioning, and that really keeps every going at every moment. Rather than putting negative pressure on us it's very motivating, and it's fun.
"We have been ahead of them for a very short moment 10 days now and we're coming closer every position report for two days, and finally passing them right now is a great moment, we're very happy."
• 21 February Neutrogena exits Wellington in fourth, ahead of stopped Estrella Damm and Groupe Bel. Chase Renault hard across the Pacific but can't get ahead.
On hydrogenerator repairs, Ryan Breymaier 28 February: "They are prototypes and require constant massaging. The other night I went outside because it did not seem like it was producing as much charge as it should, and I found half of it out of the water, parts ripped out of it, so I spent another day glue-ing it back together, and we have put it back on and it is working perfectly."
"It is nice to be able to fix things, it is a shame to have to do it so frequently.Most of the boat is in perfect shape still, just these prototypes (hydrogenerators) which we put on just before the start are not doing so well.
"I still am not so good with the electronics and electrics stuff, I leave that up to Boris and even down to I don't really understand exactly how the hydrogenerator itself works feeding the electrical system, but I am capable of putting them back together."
Hydraulics issues, Ryan Breymaier 5 March: " We had a little bit of leaking in the hydraulic system which is now fixed. That was the primary thing and that made it hard to sail at full potential for a while. We have not been able to use the big sails for a while because of it.
"It is a really crap feeling to know that you are slow compared to the other boats, so we just worked as fast as we could to get things sorted out. It is just terrible, every minute that you know that you are losing time to other boats is a real shame, and that is the position we found ourselves in unfortunately."
Knockdown approaching Cape Horn: Boris Herrmann 7 March: "It is very windy, we are going fast. Yesterday we had up to 62 knots and four knockdowns. I would say we had an average of 40 knots yesterday, and that one gust of 62 knots which lasted about a minute but that was enough to throw us on our side and it was a little bit of a shake up."
• 8 March pass Cape Horn at 1130 GMT, almost in tandem with the French solo Jules Verne Record challenger Thomas Coville, alone on his maxi trimaran Sodebo. The Neutrogena duo and Coville exchange messages and film each other, the red tri passing less than 50 metres from Neutrogena.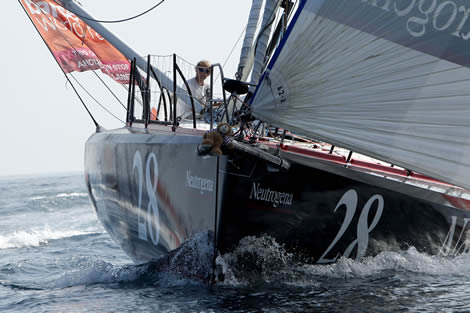 But on a live video link joining Neutrogena with Roland Jourdain, principal of Team Kairos in Concarneau, and their team members, and the Barcelona Race HQ studio, Breymaier revealed the keel ram damage which was to compromise their performance all the way up the Atlantic and to the finish: "We have a problem with the rams on the keel. In the ram we have a problem with the joints inside one of them. So we can only use one and so it is hard to be at 100% all the time. We need to reduce the angle of the keel and so are about 70% of possibility to protect the boat a bit. The last four for five days we have worked hard with the keel and for the moment it is the best possible state. And so we intend to look after it very carefully to make sure we can finish the race."
• 9 March Then immediately after the pleasure of passing Cape Horn they needed to make a repair to the Solent headstay required a short detour to lee of island Nueva at entrance to Beagle Channel. This loses them valuable miles to Estrella Damm.
• 12 March Mirabaud dismasted. Estrella Damm briefly overtake Neutrogena but soon drop back to a close fifth. From there the duo trade miles and are close until north of latitude of Cabo Verde when Estrella Damm and Renault Z.E can foot away on a northerly routing, breaching the Azores high to gain favourable reaching conditions, but with unable to fully cant their keel, Ryan and Boris have to stick with their high mode, maximizing VMG close to the rhumb line.
• 16 March Fast pace past South America, Breymaier: "Right now to be honest I am not sure what is making the difference, the hull form is quite OK when you have this rolling swell, it is just when it gets super flat that we suffer. Other than that we have a very, very low drag nice keel, a huge sail plan which helps right now, we are only sailing with genoa and main we don't have a gennaker up, and the boat is sailing at a very high percentage of its polars, it is easily driven, under water all the appendages are low drag and we just can take advantage of having a nice sailplan."
• 18 March - beginning to lose out because of keel. Estrella Damm overtake to take fourth, but Neutrogena yet again regains the place.
Boris Herrmann: "This might be the last position report showing us ahead of Estrella Damm and we definitely have been a bit handicapped with the keel we can't cant fully, also we had lighter breeze I think because their speed since yesterday."
• 20 March Estrella Damm overtake once again and this time hold the advantage, albeit with just a handful of miles in it.
Looking to the finish, Ryan Breymaier 21 March: "My thoughts are always the same: Get there as fast as possible, get there as fast as possible, get there as fast as possible! It never changes!"
Doldrums: In fact the Doldrums were one of their low points, Herrmann in particular suffering with fatigue and extreme heat.
Ryan Breymaier, 24 March: "The Doldrums are going very well thus far, knock on wood. We have between 5 and 10 knots out of the breeze and it's not stopped yet, so hopefully that continues.
"In these lighter conditions we're not as compromised as we will be later on when there's more wind and waves, so we're pretty happy to be keeping up now and are differently worried about what's going to happen when we get into the stronger upwind trade wind conditions a little later on
• Post Doldrums long beat to finish, Neutrogena suffers with keel, Boris Herrmann 27 March: "It is just a bit nuts for us just now because we feel like if we had the full potential of our keel then it would be a totally different game, for us it is like driving a car with only four out of five gears. We can't switch into fifth gear and get the last bit of speed. We reckon that it is almost a knot that we are missing, so it is a good thing for them. They seem to be able to sail away from us with no trouble."
• 7 April Pass Gibraltar
• 10 April Arrive in Barcelona after 100 days, 3 hours, 13 minutes and 25 seconds of racing.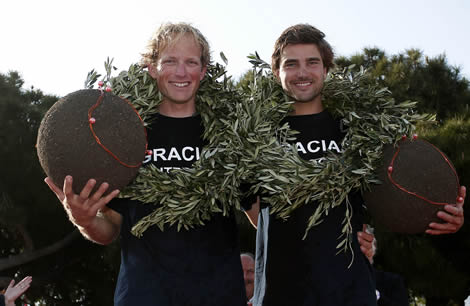 On their arrival...

How they made ground in the trades going down the Atlantic: Ryan: "Over the course we had a very good idea of exactly what conditions would favour this boat, and the main conditions that favour us are big waves and a lot of breeze downwind. Knowing that and knowing that the trades were particularly strong, we kept the big kite up and drove the boat by hand for four days. And that's more or less how we managed to keep up with or get ahead of some of those boats that had passed us or had gotten away from us a bit.
"It's pretty exhausting work though, at the best of times people are normally driving boats for an hour or two at a stretch, but to do it for four days straight off and on is not very easy to do, but that's the size of it - capitalizing on the times when we could go fast."
Then after that, it became a series of match races with Renault and Mirabaud, what did that add?
Boris: "For me, remembering especially the very long match race in the Indian ocean with Mirabaud remains the essence of this race for us. Every update the distances changed a bit for either them or us, I remember one moment when we could just see them, maybe four miles away. Both boats with very reduced sails, going very fast in rough seas. And we said, 'Ok, now we've caught them we can take a reef and we would still be faster.' We were then taking a reef and still doing 33 knots, the fastest moment of the race was just then.
"The next position report they had run away 10 miles, that was a very intense time of the race."
You had a Cape Horn meeting with Thomas Coville with Sodebo, was that a special moment?

Boris: "We knew there was probably going to be a meeting between us and Sodebo and Thomas Coville on his trimaran at Cape Horn. It was fascinating, we had a sunrise just behind Cape Horn, and see the silhouette of this mountain. And at the same moment just on the horizon behind us we see a little dot that catches up with us and we both go past Cape Horn at the same moment, just 20 minutes from each other. And then you see this guy, Thomas Coville, running on the trampoline to us, saying hello. And he's screaming with his arms in the air, you can really feel his energy and his power. I thought: that's the king of the sea, doing a fantastic job."
You had some negative moments – the keel breakage and when Estrella Damm passed you and there was no more battle than just getting home – how do you keep positive?
Ryan: "When we had our keel trouble our first thought was immediately: our race is over right now, and that was something that we were not really prepared for or were not really interested in! The fact that we were able to get it back to the point where it functions at 75 per cent or something like that is not a miracle but definitely very lucky.
"That gave us motivation just to keep going and see how we could do after that. The goal of this was to get around the world non-stop. Especially it being our first time and not being on the newest boat in the fleet, the goal was never that we were going to win, we just wanted to do as well as we possibly could and make our sponsors proud, make our friends and family proud. And that's the over-riding thing, do have done this race to the highest level that we were capable of doing it. Not to have left anything on the field of battle, so to speak, and just to make sure that when we got here to Barcelona that we knew we'd done the best we could and everyone else that knows us knew we did the best we could. We'd never given up, we'd never had just let things go.
"Yeah, it's difficult, especially when we started going upwind. We went upwind for, I don't know how long, 18 days or something from the Equator, and when you're missing the last 25 per cent of the keel it's like having a 50ft boat against a 60ft boat. But we just did the best we could. That's the only philosophy you can have in a race like this; 1, make sure you finish, 2, do the best you can."
Tell us about your relationship, what were the most testing times for you?
Boris: "That's not so easy to answer. As you say, we are mates, we became good friends. There's an old saying that if you sail with someone on a boat, you either become good friends or you never want to see each other. Of course in 100 days there are days which are more tough or more tension, it's just normal, and some really good days when you have fun together and we had a lot of fun together.
"I don't know if we'll have the opportunity to sail together again, but I would say if it's possible I would look forward to it." [Ryan nods]
Ryan, you've just gone around the world non-stop in 100 days, how does it feel?
Ryan: "Well, other than the day I met my wife this has been the biggest day of my life thus far. I have to say that 100 days is an awfully long time. The only other thing I think in normal human experience that takes longer than sailing around the world is a woman being pregnant, and that's three times longer so I can imagine most women have a better idea of long drawn out things!
"But it's been a very interesting experience. I think that I've learnt a lot about myself. Going back to the question of how we've got along, I've definitely learnt about myself in so far as how I deal with Boris in this small situation, and I think that's very valuable. And just the way I've had plenty of time to think about life and think about other things. It's a competition but it's also an experience in other ways. It's been super-valuable for me I think in terms of my personal growth. If it wasn't such a pain in the ass I'd recommend it to everyone!"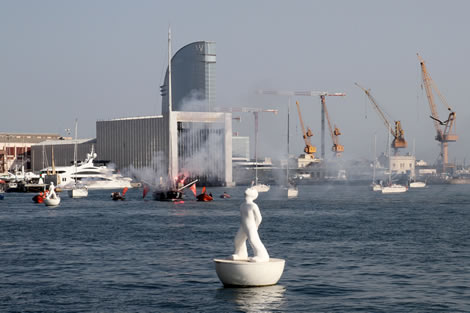 Back to top
Back to top