89 (slow) miles to go
Sunday April 3rd 2011, Author:
James Boyd
, Location: none selected
Just as tomorrow morning should be just part of the reward for a job well done, so their last night at sea together will be one to savour and reflect for Virbac Paprec 3's Jean-Pierre Dick and Loïck Peyron.
In terms of the total course distance, 25,200 miles and their 93 days since leaving Barcelona, the final 89 miles which the French duo had to still complete at 1400 GMT is but the blink of an eye, but Dick and Peyron will enjoy a serene final night at sea anticipating the huge release the finish line will bring and the frenzy which inevitably follows.
Niçoise skipper Dick has a better idea of what awaits having enjoyed the warm welcome from the Catalan capital which he received in February 2008 when he won the first edition of the race with Damian Foxall, but for Peyron – despite dozens of accolades and honours offshore and inshore – it will be his first round-the-world triumph in an ocean racing career spanning more than 30 years.
He claimed today that one of his plans for the final 24 hours was to sleep as much as he can, while Dick – who has admitted in the past that he is something of a hard driving perfectionist who struggles to ease off – looked much more relaxed today, knowing that their three month marathon is all but over with the main goal nearly completed.
"We are happy to be where we are this morning, Mapfre is a respectable distance behind and so I think we can say we have almost won. We can touch victory! At the moment we check every ten or fifteen minutes, and the ActiveEcho and the AIS are on, we are just looking to get through any final dangers which might be lurking for us. We hope our luck will hold.
"I will be happy to get finished in Barcelona, to see our family, our friends and sponsors, and of course to see my son who will be seven months old. I think we made only one mistake in Gibraltar at the start, but that all seems a long time ago, in the past. We have been thinking about or race, the stops and the successes, our little mistakes. But we have succeeded in being ahead almost since the start.
"Yesterday Loïck and I swam around the boat. We will probably have the same lack of wind this afternoon. It's like a fan ON or OFF! The bath yesterday around the boat made us both feel better. I am not quite as relaxed as it looks and so that helped. And I could see that the keel was OK and everything. And yesterday I gave a big hug to the boat, because its done a good job."
After a slow passage north of the Balearics this afternoon the duo are now expected to break the finish line at around breakfast time Monday morning.
For the rest of the fleet today, as much as any recently, the imminent first place arrival might be a catalyst for the realisation that the podium now has a certain solid shape, and opportunities for promotion and demotion through the rest of their race look quite low.
Boris Herrmann and Dee Caffari, speaking today did not acknowledge as much, but both were more focused on the release from recent long days of tedium and the routings which will get them finished quickest.
Herrmann even admitted that a complex seven hour rebuild and repair to their autopilot hydraulics had been a welcome distraction, and Caffari said she was looking forward to more trimming, sail changes and manoeuvres after days of upwind sailing.
But their die are cast and their respective achievements within reach: Caffari as the first woman to complete four circumnavigations while Corbella wil be the first Spanish female circumnavigator, similarly Herrmann and Breymaier have really stamped their mark on this race: with smart, fast sailing and maturity well beyond their racing years, to highlight their prospects for the future.
Caffari reported: "Today we have cracked sheets a little bit and then from tonight it gets even better and we start reaching and tomorrow we even point towards Gibraltar which is going to be really good for morale after this long stretch of going upwind.
We have been 15-20 knots of wind and we are on the wind but that starts to shift around more easterly and by that time we start to look more at turning the corner as we point towards Gibraltar, then it goes light for a patch and we should be reaching pretty much all the way to Madeira and then a little bit complex, a ridge to negotiate, before we get a northerly breeze which will hopefully take us into Gibraltar next weekend, but that it on the long term forecast and we cant get too excited on that.
"It is much better, a few days ago we thought we were going to be upwind all the way, we have watched Virbac-Paprec and Mapfre do that and we were not looking forward to it at all. We are really pleased not that we get a bit of an opportunity to get a bit of a straight line to Gibraltar, even if we have to go a little bit round a corner to get there.
"This last week has been quite monotonous and I have not really enjoyed it. It has been crashing to windward, very wet on deck and even though the sun is out, you cannot really enjoy it because everything is really salty. And we have not had to do anything. There have been no sail changes or anything, we have literally had the same thing day in, day out, so we have literally just eaten, slept, trimmed sails, and kept a lookout. It has been a bit Groundhog Day-ish and we are actually looking forwards to having some manoeuvres to do, some sail changes, to a bit more trimming, a bit more exciting than it has been.
"No, there has not been time yet for any Spanish lessons from Anna, but we have had some time to catch up on some films. Anna's English is getting even better and my Spanish is still non existent. We watched a few light hearted, low stress films, low brain power entertainment. The problem is that Anna's e-book is now destroyed, it is no longer working, and she was right in the middle of the Millennium trilogy, which was her books for the race. My e-book is still going but obviously she was a bit depressed and has taken on English films, and I have taken to reading my books. We have done everything with the fleet broadband, we have taken it apart, we have disconnected it. We have tried everything we can with no joy. The biggest issue is we have had no weather, the weather we have had to get through the Iridium. We are looking at very small weather files. We have not had the beauty of satellite pictures, or Quikscat. We were very lucky in the Doldrums."
While Neutrogena's Boris Herrmann added:" We don't have the cards in our hand to fight towards the two boats in front, and we got a mail this morning from Ryan's wife saying why don't you guys speed up a little bit, and I think from outside you can't see how the boat is compromised because the boat is slowed down because of the keel and we don't have a Solent, and so that affects our tactics as we go more upwind that normally. To crack off does not pay off for us as much at the moment. We have accepted this we enjoy our sailing these days especially because we make a course very close to the rhumb line, which is quite nice.
"Yesterday we spent the day sitting in the cockpit having a relaxed conversation about what we going to eat when arrive. Nicola, Ryan's wife, has said she will bring things out to the finish on a Zodiac, so our fantasy is very active, stimulated by the finish for Virbac-Paprec 3 and we imagine how it will be for ourselves, and we still trim a lot. With less stability we have to trim a bit more. If there a puff we have to ease the traveller straight away. We some pilot problems and so we spent about six or seven hours working on the pilots. The pilots which steer the boat have hydraulic rams. The electric motors on both rams failed for different reasons and so we had to take them apart and is very difficult to access them in the back of the boat. So we took the whole hydraulic system out and got the hydraulic oil out of it. We put the motors back together again and got the oil back in and the air out. It was a bit workshop activity. And we were happy to have it done, we knew what it was and could see the part working again. And even at the end of it, it was quite a welcome distraction. A day passes quickly with this project.
"My objective is to do the Vendée Globe with an existing boat, that takes away all of the creation of the machine and apparently Jean Pierre had a big history and background in this already, they did an amazing job with this team to create and IMOCA which has been so dominant over this race."
And for Renault Z.E Sailing Team, 340 miles from Gibraltar this evening and making a direct course, their third step on the podium is by a margin of 200 miles just now to Estrella Damm. In the Mediterranean – contrary to their lacklustre departure three months ago – Rivero and Piris are usually as accomplished and strong as any duo in the fleet.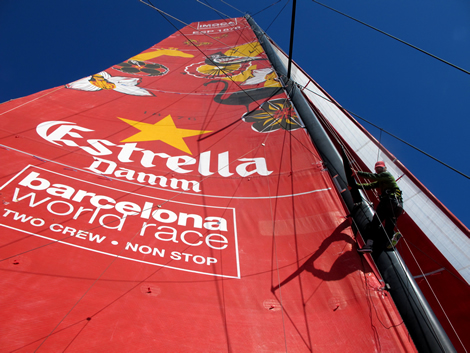 Back to top
Back to top