Close, but no cigar
Thursday March 31st 2011, Author:
James Boyd
, Location: none selected
After setting out on Saturday 29 January at 11:07:28 GMT on his attempt to break the solo round the world record, Thomas Coville and his 105ft maxi-trimaran Sodebo crossed the finish line off Ushant today, Thursday 31 March at 12:15 GMT) after 61 days, 7 minutes and 32 seconds at sea. This was 3 days, 10 hours, 43 minutes and 26 seconds longer than the time of 57 days 13 hours 34 minutes and seconds Francis Joyon managed aboard IDEC when he set the record in 2008.
Ironically now the numbers have been crunched Sodebo's latest lap may have taken longer but was actually carried out at a faster speed than Joyon's. Sodebo covered 28,431 miles at an average of 19.42 knots, or 2,031 miles more than that sailed by Joyon, who covered 26,400 miles at an average of 19.11 knots. This was because due to less favourable weather conditions, Coville wasn't able to follow as direct a route as the record holder.
Today on the water conditions were similar to when Sodebo departed two months ago, but the maxi-tri was kicking up plumbs of spray from her damaged starboard bow. On finishing, Coville spun his giant Irens-Cabaret design south for her homeport of La Trinité sur Mer, SW Brittany.
Pulling alongside at La Trinité Quai des pêcheurs, Coville commented: "When you see her here, you say to yourself that ultimately it's a simple feat: this boat which was my companion for 60 days. You transfer human qualities onto her, but when you're far away from land, she is your shelter, your survival, above all else."
A few minutes earlier, the skipper had raised his head, looking at the crowds along the quay. With tears in his eyes, he exchanged glances with the anonymous faces, who had come to listen to what the sailor had to say on his return from a two month solo circumnavigation of the globe. He accepted the ritual champagne, even though he admitted that "this is really something that is reserved for victories." The cork wouldn't budge and ended up being cut with a knife; the same knife the skipper had with him aboard at all times.
"This is for those who attempt things… in life you have to attempt things guys!" Coville proclaimed to those who had gathered at sunset to see him in.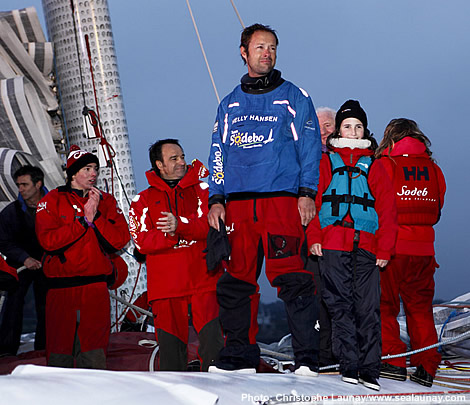 More photos from Christophe Launay below
He sprayed the support team and took a mouthful before giving the bottle to the members of his team.
"When we arrived off Ushant this morning, the timekeeper hadn't even seen me. It was me that gave him the final time," he began. "On arriving at Trého earlier (the channel into La Trinité), it was like an Etch-a-Sketch, you know, the kids' toy where you can do some doodling and then erase the whole lot with a sweep of the stylus! It suddenly takes you right back to scratch. Today, that Etch-a-Sketch is you! It's also my wife, my kids, this Sodebo family, this business with whom we've built this adventure. There's a major human element in all this. Even though I'm showing off in front of you, I'm a competitor at heart and this hurts".
Coville recounts his voyage to the assembled crowd and tells of the Saint Helena high and the moment when he considered returning home; the beat up towards Kerguelen, saying that "going there close-hauled is crazy", followed by his route south of the ice zone "my pride… even if those routes are there, you shouldn't take them."
In what is now a dark night, the scene is reminiscent of a comfortable living room where tales of the sea are told by the fireside. A voice asks, "and the moment where you buried all three bows at Ushant?!" "Ahhh, there, if you turn back at Ushant, you're certainly going to look like an idiot! But I also recall another moment of 'freestyling', where the boat reared up till she was completely bolt upright. I was standing on the winch pedestal and there, deep in the South Atlantic, if you turn back, you don't look like an idiot, you're just in a very awkward situation."
So, yes then, "you have to accept the law of Mother Nature as the Anglo-Saxons say. She didn't want to give me this record, but I'm here this evening so I reckon she's been kind to let me return. She didn't keep me."
After struggling to better 'the perfect course traced by Francis Joyon" for the third time, the skipper of Sodebo tonight paid homage to the sailor, who remains the fastest man around the world, singlehanded aboard a sailboat. "I haven't beaten the record set by a very great gentleman! A sportsman's main focus is to be an athlete, to respect your adversary and to respect this reference time, which was set by an exceptional man who goes by the name of Francis Joyon. I think that perhaps I am one of the only people to respect his true value because I've played with him and against time. This guy, who slogged it out for years to attempt this record, I saw him here in La Trinité. The exceptional guys are those who are in the right place at the right time, and this gentleman performed a perfect circumnavigation of the globe. This evening, I'd like to pass on my hearty congratulations to Francis Joyon."
Another voice shouts out "Next time Tom!" The sailor replies that "it would be arrogant to look at you here and tell you that I'll make another attempt at it. Today, it's such a commitment that I can't answer you now."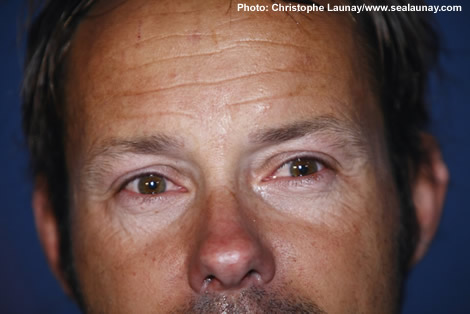 Joyon, a neighbour of Coville's just outside La Trinite, himself sent this message: "In a world where oil escaped from the sea bed for weeks on end offshore of New Orleans, a world where nuclear power stations are throwing out radioactive clouds and where seawater has been irradiated to the extent that it has damaged life for generations to come, Thomas Coville has proven, through his journey around the world under sail, that natural energies aren't lacking in strength. The fact that he hasn't beaten the round the world record isn't the most important thing. The key to this journey is that our circumnavigations of the globe, in crewed as well as solo configuration, have been more effective under sail than under power.
"Right now, no boat powered by an engine has managed to circumnavigate the globe as quickly as we do under sail, due to their weight and range associated with the massive amount of fuel required aboard.
"If our sail boats could influence the upcoming decisions about energy, which are both vital and urgent, they could help us understand that the only way forward is free of pollution, CO2 and radiation, using natural energies: the wind, the current and the sun...
Congratulations to Thomas for this fast, damage-free journey across the ocean.
"Francis Joyon"

To recap:
Brest, Saturday 29 January 2011: 11 weeks after finishing the Route du Rhum with a podium place in the 'Ultimate class', Thomas Coville headed back out to sea aboard Sodebo for his third attempt on the solo round the world record.
He crossed the start line off the Créac'h lighthouse on Ushant at 11:07:28 GMT, in lively conditions. In a big gust and confused seas off the northwest tip of Brittany, Sodebo's three hulls were effectively picked up and dropped in what the skipper referred to minutes later over the VHF as "burying the bows in a bit". (see the video here).
In 20 hours, Sodebo had passed Cape Finisterre and left Europe behind him. The 32 metre trimaran dropped down the Portugese coast in tradewinds at an average speed of over 20 knots. After a good gybe offshore of Madeira, Sodebo surfed down the eastern edge of the Azores high and was off the Canaries by 1 February. Covering 585 miles the following day, the red Sodebo rocket ship passed 80 miles to the west of the Cape Verde archipelago.

Unfortunately Doldrums, proved merciless, forcing the skipper into a endless series of manoeuvres beneath a whole string of massive storm clouds. Coville had to fight to extract himself from the violent squalls which were to cause three of his battens to break during a gybe and taking him an hour to replace. Entering the Doldrums with a 120 mile lead, Sodebo finally crossed the equator on 5 February in a time of 7 days 2hrs and 27mn with a deficit of 9 hours and 27 minutes on IDEC. Now playing the hunter, Coville wasn't going to retake the lead in this virtual pursuit until some six weeks later.

Into the South Atlantic and the St Helena high failed to play ball and allow Sodebo to 'cut the corner' into the Southern Ocean, as Joyon had been able to. Thus Coville was forced to sail 1,000 miles further to the west, 1,000 extra miles travelled which ultimately turned into a 1,000 mile deficit throughout the Southern Ocean.
The Saint Helena high was extending right across the middle of the south Atlantic as it had for several weeks previously. Ahead of Coville competitors in the Barcelona World Race, and the crew of the maxi-trimaran Banque Populaire V, also befell the same fate, in having to give the high a wide berth rounding it to the west and Sodebo was forced to take a course close to the Brazilian coast.
Eventually the door south opened, On 11 February, Sodebo's team of routers back ashore, called their skipper: "Gybe immediately - you can head eastwards, you're good to go!" The skipper complied and drove hard, making best use of a narrow corridor of 30-35 knots northwesterlies ahead of a very active front taking Sodebo due east, towards the Roaring Forties. He crossed the latitude of the Cape of Good Hope four days later on 15 February in a time of 17 days 5 hours and 54 minutes. With 8,405 miles covered since the start, at an average speed of 20.31 knots, Sodebo passed into the Indian Ocean 1 day 22hrs and 41 minutes and 1,151 miles behind IDEC's pace.

To the south of Africa, the routing indicated that south was the way to go, but the spectre of ice pinpointed by CLS, Sodebo's partner, which observes the movement of any ice and its density, subsequently forced Coville to adopt a route more to the north. For Coville and his routers, it was decision time: The weather situation forecast was for it to be unfavourable in the short term, so should he continue the adventure or give up? Coville, with a wealth of experience behind him, knew all about the test of strength and stamina that the race against the clock represented. Buoyed by his team, Coville decided to continue despite a forecast of upwind conditions and confused seas stretching from the Crozet Islands all the way to Kerguelen. Coville sets himself a goal: to have a deficit of less than 1,000 miles on Joyon's virtual pace by the time he reached Cape Horn. His determination and tenacity are to be rewarded by a great surprise: an exchange via VHF radio with the Vendée-based crew of a Breton fishing boat, who'd been working for some weeks in this remote region.

A colossal low to the north of Kerguelen, with 50 knot winds and waves in excess of 10m… Sailing in this region was unthinkable. Ahead of Sodebo, the situation remained complicated with another ice zone stretching out to the east of the Kerguelen archipelago. The only possibility was to dive south to dip below the islands and to the south of the ice zone. Coville set a course deep into the Furious Fifties, sailing for several days, and for the first time in his life, in water at less than 2°C... Passing to the south of Heard Island, in the middle of nowhere, Coville witnessed the Foehn effect, a kind of polar storm which is able to tear down a cliff in a split second. Nature then provided him with an unreal vision, which is enough to make any trip worthwhile: the atmosphere was strange, the sky turned green; with an aurora australis!

On 23 February, after 25 days 2 hours and 32 seconds since his desparture Sodebo passed Cape Leeuwin, the southwestern tip of Australia, at this point 2 days 10 hours and 32 seconds or 1,194 miles behind IDEC. In an attempt to keep up with Joyon's formidable pace, Sodebo racked up average speeds constantly in excess of 20 knots. Two days later, Sodebo enters the Pacific Ocean after taking 9 days 22 hours 45 minutes from the Cape of Good Hope and the south of Tasmania. The Indian Ocean record nevertheless remains in the hands of Francis Joyon, just ten or so hours faster, who at the time was sailing in record breaking conditions. However Sodebo's crossing was still to be admired, two-thirds of it being upwind and after her dive south.

The forecast remains complicated for the large Pacific section of Sodebo's round the world voyage. The prospect of Coville breaking the round the world record now remained entire dependent on there being downwind conditions! Coville once again resume his big plunge south to minimise the mileage dropping down as far as 58°S, onto the very active train of the South Ocean's depression, particularly those at the end of cyclone Atu which has swept across the Barcelona World Race mid-fleet. Coville made headway albeit sparingly aboard his boat.
In the Pacific, CLS marking out another ice zone, this time a giant, spanning some 2,000km east to west, which forced Sodebo to climb back up to 51°S. At the end of this diversion north to get around the ice, conditions caused Sodebo to err into the danger zone for a few hours. Her radar indicated the presence of icebergs within a 5 miles radius on two occasions… Nonetheless Coville held on. At this point he was no longer sleeping and was battling constant fatigue. Despite the freezing polar temperatures, he kept watch on deck, his stomach knotted, on the look-out for hours, even slowing his steed down just in case. The maxi trimaran sailed on through 40 knot winds, Coville quickly forgetting the anguish he's just endured as he hooks onto a depression, en route down to the extreme south of the South American continent. However, the elements haven't yet done with him. Overnight on 7 March, just hours from rounding Cape Horn, Sodebo and her skipper have to deal with a final squall with gusts of over 50 knots. Instinctively, Coville throws in a third reef just before the worst of the storm. "At night in these conditions, I felt very small and instinctively reduced the sail area. It may well be a survival instinct," he reported at the time. He later pondered: "I saved my own skin."

Through 24/7 concentration and extraordinary determination and perseverance, Coville fulfilled his aim: his ambition to reduce his deficit to Joyon to less than 1,000 miles was achieved when he passed Cape Horn just 666 miles off the record pace! On Tuesday 8 March at 11:24 GMT, after 38 days and 16 minutes at sea, it proved a surreal moment for Coville and those following on the internet who were able to follow Sodebo's Cape Horn rounding live. Sodebo passed within 200m of Cape Horn in the company of Neutrogena, the monohull skippered by Boris Herrmann and Ryan Breymaier, competing in the Barcelona World Race. Coville films the moment and provides commentary as he rounds the "Hard Cape" for the eighth time in his sailing career. He affectionately and accurately nicknames this rock at the end of the world: the Cape of Good Deliverance. At that point, he also had a 'live' link up with Franck Cammas over the satphone. The two 'Cape Horners' laugh together, happy to recall the rounding of the Horn they'd made together the previous winter aboard Groupama 3 during their victorious Jules Verne Trophy attempt.
Sodebo had crossed the Pacific in 10 days 16 hours and 49 minutes at an average speed of 21.59 knots or 1 knot quicker than Francis Joyon and by this stage was back to just two hours outside the reference time...

Back into the South Atlantic, the Saint Helena High, proved to be more lenient than on the outward journey and Sodebo was able to rack up miles at high speed thanks to her route up coast of South America. Coville was enjoying the experience but didn't get carried away. His deficit on IDEC dropped to less than 620 miles on 9 March, under 500 miles on 10 March, 266 miles on 12 March and finally, he does it, Sodebo eases ahead of her virtual rival on 13 March. This just reward, after titanic work, fills follower with admiration: he had made up 670 miles in just five days. The race was on.

This fantastic progress was tainted on 10 March when Sodebo collided with a pilot whale damaging the crash-box on the bow of her starboard float. The knock was soft but also a hard one! For a moment Sodebo's skippered believed that it was the end of his adventure, but closer investigation proved this not to be the case. The sacrificial bow has been designed for just this eventuality and has done its job well: the integrity of the float is not in danger. The Sodebo shore crew and her designers are categoric: he can continue. Less than three days later, after escaping the clutches of a nasty depression along the Brazilian coast, Sodebo had clocked up a 267 mile lead over IDEC and prospects of breaking the record seemed hopeful.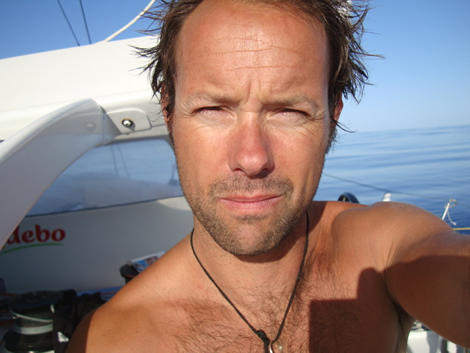 Sadly the hard reality caught up with Coville on his quest for his oceanic grail: The forecasts indicated a lack of tradewinds at the end of just short of the Equator, another "wall", as Coville describes it, was forming ahead of him. Continuing to hug the coast of Brazil he neatly sidestepped this rounding to the west of the zone, still closehauled in light northeasterly winds, Sodebo managing more than 15 knots of boat speed, but significantly not on a direct course. On 17 March, positioned just 15 miles off the Brazilian coast, Sodebo returns to the red. against her virtual rival Becalmed for a little over 24 hours in a fickle 4-6 knot breeze, Sodebo returned to the northern hemisphere on the morning of Sunday 20 March, after 49 days 22 hours 12 minutes and 32 seconds of racing. At that point Sodebo held a deficit of 1 day 19 hours and 54 minutes in relation to IDEC and had covered 23,777 miles (at an average of 19.84 knots) since leaving Ushant, which amounts to sailing 1,151 miles further than IDEC. This deficit is exactly the same number of miles he was behind rounding the Cape of Good Hope - an incredibly frustrating observation after all the effort and progress he'd made in the South Atlantic. As some small consolation, Sodebo had set a new reference time between Cape Horn and the equator of 11 days 21 hours and 56 minutes, a little over 16 hours better than IDEC had achieved in 2008.

For the last section of the course, conditions turned against the record hunter with the Azores high entirely barring the way back to Europe, forcing Coville to further extend Sodebo's route and causing him to carve out a path to the northwest at a time when IDEC had been able to head directly towards the Azores. The depressons were rolling across very far – too far – to the north and so the die was cast. No miracle - for his third attempt and his second complete solo circumnavigation aboard Sodebo, Coville's chances breaking the record slipped through his finger. For over 50 days, Coville had put up a creditable performance; never having given up or shied away from any kind of difficulty. Like all athletes, he had overcome the hurdles one by one, and he with the help of his routers, had carved out a fine route around the world.

As in the America's Cup "there is no second" and this perfectly summed up Coville's mindset at this point: records don't reward those that come in second. Unfortunately the weather had decided against him. Today Francis Joyon remains the fastest man to sail solo around the world.
Stats:
USHANT – EQUATOR (first passage):
IDEC on 30/11/07: 6d 17h, 3,355 miles at 20.8 kts
SODEBO on 05/02/11: 7d 2h 27', 3,529 miles at 20.7 kts
Separation: 9h27, 161 miles deficit
USHANT-GOOD HOPE:
IDEC in Dec. 2007: 15d 7h 13', 7,400 miles at 20.12 kts
SODEBO on 15/02/11: 17d 5h 54' 32'', 8,405 miles at 20.31 kts
Separation: 1d 22h 41', 1,151 miles deficit
USHANT -LEEUWIN:
IDEC on 16/12/07: 22d 15h 28', 11,450 miles at 21.1 kts
SODEBO on 23/02/11: 25d 2h 32'', 12,374 miles at 20.55 kts
Separation: 2d 10h 32'', 1,194 miles deficit
INDIAN OCEAN RECORD (AGULHAS CAPE-TASMANIA):
IDEC – Dec. 2007: 9d 12h 6' after 5,182 miles covered at an average of 22.7 kts
SODEBO - 25/02/11: 9d 22h 45' after 5,172 miles covered at an average of 21.7 kts
Deficit on the Indian record: 10h39 '
Deficit since the start: 2d 9h 22'
USHANT-CAPE HORN:
IDEC on 29/12/07: 35d 12h 36', 17,902 miles covered at an average of 21 kts
SODEBO on 08/03/11 at 11h24 (GMT): 38d 0h 16m 32s, 19,186 miles at an average of 21.03 kts
Separation of 2d 11h 40', 666 miles deficit
PACIFIC OCEAN RECORD (South Tasmania-Cape Horn)
IDEC – Dec. 2007: 10d 14h 26' after 5,245 miles covered at an average of 20.6 kts
SODEBO - 08/03/11 at 11h24 (GMT): 10d 16h 49' after 5,545 miles covered at an average of 21.59 kts
Deficit: 2h23'
USHANT – EQUATOR (second passage):
IDEC on 10/01/08: 48d 2h 18', 22,626 miles at 19.6 kts
SODEBO on 20/03/11: 49d 22h 12' 32'', 23,777 miles at 19.84 kts
Separation of 1d 19h 54', 487 miles deficit
HORN – EQUATOR:
IDEC in 2008: 12d 14h
SODEBO on 20/03/11 at 09h20 (GMT): 11d 21h 56'
Record: 16h04 less than IDEC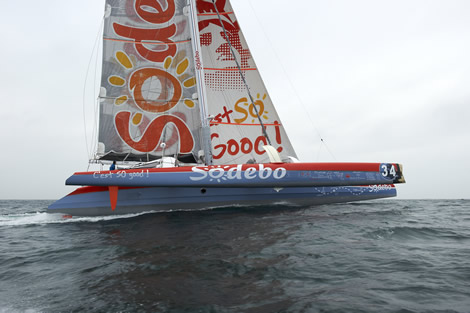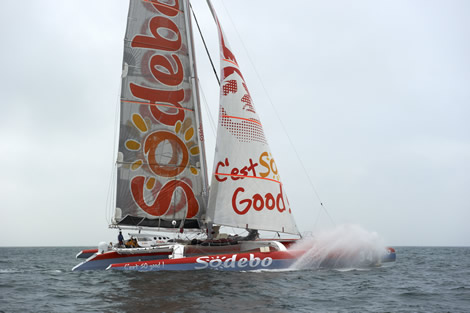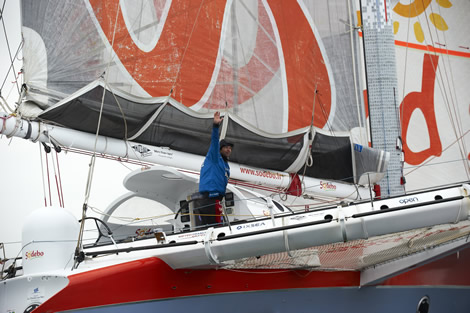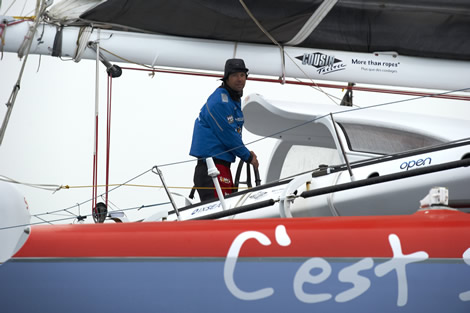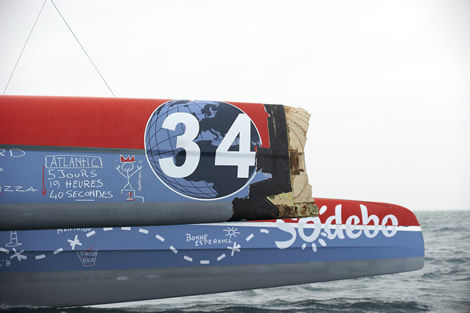 From Christophe Launay/www.sealaunay.com
Click on images to enlarge them
Back to top
Back to top