Six sold. Eight by the end of the year
Thursday March 31st 2011, Author:
James Boyd
, Location: none selected
While all eyes are on the new Multi One Design 70 trimaran herself, this is but the first step in what remains a lengthy road for the Swiss-born class. Steve Ravussin's Race For Water is merely the first boat of a production run that will culminate in the launch of 12 boats, with companies across France and Switzerland tied up for the next two years supplying hulls, crossbeams, masts, foils, etc – no small operation.
To date four teams have been announced, but six MOD70s have been sold:
No2, due for launch in June will be Roland Jourdain's Veolia Environnement
No3 ready in August will be Michel Desjoyeaux's Foncia
No4 coming on line in October is the latest Gitana, for newly announced skipper Seb Josse.
No5 is due in January 2012 is believed to be for a Swiss team (come on Ernesto...)
No6 will be launched in April 2012 and interestingly will be for a Moroccan team, believed to be skippered by Tornado and ORMA 60 veteran skipper Fred le Peutrec (more details are due in two to three weeks).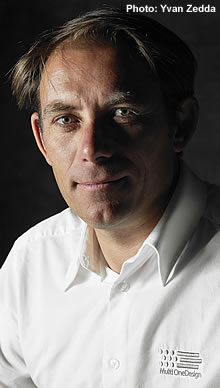 "It is the first one, but I'm really happy – it is three years of work and we are no longer a virtual project - this is reality, the start of a new era for multihulls," Multi One Design Executive Director, Franck David (who in a previous life was the 1992 Lechner gold medallist) enthused to us as we examined Race For Water.
Given there has been a profound international recession recently this is one impressive result. It means that six teams are set to be on the start line for the first official MOD70 event, the enigmatically entitled 'Ocean Race', due to take place in July next year. However before that Race For Water will head for Sweden to compete in this year's Round Gotland Race, while in August she will be joined by Veolia Environnement for the Rolex Fastnet Race (and will probably precede this with a lap of the Isle of Wight during Cowes Week).
David is confident of at least two more teams waiting in the wings that will be announced by the end of the year. "Our goal was to sign five contracts before the end of this year. Now we are sure we will get six teams for the first race and we will make the announcement of others in a few months. So it is going well."
A seventh boat will come on line ready for the class' first European Tour, scheduled for September next year while the remainder of the 12 strong fleet will be in the water ready for the first World Tour starting in December 2013.
While there is a Moroccan team, the crew is expected to be mostly French and to date the MOD class has still to achieve what ORMA singularly failed to do (with the exception of Giovanni Soldini's Italian team) and attract a genuinely non-French offshore trimaran campaign. However present at last Friday's launch was the familiar figure of Volvo turned ORMA 60 sailor/owner Klabbe Nylöf who is gunning hard in his native Sweden (hence why Race For Water is competing in the Gotland Runt) and David says they have also had dialogue with Oman Sail, who presumably have enough on their plate at present with one severely damaged maxi-trimaran. And the list at present doesn't include two of the leading lights from the ORMA class – Groupama and Banque Populaire - the former tied up with the Volvo Ocean Race until 2015, the latter allegedly in a state of flux with reports of skipper Pascal Bidegorry departing the campaign, and the acquisition of an IMOCA 60 for an as yet un-named skipper.
As mentioned, the first official event for the MOD70 class will take place in July next year with an 'ocean race'. According to David they already have a sponsor for this race as well as the 'ocean race' following it, scheduled to take place in 2014 and have decided upon the start and finish ports. These will be announced later this month. Multi One Design are working with OC Thirdpole on the stopover ports for the European Tour, due to take place in September 2012 and David has recently been touring the world visiting potential stopovers for the World Tour. Of the latter he says that like the Volvo of old, its is likely that there will be a tie-up between stopovers and teams for this. So one imagines it will be visiting Morocco.
As to a format, David says the European Tour will comprise legs of around three days duration followed by four days in port. On the World Tour it will be nine to 15 days of racing followed by a similar length of time in port (where there will be a number of day/city races). "We will put some rules that you cannot change more than 50% of the crew and if you do the city race you have to use the crew who will do the next start."
| | | | | | | | | | | | | |
| --- | --- | --- | --- | --- | --- | --- | --- | --- | --- | --- | --- | --- |
| Year | Jan | Feb | Mar | Apr | May | Jun | Jul | Aug | Sept | Oct | Nov | Dec |
| 2011 | | | MOD1 launch | | | MOD2 launch | | MOD3 launch | | MOD4 launch | | |
| 2012 | MOD5 launch | | | MOD6 launch | | | Ocean Race | | European Tour | | | |
| 2013 | | | | | | | European Tour | | | | | Ocean World Tour |
| 2014 | Ocean World Tour | | | | | | Ocean Race | | | | Route du Rhum | |
The plan is for the MOD class to work on a three year schedule (like the Volvo Ocean Race), with each culminating in the World Tour. As mentioned in our report on the MOD70, she has been speced so that her lifespan should last at least three of these cycles.
David does not imagine that teams will stay on the circuit for this period, and here the class has set themselves up cleverly. The maximum number of MOD70s competing will be capped at 12 and with every new boat launched, the owner also gets a license allowing them to compete on the circuit. This license can be sold with a boat. Because the MOD70 is a limited run one design, David is confident that the resale value will remain high (a similar model has worked successfully for the D35 catamarans in Switzerland) and certainly with the first five boats costing 2.5 million Euros apiece, the owners could stand to make money on selling them given that subsequent boats will cost 3 million and the last three 3.5 million Euros.
"Our goal isn't to make money on the boats. Our objective is to organise a nice circuit with sponsors who are happy with the business they can do and the PR and media on the project," says David.
So come on Brian Thompson - when are you announcing your British campaign???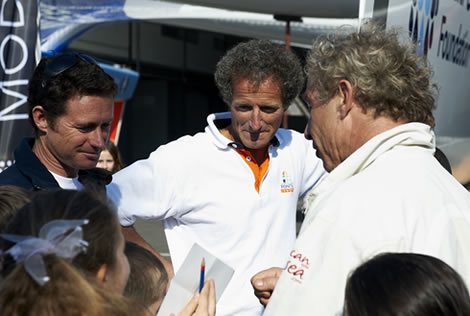 Back to top
Back to top