Sodebo at Cape Horn
Tuesday March 8th 2011, Author:
James Boyd
, Location: none selected
At 1124 GMT Thomas Coville and his maxi-trimaran Sodebo rounded Cape Horn, reaching the legendary maritime landmark 38 days 0 hours and 17 minutes after he set out from Brest on 29 January. In comparison solo non-stop around the world record holder Francis Joyon and IDEC took 35 days 12 hours and 36 minutes. While this two and a half day deficit sounds a lot, in fact IDEC was only 687 miles further up the race track at this point in her voyage as Joyon was forced to slow to effect repairs. This is also within the target Coville set himself earlier on in the Southern Ocean of being within 1000 miles of IDEC at the Horn and Sodebo remains in good shape, apart from two broken battens in the mainsail that snapped during a broach a few days ago.
To date Sodebo has already clocked up 19,186 miles, which she's covered at an average speed of 21.03 knots. She has 19 days, 13 hours, 16 minutes and 34 seconds to get back to Brest if she is to break Joyon's record.
Rounding Cape Horn, Sodebo was not alone... At the time alongside her was Neutrogena - Boris Herrmann and Ryan Braymeier's entry in the Barcelona World Race. "It's incredible. I'm rounding the Horn with Neutrogena just 50 metres from me! It's the first time I've passed so close to the Horn. I'm 200 metres away," said Coville during a live radio hook-up.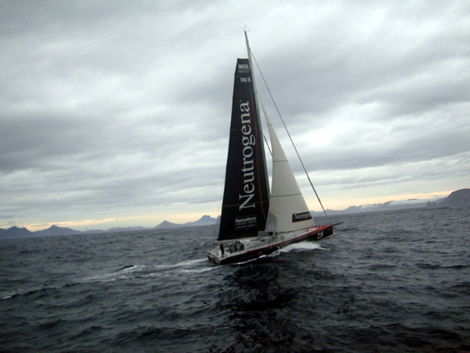 However just a few hours previously, Sodebo and her skipper had been tackling 6-8m waves and winds gusting to 50 knots: "At times like that," admitted Coville, "You feel very small, I can tell you." It was night and using his instinct alone, he put a third reef in the mainsail. "Nothing was forcing me to do it" he explained. Survival instinct and experience had kicked in.
To celebrate his rounding of Cape Horn, Coville linked up by phone with Franck Cammas, the skipper of Groupama with whom Coville sailed on their successful attempt on the Jules Verne Trophy a year ago.
They discussed the route back up the Atlantic and the conditions Sodebo is likely to encounter, to start with at least: "with some upwind conditions initially, having to negotiate a zone of high pressure and hunt down the tradewinds". And then the solo sailor pours his heart out about sailing singlehanded, recognising that he often thinks of the experience of sailing with a 10 man crew aboard a multihull, and that he is sometimes regrets that he doesn't have an extra pair of hands aboard to help him on this occasion. "What I'm attempting belongs to the extreme element" he admitted.
Coville described a big flock of birds which were accompanying him - an indication of his momentary return to civilisation: "this rock; a big rock with its hill and its pastures dropping right down to the sea like the bow of a boat". Having just spent 38 days without having once seen land, the skipper decides to "dedicate Cape Horn to all those who have a project in their head or in their heart," advising them to "go for it even if it seems crazy."
Back to top
Back to top