Strait jacket
Sunday February 20th 2011, Author:
James Boyd
, Location: none selected
It is a bitterly disappointed Alex Pella and Pepe Ribes who are expected to dock imminently in Wellington, NZ on their IMOCA Open 60 Estrella Damm, due to arrive in close company with Kito de Pavant and Seb Audigane on Groupe Bel.
For De Pavant and Audigane the decision made nearly a week ago to make a pitstop to repair two key sails may have lost some of its hurt and is marked more by the frustration of having lost miles after having been stalled for 48 hours by calms off Cape Farewell at the entrance to the Cook Strait. But their Spanish rivals Ribes and Pella ironically had spent those same 48 hours working judiciously through a jobs list to ensure that they would be able to pass Wellington and proceed to straight into the Pacific.
But it was at a little after 0400 this morning that the duo notified the race committee that they would be having to make a technical pit-stop after their main forestay failed and the main genoa furling drum had separated into two parts, while racing upwind in comparatively benign conditions.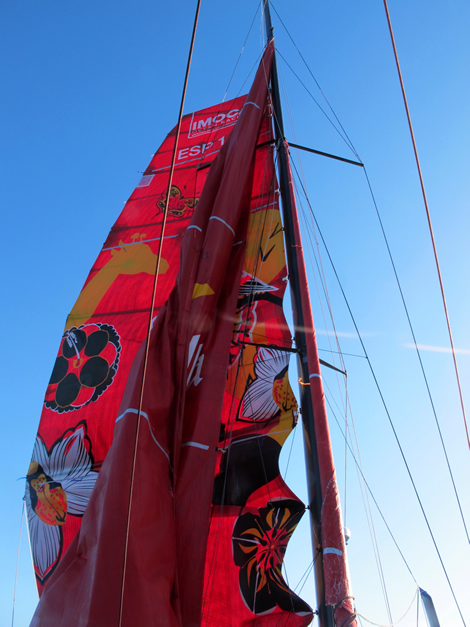 Alex Pella reported: "This morning (NZL time) we were about 15 miles from Cape Farewell with between 18 and 20 knots of wind. We had left the calms which had us stuck for the previous 48 hours and we had even done a lot of good work in the calm period, working very hard to make every gain we could on Groupe Bel and were, in fact, five miles ahead of them. We did not in any way have the boat overloaded, or too much sail up or anything. Withouy any warning the solent furling drum split and the forestay parted. Luckily the Code Zero and the Staysail stays held and thanks to them the mast did not come down. We thought the Solent would go in the water like the Code Zero the other day. The sail was left flogging because the drum was gone. But fortunately we reacted quickly and put the boat downwind quickly, but it took us an hour and a half to resolve the situation. Pepe put me up the mast and we were able to get the Solent down without not too much trouble.
"So part of the forestay is broken and the axis of the drum, about 20mm in diameter, has broken in half. It is a piece that we have had reviewed by the manufacturer. They are hard things to understand because there is no explanation. Certainly we will not relax, we will make sure we leave with the boat in the absolutely best possible state, and we will try to go as fast as we can and hope there is no split in the weather that affects the fleet. We will try to make the best Pacific possible and then overcome the Atlantic and just see how we arrive in Barcelona.
"It is hard to take. In fact the last week has been quite complicated with many small problems to overcome and fix, and we have turned our attention to them, and maybe we see that reflected a bit in the distance from the boats we were with, like Mapfre which we have been fighting for at least the last 20 days. In the last week they have got away while we have been concentrating on technical things on the boat.
"The last 48 hours in the calms we were repairing everything we could, great sessions of sail repairing, composites, stanchions, pulpit. We felt we had done everything we could to avoid a stop. We had it under control and Pepe already said yesterday we were not going to stop. We wanted to go out of here with a good position in spite of the calms, and to be relatively in touch with those ahead. But the boats behind will come in with wind so when we leave we will be with boats which we have not been racing with since we left Barcelona. We need to concentrate now on finishing the race, still with 15000 miles to sail. It is a really hard blow for us to take but in races like this you need to be prepared to take them. We always attacked this race with a great spirit from Barcelona, overcoming all the problems we had, but this is about making a repair with a part we don't have on board so we need to stop.
"I saw on our boat e-mail that we had a message from Kito and Seb, sympathising with our situation. They saw for themselves this morning because we made a detour right in front of them. It was an incredible spectacle finally passing Cape Farewell but for us we could not really appreciate it. We will see them in Wellington where Kito said we would drink some beers, I said we'll have some Estrella Damm. I hope that we don't have to be stopped for too long because we don't have much time, hopefully we will set off in the match against them again."
With Groupe Bel and Estrella Damm set to start their mandatory 48 hours halt tonight, meaning an earliest possible departure for them of Tuesday evening (GMT), the whole of the Barcelona World Race closes up, going into the Pacific section of the Southern Ocean.
When perhaps just ten or 12 days ago many observers were writing the race off as a done deal for Virbac-Paprec 3 who were more than 780 miles ahead of Mapfre, suddenly the opening cut and thrust of the 'second half' of the race sees Jean-Pierre Dick and Loïck Peyron's lead in the Pacific reduced to just 122 miles this evening, or at the current speed of the super fast Spanish Olympic medallists, less than eight hours.
With the hard driving Ribes and Pella set to be sidelined in Wellington, pitting for 48 hours, if Renault ZE shoot through the Strait as they indicated they intend to yesterday, then the Spanish duo Pachi Rivero and Toño Piris look set to take over third place.
Only nine days ago Rivero and Piris were almost attracting sympathy for their relative isolation, 400 miles behind Groupe Bel and an equal distance ahead of Mirabaud. If they can complete this stage without needing to stop it will be a huge comeback for Rivero and Piris who were so unhappy with their departure from the Mediterranean and their passage down the Atlantic
Coming shooting straight across the Tasman are the young guns on Neutrogena, Boris Herrmann and Ryan Breymaier now only 270 miles from Wellington, bringing in new wind which will give them a fighting chance of passing the pit-stopped duo, as will there be a good chance for Mirabaud.
From the Switss boat, Dominique Wavre reported: "We are reaching 300 miles of New Zealand in 25 to 30 knots of wind but we are being shaken in all direction. It is a bit difficult to eat, you almost need to eat mashed potatoes with a straw. Obviously you don't start to count ahead of the Cook Strait at the moment. A stop in Wellington is not on the menu for us at the moment. The boat is good but it true that we are very careful and count out our food. It would be nice to stop for small things but we are not thinking like that. For the moment we are making 13-14 knots average speeds and we should keep this breeze to the entry to the Strait so hopefully our luck will hold this time, and if we hold our speed we should be there tomorrow evening.
"I suffer less with the greyness (of the weather) than Michèle who is Mediterranean, but it's true the Indian Ocean was very grey and we are not exactly looking tanned or worrying about the sun wrinkling our skins. So it would be nice to see some sun."
Compression into the much more tightly packed fleet is on the cards for Hugo Boss, only if they avoid stopping in Wellington to repair the top of their mainsail mast track which ripped off a week and a half ago.
Andy Meiklejohn and Wouter Verbraak were within three or four miles of the Tasman coast two days ago, perhaps trying to make good such a repair in sheltered waters? And Dee Caffari and Anna Corbella may have had a very uncomfortable and bumpy, wet Sunday in high winds on GAES Centros Auditivos, but the girls can expect to carry the same strong winds all the way into the Cook Strait, all the time closing time and distance on Groupe Bel and Estrella Damm.
Back to top
Back to top