Into the red zone
Wednesday February 2nd 2011, Author:
Andi Robertson
, Location: none selected
They are separated now either side of a venomous low pressure, but both of the Barcelona World Race's leading two crews were considering where to set the red line today, how hard they have to push to maintain their differential to the boats behind.
Jean-Pierre Dick and Loïck Peyron breathed a collective sigh of relief last night when they caught the tiny weather window which allowed them to pass the Crozet ice gate, to tack and ease sheets for a fast run ESE towards to the Amsterdam gate.
Peyron reported: "The sea is not too bad, but there is 32 to 35 knots of wind. We are caught up in the depression. It is true that we just made it through the small 'mouse hole' in the weather. The famous ice gate, a major topic of discussion in the 20th Century, particularly when erring on the side of caution creates its own dangers and in this case we weren't far from that. If for the sake of being cautious, we'd said to Mr Volta and Mr Watt that they could cause more than a million deaths, they would have banned electricity. It just about squeezed through. We're feeling more relaxed than before making our way through the gate. We got there, just and no more. We are a bit more relaxed now, much more than before the passage of the gate. We expect more and through the night and the 12 hours after. We have three reefs and have prepared the fourth reef just in case. And if that is still too much we will find smaller sails which have not been invented yet!"
Jean-Pierre Dick added:"We passed the ice gate just in time yesterday just before the strong wind, and the depression did not come too early. For the next three days we will be going straight in strong winds and will have to take care. But on board it is very good between us. We discuss things as much as we can. Most of the time one of us is in charge of the boat and we try to respect each other's decisions. It is a bit loose and abstract, but the partnership goes pretty will."
Olympic gold medallists Iker Martinez and Xabi Fernandez seem to sound a warning to the French duo this evening that they will not be regulating their electric pursuit of Virbac-Paprec 3 too much. This afternoon Mapfre recorded the fastest one hour 'speed gun' of the race so far, 26.8 knots.
Somewhat paradoxically only this morning Fernandez ruminated that he and Iker had just been discussing if they should drop their 'red line', to lower their cursor a little and moderate their attack. But seemingly the Spanish speed kings grow in confidence every day and are determined to progressively reel in the runaway Dick and Peyron.
Fernandez reported: "We have had a good night but the weather this morning has been quite different and hard again. Now we have between 30 and 35 knots, and going between 20 and 25 knots of boat speed. We have three reefs and the staysail and we have been pushing at Virbac Paprec all the time, but in fact they have their own weather and we have ours. Our fight is with the boats behind, but I don't think that they catch up with us. We have good speed now. We had some doubts this morning about the pace, whether to slow down a bit. But in fact it is not as bad as we were expecting and the boat is perfect. We are a little tired, but we will pass this next 48 hours. We have been preparing for these conditions, we ate and we rested a lot. And we knew it would be difficult, material, sails, the boat and so it is acceptable. I switched off the radar, because with these big waves the problem is it can't see anything, the problem is during the night but at the moment the nights are very, very short."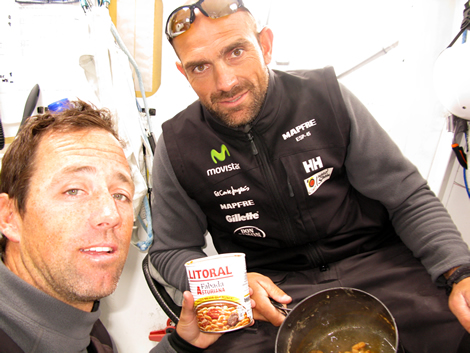 "What they have done so far is quite amazing. And I think the whole Olympic sailing community is just riveted by their performance. Nobody really quite knew how they would get on, least of all them, but they are going so well," double Olympic gold medallist Shirley Robertson said in Barcelona today just after speaking to Fernandez by live video link for the CNN Mainsail TV programme which she fronts.
Virbac-Paprec 3 broke free of the low pressure 'shooting gallery' set up as the low pressure bullets fire south east from Madagascar, and this afternoon were making solid progress in difficult conditions, 30-35 knots of wind, and expecting more wind. Dick and Peyron know they have a lead of 464 miles today – not exactly feeling the hot breath of the Spaniards on their collars – but they also know well that further down the track, this course offers substantial opportunities to their pursuers, not least the ascent up to the Cook Straits. It can be a slow ride up to New Zealand if there is a high pressure dominating the approach.
For the record Virbac-Paprec 3 also win the Atlantic North South Trophy for the passage from Gibraltar to the longitude of the Cape of Good Hope. Dick and Peyron took 23 days 5 hours and 40 minutes, the fastest elapsed time even with their pit stop in Recife of a few hours. This afternoon Hugo Boss was the latest boat to pass into the Indian Ocean at 1330-1400 GMT.
From on board the black and white boat, Andy Meiklejohn said: "We have a tack coming in probably eight hours, and from there the breeze is going to slowly go north and we will start reaching probably in the middle of the morning. Our first goal is to get the boat to the finish line. Once Wouter got told we are doing the race we had to prepare a kind of strategy, learning to sail the boat and we also have to get it to the finish line. Now things don't seem so heavy with the boat, every so often there is a little bit of friction that catches you, sail which is particularly heavy with water and you grumble a little bit. It is going really well, every watch change we have a little debrief, we have meal, a cup of tea. We have known each other for a long time and done a lot of sailing together, so that bond did not need a lot of culturing. It is a lot of fun and we are taking the lessons as we can."
Otherwise the sparring in the peloton continues: Groupe Bel stole third early this morning and are still just six miles clear of their Spanish rivals on Estrella Damm.
And as Dee Caffari pointed out in her message this morning, by the weekend there seems to be a chance that something more resembling normal service might start in the southeast Atlantic and the Indian Ocean. The blocking high pressure west of the Kerguelens is predicted to slide away allowing a service of fast moving depressions to resume.
From seventh place Neutrogena, Ryan Breymaier reported: "We have between 20 and 25 knots of wind at the moment. We sail together well as a team and living together on the boat is quite easy. We take our turns with pretty much everything and it is going quite well. When we are not doing well I have a tendency to get very, very frustrated and that creates a shitty atmosphere on board and we are working on that a bit. I have a tendency to get overly worked up about things. I try myself harder to keep myself calm and that helps a lot for sure.
"For sure we have a least five more weeks in the southern ocean and in the Pacific the gates are a bit higher in latitude which should hopefully give us conditions which are more reasonable, hopefully with some nice surfing conditions. We are probably averaging 16 knots at the moment."
His co-skipper Boris Herrmann added: "I think we are quite complementary. Ryan is quite complementary and we work quite well. I think our relationship is much closer than a marriage, there is no opportunity to run away any further than ten metres, in fact it is probably no more than three metres, or four metres. We work on it, sometimes if it is a calm day we will put some music on, and if the boat is surfing along like it is now, there is just a really good spirit on board."
"I don't think too much about the length of the race. We just live here like it was our own enclosed apartment that we live, a microcosm which moves along and we just take each day as it comes. There are things happening every day, little repairs, big repairs, distractions like this, manoeuvres, so the time goes on quite quickly. I don't have any worries that the Southern Ocean passes quite quickly."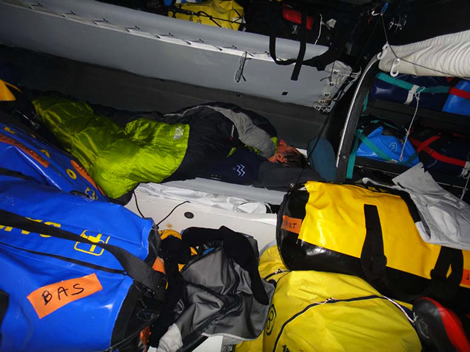 Back to top
Back to top