Strong fleet set to assemble for RORC Caribbean 600




With one month to go, the third running of the RORC Caribbean 600 is turning into a truly international affair, with 15 nations represented in a diverse fleet of yachts.
Yachts are currently entered representing Antigua, Australia, Belgium, Canada, Cayman Islands, France, Germany, Great Britain, Ireland, Italy, Lithuania, Netherlands, South Africa, Spain and the United States. More entries are expected to make the start in Antigua on 21 February.

"A wide spectrum of yachts and competitors has decided that this is an event that is not to be missed," commented RORC Chief Executive Eddie Warden Owen. "The RORC Caribbean 600 is a modern race in every sense; the course is designed to provide an exciting and inspiring race that compliments modern yacht design. The club is delighted that people from all over the world want to take part, there is a mixture of world class sailors and Corinthian enthusiasts but they all have one thing in common, a passion for offshore racing."

The battle for line honours will undoubtedly be between the two canting keel 100 foot maxis, Mike Slade's Farr-designed ICAP Leopard, which set the record for this race in 2009 and George David's Juan Kouyoumdjian designed Rambler 100 (ex-Speedboat). George David's all-star crew includes America's Cup winning navigator Peter Isler, who has been racing in the Caribbean for over 30 years.

"Big wind, big waves and warm water, to me that is the best part of sailing in the Caribbean and why I love it so much," commented Isler. "For the 600 we have a combination of Kenny Read's Puma Racing Team, who are preparing for the Volvo Ocean Race and our core Rambler team."

While Rambler 100 and ICAP Leopard are grabbing the headlines, there are three other magnificent yachts which are over 100ft. RORC Commodore, Andrew McIrvine skippers the elegant 152 foot schooner Windrose of Amsterdam, Peter Harrison's lively 115ft ketch Sojana will be an impressive sight on the start line and French offshore stalwart, Jean-Philippe Chomette will be racing his Fauroux-designed 104ft sloop, Ocean's Seven².
Then there is Lloyd Thornburg's Gunboat 66, Phaedo. This carbon-fibre catamaran is designed to take creature comforts along at breath-taking speed.

Close duels are expected right through the fleet, none more so than in the Class 40s, as Concise 2 owner, Tony Lawson explains: "The 2011 RORC Caribbean 600 will be the next battleground for the Class 40 fleet competing for the Concise Trophy. We are expecting the race to be hard fought and close run. There are a number of Class 40s in the area that raced in the Route de Rhum and these boats are already race hardened. It's really nice to see that we have Class 40s from America, Belgium, Britain, Germany, South Africa and Spain. The conditions are normally perfect for our boats with long reaches and downwind legs in 15-25 knots of breeze. Last time we raced we were regularly sustaining 25 knots of boat speed. All that as well as, bright sunshine and warm seas, I can't think of a better place to sail."

Hot from winning 2011 Key West Race Week is Richard Oland with his Southern Cross 52, Vela Veloce. Oland was runner up last year and is back, looking to win the RORC Caribbean 600 Trophy. The Canadian yacht includes Volvo Ocean Race winner, Stu Bannatyne, as part of the crew but they will have serious competition for an overall win. RORC boat of the year, Piet Vroon's Ker 46, Tonnerre de Breskens, also a class winner at Key West will be amongst the favourites.

Chris Bull's Cookson 50 Jazz is being shipped up from Australia, after finishing runner up in the Rolex Sydney Hobart. Jazz should have a close battle with Adrian Lee's Cookson 50, Lee Overlay Partners, winner of the inaugural race. Lithuanian VO60 Ambersail, skippered by Simonas Steponavicius, has made the journey across the Atlantic and Richard Matthews' brand new Humphreys 54 Oystercatcher XXVIII will make its offshore debut. Matthews has vast experience racing in the Caribbean and counts America's Cup helmsman Andy Green, amongst his regular crew.

Brian Benjamin's new Carbon Ocean 82 Aegir will also be making her long awaited race debut. Andy Beadsworth, Guy Barron, Juan Messanger and Shreda Duke form the backbone of her highly talented crew. Long standing RORC member, Sir Geoffrey Mulcahy's Swan 56 Noonmark VI is back and has been in fine form, after lifting the Gibbs Hill Lighthouse handicap prize, for the 2010 Newport Bermuda race.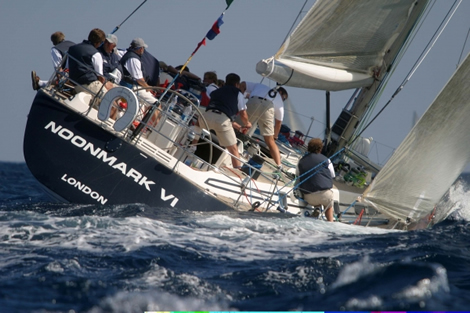 Of the smaller yachts entered for the Caribbean 600, The Army Association's A40 British Soldier will make its Caribbean debut and is crewed by serving members of the British Armed Forces. Antiguan local, Bernie Evan-Wong will be taking part in his third race in his Mumm 36, High Tension and Global Yacht Racing's First 44.7, EH01 could well be one to watch, skippered by Andy Middleton, the charter yacht was first overall in this year's ARC.
Back to top
Back to top