Multi50 victory for Lionel Lemonchois
2006 Route du Rhum winner Lionel Lemonchois arrived in Pointe a Pitre to claim a come from behind victory in the Multi50 class. Lemonchois, who four years ago set a Route du Rhum course record with his time of 7 days 7 hours 19 mins, 6 secs on the ORMA 60 Gitana 11, this time crossed the finish line in Guadeloupe at 16h 52m 48s GMT, making his elapsed time 15 days 04 hours 50 mins 48 secs, at an average speed of 13.10 knots over his actual distance sailed of 4776 miles.
Early on in the race Lemonchois suffered main halyard problems on his Irens-Cabaret designed 50 footer which at the time he felt he was unable to fix at sea. At result he had his bows pointed back to Spain in order to make a pitstop. "At one point I really thought that I would stop," he admitted on his arrival. "And after a little sleep and thinking and I told myself I had to go on. During the night I found a solution and then I went back racing and sailed to have a place on the podium. I really wanted to be on the podium.
"I did not do all this only for me othewise I might have stopped. I did it for Prince de Bretagne and for the people who trust me. After all what happened to that boat, to stop the race after being in the lead, that was not possible. I had to try and save something.
"This isn't the victory I'd wished for (because principle competitors Actual and Crepes Whaou! 3 retired with damage) but it's racing. You still need to finish your race to win it. Yes this win has a nice taste. Maybe it doesn't have the same taste as last time, which was unexpected maybe. But the story is different and I'm living it fully.

"The boat is a really good boat. We almost reached 30 knots boat speed. That was a surprise. I've never been afraid. And you know, when you sail a boat a lot you learn to like it. This one we spent so much time on refit and repairs you put a bit of yourself in it. And you also imagine the race and how it could unfold with the boat. There are still plenty of things to do on the boat to improve her. But I won't say what!

"This boat has gone through a lot of things since she was launched. Even after the second refit she had problems...so a victory that was unexpected and yes I am happy. But I have to relax a bit to really appreciate it.
"At the end, as the weather was not reliable, it closed the door on the guys who were in the south. I just put us in a safe position as regard to the fleet to avoid anyone coming back on us.

"I was happy to see Franck [Cammas] and Groupama 3 sail out to meet me. I really appreciated that. It's good that he won the race, he deserves it and manages his 'machine' very well."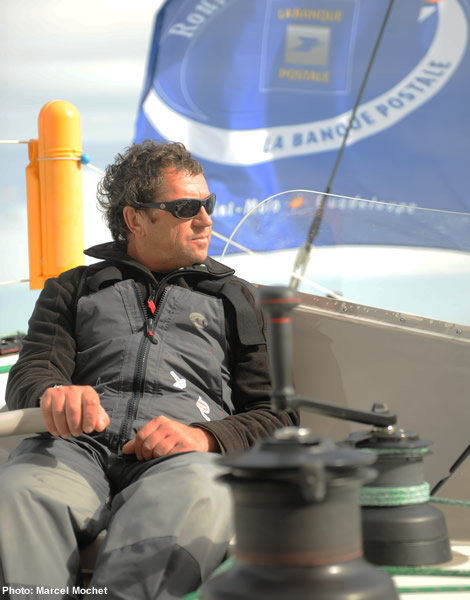 Back to top
Back to top