On board the Irens-Cabaret maxi-trimarans
Shame on us, I know, but the Route du Rhum pre-start was the first occasion we have had the chance to crawl over the three Nigel Irens-Benoit Cabaret designed sisterships – Thomas Coville's Sodebo, Francis Joyon's IDEC and Sidney Gavignet's Majan Oman Air. So today we bring you some severe maxi-trimaran anoraky with full photographic evidence at the bottom of this article.
As we have written previously the concept for these boats was based on Irens' thinking about the limitations of the ORMA 60 class, that effectively saw its demise begin in the Route du Rhum in 2002. "As soon as someone tears up the rule book I want to make a boat longer," he says.
Irens' solution to the ORMA self-destruction was that they should keep the 100ft tall wingmast rigs but elongate the hulls, so they would be better able to cope with the power. Irens and Cabaret got the chance to put their ideas into practice first with Ellen MacArthur's 75ft long B&Q/Castorama trimaran, where the rig was effectively the same size as that of an ORMA 60, but then took their ideas a step further with the latest trio. The end result is a boat (in Sodebo's case) that is 75% longer, with up to one third more sail area and is getting on for twice as heavy (around 11-13 knots) but with less beam than an ORMA 60.
Oddly the latest trio also have shorter floats than the main hull, giving them a slightly retro 1970-80s look to them. Irens explains: "In some ways it doesn't appear to be very logical on a trimaran, because the main hull you can make long, but the amas you can't make them long because of structural constraints - if you have got two beams you can only have so much cantilever bow sticking out in front of the forward beam and only so much gap between the two beams and only so much cantilever aft of the back beam."
The bows snapping off trimaran floats is something Irens hopes he overcame in back in the 1980s and early 90s.
Another side affect of making the central hull long and slender is that it creates the pencil-like hull shape that Irens is keen on and which he was first pushing back in the 1980s with his narrow hulled trimaran motorboat, Ilan Voyager. While the main hull on ORMA 60 trimarans typically had a lot of rocker in order to reduce transom immersion and improve its light weather performance, on the new generation tris the main hull is long and thin and this shape is firstly less prone to wave-making and the drag associated with this and secondly has less tendency towards the IOR hull shape syndrome, as Irens explains it: "with rocker you unfortunately get that tendency to attract drag and indeed some suction downwind, as a result of pushing a convex thing through the water."
Where the school is out, following this Route du Rhum is in the amount of beam. As mentioned the new generation tris are narrower than ORMA 60s – typically 55ft across compared to around 60, and the reason for this narrowness is weight. Thomas Coville has a rule of thumb that every extra metre of beam on a trimaran such as his Sodebo represents an extra 1 tonne.
On the weight issue Irens says of their tris: "We haven't built extremely lightly, it is just that there is much less power in the boat. The whole thing about singlehanded sailing in my opinion is that you have to be able to wind the spiral downwards and reduce the power and make the best of the fact that you have saved some weight and made the boat slippery."
While Coville's rule of thumb may have been the case when Groupama 3 was launched, Cammas reckons with less crew (ie one) and a shorter rig he had shed two tonnes compared to Groupama 3's fully crewed fighting weight for the Jules Verne Trophy. So while Sodebo with beam of 16.78m weighs a shade over 12 tonnes, Cammas' Route du Rhum winner is 22.5m across and weighs in the region of 17 tonnes.
Now Groupama 3 has proved the dominant boat in this Route du Rhum, there is certain to be some discussion about whether she would make the better singlehanded round the world boat, the ultimate task for which IDEC and Sodebo were purpose-built. In particular if starting from scratch again would a designer go wider and heavier. Aside from added power, extra beam might also help reduce the risk of lateral capsize which Francis Joyon claims is a potential issue with these boats now they are being pushed to the max (although this view hasn't been voiced by Sidney Gavignet or Thomas Coville). However fitting curved lifting foils to the floats on IDEC and Sodebo must also help alleviate this.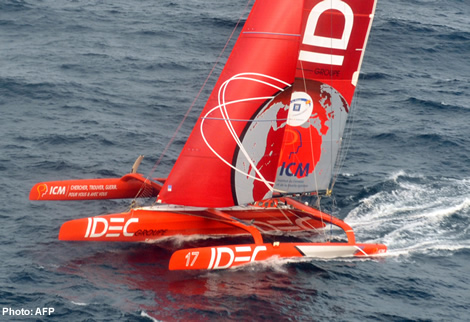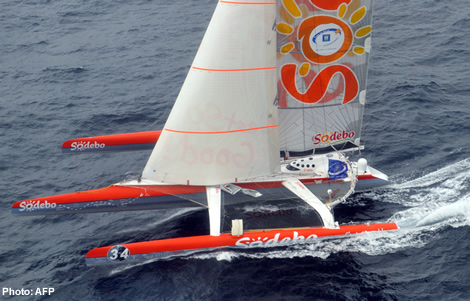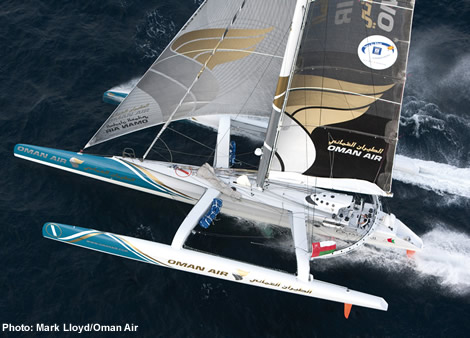 IDEC, Sodebo, Oman Air Majan – spot the differences
As previously mentioned in our Route du Rhum form guide, between the three boats IDEC is a fraction smaller in all her dimensions for example she is 97ft long compared to Sodebo and Oman Air Majan's 105ft. However she is also more minimalist. Directly sisterships in terms of their hull shape, Sodebo and Oman Air Majan have a double chine on their main hulls and a single chine in their floats which IDEC lacks. Between Sodebo and Oman Air Majan, the latter was originally designed to be the first of a production run of A-100s, so her spec is a degree more conservative (ironic considering her fate in the Route du Rhum).
Sodebo and Oman Air Majan also have an ORMA 60 style X-beam configuration with an additional C-shaped beam slung off the back of the aft beam on which the main sheet track is mounted, while IDEC has her track running along the aft beam. Oman Air Majan and Sodebo also have a fraction more freeboard and feel higher out of the water. They also have very much more substantial cabin tops than IDEC.
Down below on Sodebo and Oman Air Majan the interior is distinctly on two levels, the height of the cockpit sole extending forwards into the nav area, and a hatchway down to the lower level, whereas on IDEC you immediately step down into the interior which is in two compartments.
When it comes to foils all three boats are different. They all have three rudders however IDEC is alone in having a central rudder that kicks up, about the only concession to weight Joyon's boat has compared to the others. All have monster daggerboards immediately forward of the mast and aft of the main cross beam. These don't have the trim tabs on them that we used to see in the ORMA 60 class and Coville says he doesn't miss it. Oman Air Majan has no lifting foils in her floats while IDEC had hers fitted this year and they have a relatively short chord compared to Sodebo's new boards.

Uber boards
The construction of Sodebo's new lifting boards has utilised a new technology heralding from Italy, which we understand was also used for the daggerboards on the Alinghi 5 catamaran and also for the foils on the IMOCA 60 Safran. Typically foils are made with a central shaft and then the two halves of the foil moulded around it. The Sodebo foils, built by Florian Madec Composites in Brest have a hollow shaft. As Benoit Cabaret explains: "You get two UD booms with just the webs in between, just like tiny I beams one next to another, so in fact you get air instead of solid carbon. It is a closed mould construction and then by means of a vacuum to get the thing to be compressed against the surface of the mould in an autoclave."
The advantage is a weight saving of something like 30% (or 40kg in Sodebo's boards), with the carbon fibre I beams, that range in size from 3-6mm according to their position, representing a substantially more effectively shear web/core than say foam, particularly in curved boards. According Cabaret, Madec, who typically builds carbon fibre components for the French aerospace and military, built two boards for Sodebo which he then tested to destruction in a hydraulic press, comparing notes with engineer John Levell before completing Sodebo's final boards, a process that took eight months in total. The downside is that they are incredibly fiddly to build and as they are built in one piece there is no room for error.
In addition to this new technology the boards on Sodebo not only go up and down but their angle of incidence can be adjusted from between 1 and 5 degrees, via rope control lines.
All three boats have rotating wingmast rigs, however again Sodebo has the technological edge over the other two boats in that hers can be canted up to weather, like the OMRA 60 rigs. On Sodebo the maximum mast cant is +/- 9 degrees, which Coville says is less than on his ORMA 60 when it was up to 12. The substantial hydraulic rams attaching to the bottom of the shrouds are mounted along the back of the aft beam.
Typically there is a trend away from hydraulics. On Sodebo they had a hydraulic main sheet but have dispensed with this in favour of a block and tackle system.
Sheet release
As mentioned in our interview with Francis Joyon, both IDEC and Sodebo, but not Oman Air Majan, have automatic sheet release systems. This comprises a cam cleat on a base that flips up releasing the sheet, via an electro-mechanical system. The release mechanism can be set so that it opens depending upon any of a number of parameters from heel angle (as Joyon alarmingly mentioned) to wind speed or direction. The release mechanism can be fitted so that it operates on any sheet and as Joyon mentioned he has them on pretty much everything… Coville points out that on Sodebo their arrangement is set up so that it doesn't need to be changed between tacks. He also used to have a similar release mechanism on the hydraulic main sheet.
"Most of the time I use it upwind," says Coville. "Downwind to be honest I don't like being at the limit with the genniker. Upwind with the traveller or the main sheet I like to use it because it makes a huge difference in how you go, because with our boats you need to be on one hull all the time. The boats have been designed to be two thirds on the floats and one third on the main hull, so you need to be at the limit."
Gavignet says he didn't fit one because after having experience 70 knots on board Oman Air Majan in the Indian Ocean he says he felt safe without it. He was also attempting reduce any further complexity on board.
The photos below show a lot more of the boats.
At present we have heard of no one else building a new maxi-multihull for singlehanding. Maybe this Route du Rhum will change that. Meanwhile Irens and Cabaret are still hoping to get the order for a fully crewed version of their singlehanded maxi-trimarans and one can only imagine how long this might be – 150ft? 200ft?
IDEC:
Sodebo:
Oman Air Majan:
| | |
| --- | --- |
| | |
| | |
| | |
| | |
| | |
| | |
| | |
| | |
Back to top
Back to top