Lucky leader
The group of boats that arrived at the finish line in Marsamxett Harbour this afternoon spent most of the 600 miles within reach of each other, and how they made some key tactical decisions along the way would make or break their results.
Vladimir Proshikin's chartered Volvo 70 E1 (RUS) crossed the finish line at 12.35 today, in fourth place on elapsed time. The Russian sailor from St Petersburg competed last year on his Shipman 72 performance cruiser/racer, quite the polar opposite of this five-year old round-the-world ocean racer. While the conditions were lighter this year, the crew had a workout with numerous sail changes, a net wrapped around the keel and a canting keel stuck off center for the last ten miles. Still, on the quay after the finish, Proshikin was clearly elated and quite animated in relating the trip. "This race was a bit slower, but in light air it's even more demanding. It was fun and it's quite intriguing, but took a bit longer so we are a bit tired. It's a vey impressive race, difficult conditions, with many islands -- it's not like running 600 miles from start to finish in a straight line, it's tricky.
"We had some bad luck a couple of times, catching the net around the keel for several hours (which required a neat trick where they sheeted in the main and canted the keel the wrong way, so a crew member could 'walk' out and then get in the water to dive and cut it away). We're on the boat for the first time as a crew, with only a week of training, and it's a very complex boat. Sometimes you are lucky, and sometimes not…but overall, I'm happy!"
But it was Bryon Ehrhart's TP52 Lucky, that crossed the finish line after 3 days, 3 hours, 16 minutes, which put the US boat on top of the leader board on corrected time, for now.
The Chicago-based skipper/owner has had the Rolex Middle Sea Race on his 'to do' list for a while and has methodically planned a race schedule – that included last year's Rolex Fastnet Race – that would give them some good practice and put them in the Med this year. Ehrhart said, "What a great race and probably the best offshore race we've done in terms of the style of race. Getting up through Messina was a challenge on it's own – it's like multiple regattas within one large long race, it's very scenic, but there are opportunities to screw up all over the place!
"But thankfully, Ian Moore is a fantastic navigator. We were very happy with the calls we made all the way around. Times where we thought we'd have a lifts, we generally had lifts; times we'd thought we'd get knocks coming into important marks, we got knocks. So a lot of worry and decision about whether 25-50 miles out you're going to make the right decision about sailing this course to get to a knock or lift, and I put it up to his genius in getting us there.
"We spent a lot of time next to Wild Joe, she was actually an additional motivator. Several times we were in and out with her. The Cookson 50 (Cantankerous), Wild Joe and Pace – we were on each others' mind all the time."
Ian Moore who, as a last-minute addition to the crew, seemed to have earned his keep with their impressive performance. The Irish Volvo Ocean Race veteran and BMW Oracle America's Cup crew member said: "It was good race, pretty exciting, lots of lead changes. We were pleased every time we managed to pass Pace, and then their boat speed got up again, and then we got another opportunity. Lots of moments the race would restart and give us the option to use our abilities.
Of the difference between the two TP52s, Moore said: "They are very different vintages. Pace was built for the TP52 Worlds in Miami and is an ultra-light racing machine. Lucky was designed to race across the Pacific Ocean and be able to keep the crew on board on that 3000 nm passage. Pace is an inshore racing boat, and Lucky is an ocean-going boat, a lot heavier, stronger. But, it's nice for me to sail on this boat, to know this is a good, strong and safe boat. Every time you take a normal TP52 on a race track, you are always crossing your fingers and hoping it's going to stand the test of time."
Moore enjoyed the course and said, "It is a spectacular course; it's a circular course, start and finishing in Malta. Going up to the Strait of Messina and just running into that five knots of current, apparently from nowhere, and going around the smoking volcano of Stromboli and all the islands, including Pantelleria, Lampedusa. They're like an island in the middle of nowhere, but there are always people living on there, no bigger than a view football pitches. It's really a pretty amazing race track; it's lovely to come and do it again."
This was Wild Joe's skipper/owner, Marton Jozsa third Rolex Middle Sea Race, though for most of his Hungarian crew it was their first-ever offshore race. Jozsa said, "I think this is the first good offshore racing result in Hungarian sailing, so I think we can be satisfied with this result – and we are! We have one guy from Australia with experience in offshore racing and it is very good to have this guy on board.
"We very much like sailing here in Malta and also in this race, so I hope we will be here again. Besides some races in Croatia, next year we are planning to take part in Rolex Capri Sailing Week in May – for us, the Rolex Volcano Race – and after, we will see."
Bret Perry, strategist and the lone Australian on board Wild Joe, said: "The team is a bunch of dinghy sailors, and it's their first offshore experience. It's a new boat to Hungary, and not many people have seen a Hungarian sailing team. I didn't know quite what to expect myself, but once we got sailing on the boat, the crew was really fantastic, sailing 100%, and gave us every opportunity to finish where we finished.
"You have to be realistic and get out there and do your best, but to get what we achieved they should be really, really proud. They're all so talented, they're Olympic-level sailors, they know what's going on, they just need to understand the bigger picture and get out of windward-leeward type of sailing – and this is their first experience in an offshore boat.
Jonas Diamantino's Comanche Raider II, from the Royal Malta Yacht Club, has been taking a pasting but spirits are high, as he explained as they passed Pantelleria earlier today. "Pretty hectic, pretty scary. We got hit by a 45-knot squall, with very confused seas, and it was all on. But everybody is fine and so is the boat, but it was a tough few hours. We are now doing ten knots and heading for home. Tell the bar at the club to get the beer on ice!"
Lucky are currently leading overall on corrected time in IRC, but they have to withstand challenges from at least two boats that are in contention for the overall win. Sort of like history repeating itself, the two boats are the Lee Satariano & Christian Ripard's J/122 Artie, and John Ripard & Andrew Calascione's J/133 Jaru. The last time a Maltese boat won the Rolex Middle Sea race overall was Market Wizard in 2002 with Ripard & Calascione, and in 2001 it was Christian Ripard's Straight Dealer.
The Maltese Beneteau 411 Fekruna retired just west of Stromboli, bringing the total number of retired boats to eight, with eight boats finished and 60 still racing.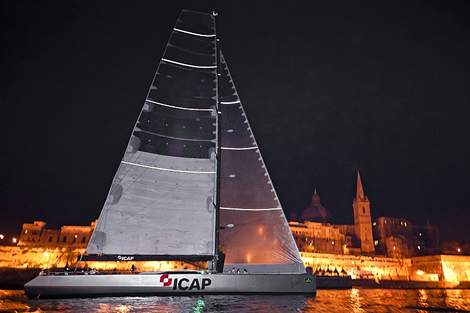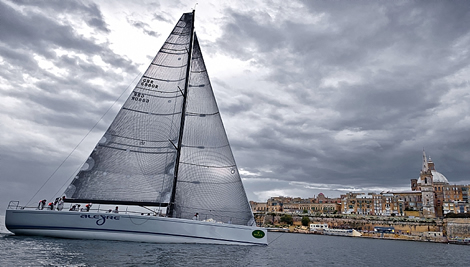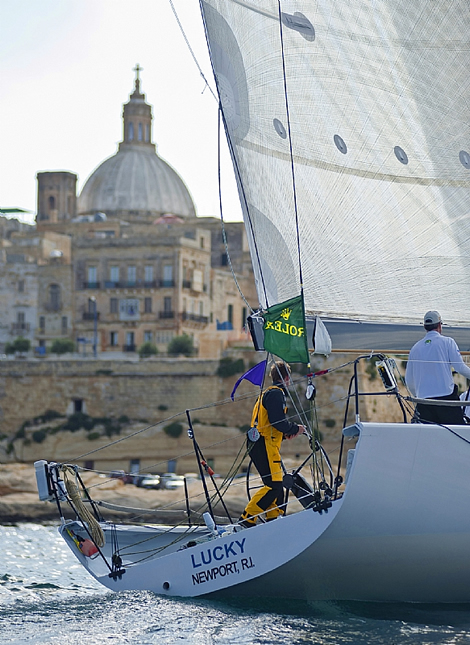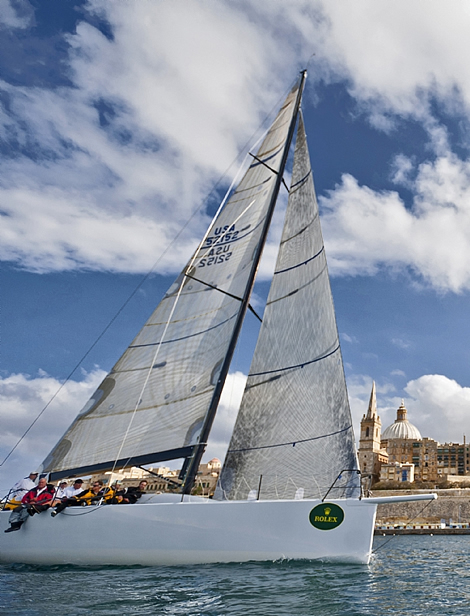 Back to top
Back to top