Pete Goss to PACK IT IN!
Pete Goss MBE has joined forces with title sponsor DMS to tell the world it is time to PACK IT IN! But Pete is not retiring from sailing; far from it, as he is just a month away from setting sail on the Route du Rhum. On his first solo ocean race since his heroic completion of the 1996 Vendee Globe, Pete Goss will be taking with him on the 3500 mile long race from St Malo to Guadeloupe a serious environmental message. Using boat graphics the like of which have never been seen before in ocean racing, Pete and DMS have pledged to the world of plastic packaging that it is time to PACK IT IN with the aim of changing business and consumer habits.
The boat, to be named DMS, showcases specially commissioned artwork from one of the UK's leading street art duos and captures DMS's experiences of reducing plastic packaging throughout their business of Creative Packaging Solutions and supplying CD, DVD and Vinyl Records to the music and creative industries.

Commenting on the race and partnership with DMS, Pete Goss said: "I'm very excited about competing in the Route du Rhum, it's a major fixture on the racing calendar which sees more than a quarter of a million spectators at the start cheering the field on. Weather permitting, I'm expecting to complete the race in around 21 days." He continued, "It's fantastic to have the support of DMS and I'm over the moon with the boat graphics, it truly is a first in the sailing world and I'm sure it will prompt business leaders and consumers to consider more ethical purchase decisions on their creative packaging." Goss continued, "As ocean sailors we're more aware of the issues of plastic pollution in the world's oceans than others. PACK IT IN! is designed to make people consider the simple solutions we can all take to stop a huge problem becoming even larger".

Speaking about his pro-active business approach, DMS Managing Director Dave Summers said "Over the past 10 years we have built up a global business that now produces more than 2500 individual releases per year from independent artists through to multinational blue-chip companies. This results in millions of individual records and packaging units, which up until 2008 we manufactured in 90% plastic." Since 2008 DMS have offered a full range of low-carbon creative packaging solutions which have become increasingly popular with both their clients and the end user. Summers continued, "Currently, only 10% of our total packaging output contains plastic and we're aiming to eliminate all plastic packaging by 2012."

Created by leading street artists Danny Capozzi and Phil Rees, contemporaries of guerrilla street artist Banksy, the PACK IT IN! artwork allows urban art to set sail on a dramatic new canvas.

Speaking about the PACK IT IN! artwork Danny said, "It's great to be able to work on such a large-scale mobile canvas that will be viewed the world over. Often art is confined to the space and audience for which it is commissioned, but PACK IT IN! has got some serious miles ahead of it and will be spreading an important message throughout its journey, plus it's really exciting to push the boundaries of sailing livery." When asked about the central character of the design Phil said "Barney is a neptune-esque character, the ultimate Eco Warrior from the deep who is fed up with plastic packaging littering his oceans and he's there to strike fear into the hearts of the ignorant, and maybe even some of Pete's competitors!"

Meanwhile Pete is focusing on the final preparations of the Team Concise boat and sea trials before the race start on 31 October. The official naming ceremony of DMS and campaign launch party will take place at 1700 on 29 September at Mayflower Steps, The Barbican, Plymouth, with Dave Summers' environmental mentor Alison Tickell, Director and Founder of environmental group Julies Bicycle, charged with officially naming the boat.
Read our interview with Pete Goss here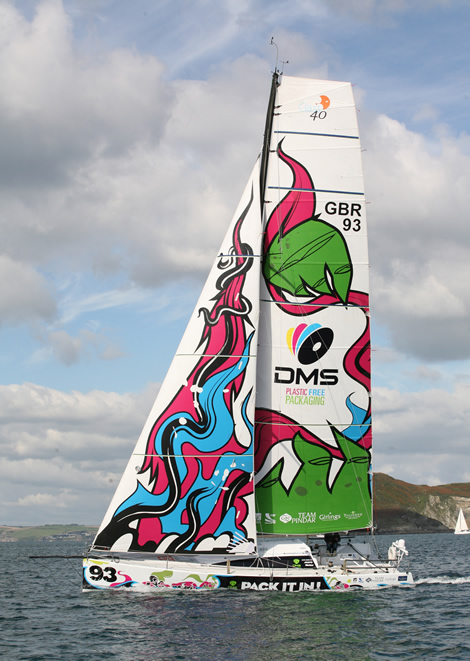 Back to top
Back to top