One woman's ultimate challenge
One of the big stories in this autumn's Route du Rhum will be the 'clash of the titans' in the Ultimate class. At present eight boats are entered in this and aside from the hotshots such as Joyon, Coville and Cammas, a number of older boats will be bringing up the rear. One of these is being sailed by the only female in the class – Servane Escoffier.
Escoffier, 29, will be sailing a boat only two years younger than her, the Gilles Ollier designed and Multiplast built 22.5m long catamaran now known as Saint-Malo 2015. To don our anorak momentarily: The boat was originally built for double BOC Challenge winner and Vendee Globe creator Philippe Jeantot who campaigned it in the 1980s as Credit Agricole. It was then sold to Bruno Peyron who raced it under the name Ericsson and then continued to own it for many years, using it as a test platform before he acquired Jet Services V (latterly Commodore Explorer, the first boat to claim the Jules Verne Trophy) and his subsequent non-stop around the world round the world record breakers Orange 1 and Orange 2.
Servane comes from what is turning into one of France's great ocean racing dynasties – her father Bob has competed in several Route du Rhums and Transat Jacques Vabres, including the 1998 solo race aboard a catamaran. Her uncle Franck-Yves Escoffier has for more than a decade been competing in the top 50ft multihulls, or Multi50s as they are now known, and is one of the favourites for line honours in this autumn's Route du Rhum aboard his lateest Crepes Whaou! Nephew Kevin is part of Pascal Bidegorry's Banque Populaire crew.
Personnally Servane has had a diverse sailing background. In the past she has also been part of Claire LeRoy's top ranked match racing crew. But her experience is mainly offshore in events such as the Tour Voile, the Transat Jacques Vabre with her father in 2003, and finishing second in the Open 50 mono class in the last Route du Rhum in 2006. Her greatest experience to date was sailing around the world non-stop doublehanded in the Barcelona World Race aboard Ellen MacArthur's old Kingfisher IMOCA 60.
Despite having only completed her qualifier for the Route du Rhum yesterday morning aboard her giant boat, Servane is in good shape and survived the four and a half day qualifier despite experiencing blustery 30+ knot winds.
So with the options of competing in a Class 40 or a Multi50, why did she opt to race an older boat in the Ultimate class? "For several reasons. The first one is that I wanted to have a new challenge. Secondly it was a little less expensive, but not a lot, to go in the Class40 but the difference wasn't enough because to rent a good boat is very expensive. Initially I wanted to buy a Multi50 but it was impossible for me to find the money. With this option I find the money day by day and this boat is very beautiful and I think she has an interesting history as well. It is a new challenge and it is good to sail on a multihull."
Her family are proud and have been helping out with the project.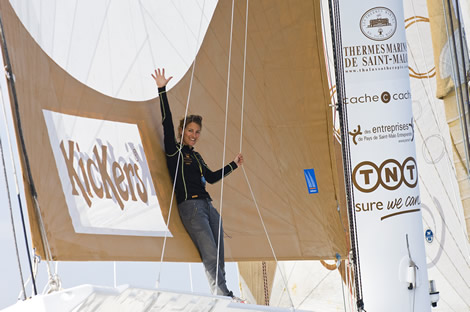 On the advent of the Ultimate class, she says: "It is a good thing because of the history of the Route du Rhum and the possibility for new boats of course like Groupama and Idec, but it is an opportunity too for old boats, not to put them in the bin but to make them better and alive again."
Prior to her acquiring her catamaran it was being used for chartering and it has been been put through a major refit earlier in the summer. This included replacing the mast with a newer one originally built in 2003 for the Sopra Group ORMA 60. This is a similar height to the old one but is a whopping 600kg lighter. Saint Malo 2015 also now features new performance instruments and a hydraulic pilot from NKE and new sails. Yet to be fitted is a grinder for the winch system, which she says will be most welcome.
"So I think we are quite ecological as well! Everything is recycled, except for the sails."
Saint Malo 2015 was relaunched in the middle of June and now with the qualifier out of the way, Escoffier hopes to sail her as much as possible in the month and a half that remains prior to the Route du Rhum start on 31 October. Part of the challenge is learning multihulls, for although experience is plentiful among her other family members, most of Servane's sailing to date has been on monohulls. "It is quite a new exercise for me, but I will be safe and it is a good challenge to try another sport like this."
In addition to the singlehanded requirements, such as sleep deprivation, making time to eat, etc she of course found handling the sails physically challenging, hence her welcome anticipation of the pedestal to drive the winch system. The most laborious operation she found during her qualifier was throwing out third reef, which she says took 45 minutes.
To be fair the sail plan on Kingfisher that she got to know during the Barcelona World Race, featuring a 26m tall mast, was not that much smaller than the rig she has on Saint Malo 2015, expect that it features a rotating wingmast with a 0.85m chord.
The boat certainly knows the way to Guadeloupe as Bruno Peyron finished second in her in the 1986 Route du Rhum. In that same race among the competition was French legend Eric Tabarly racing his giant tri-foiler Cote d'Or II. While Tabarly didn't complete that race, his boat will once again be racing this year in the Ultimate class in the hands of Bertrand Quentin, who has painstakingly refitted her.
"It is like a vintage class," says Escoffier. "I think it is really good at this time and with the financial problems there are in Europe, making sure that old boats don't die means you can still have projects and adventure. It is interesting to see these old boats doing good things with younger people or very good amateurs. It is also interesting to see how the boats have progressed in 20 years." Certainly in terms of value per knot of boat speed it is likely to be very good value too.
After the Route du Rhum Escoffier says she would very much like to race around the world again either in the Vendee Globe or ideally if there was a women's Volvo Ocean Race team... There are vague rumours of such a project trying to get off the ground, but nothing concrete.
As to the prospect of a possible singlehanded round the world race non-stop in multihulls, as has been proposed by Pen Duick, organisers of the Route du Rhum, she reckons it is too much for her at this stage. "From the beginning of my sailing I always wanted to advance step by step and never set out on something I wasn't certain I could do. I remember when Ellen set off around the world on B&Q because I was working for Offshore Challenges, I was in total admiration of her. When you know the speed of these multihulls as I found on my qualification - even on quite an old boat it is still fast – and when you know how it is in the south [Southern Ocean] - I have total admiration for people who do that."
So a woman on a giant multihull in the Route du Rhum - a big challenge certainly, but let us not forget that the winner of the race 20 years ago aboard her ORMA 60, was one Florence Arthaud: so a precedent exists and at no small level.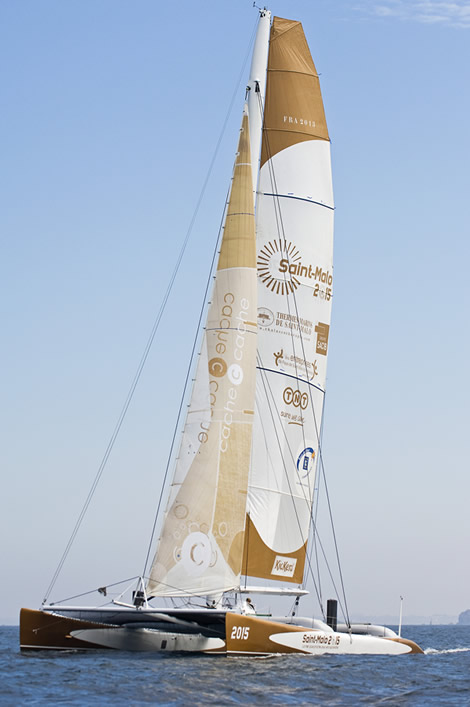 Back to top
Back to top