Groupama into the lead
The tack inshore yesterday afternoon passing the east coast of Scotland seems to have reaped considerable dividends for Franck Cammas and the crew of Groupama. At the 0500 sched this morning while level with the Orkney Islands they had pulled ahead of Telefonica Blue and in the fight to be first to Muckle Flugga, the northernmost point of the Shetlands (and this race course) they rounded at 1300 GMT at which point they had pulled out a 21 mile lead over Iker Martinez and the crew of the Spanish boat, which had had to put a tack in to the west to lay.
At the 1700 GMT sched Groupama had extended to 27 miles ahead of her rival, the two boats now speeding southwest towards the remote outcrop of St Kilda some 250 miles from Groupama's present position. At the moment the wind is 20 knots from the NW-WNW and we're slightly surprised that in this Groupama is only managing to average 14 knots.
Next round Muckle Flugga will be Jonny Malbon's Artemis Ocean Racing which was some 30 miles off at 1700GMT. They are continuing to do a fine job hanging on to the coattails of the VO70s.
119 miles astern of Artemis and at the same latitude as the top of Scotland, is the Lithuanian VO60 Ambersail (ex Assa Abloy 1) with John Merricks II some 8 miles further behind in terms of DTF, but still around 50 miles to east. They, like Telefonica Blue, will have to put in a losing tack to get around Muckle Flugga.
The next swathe a further 40 miles back includes Piet Vroon's much campaigned Ker 46 Tonnerre de Breskens and Tom Gall's young team on the Akilaria 2 Class 40, Concise.
"We are cold, wet and busting a gut to keep up with the bigger boats in front of us," reported Gall. "The boat has been like a submarine since we left Cowes and we are living off tea and porridge. Tom Dawson comes from Newcastle, and when we passed his home town, he told us how good the fish and chips are. I must say I was licking my lips when I told him to belt-up. This is a tough, tough race but when I look at the crew around me, I just well up with pride for what we are doing."
Tonnerre is at present leading the Sevenstar Round Britain and Ireland race under IRC, having taken the top spot at the 2200 sched last night from John Merricks II. The Artemis Ocean Racing IMOCA 60 continues to do a fine job and is lying second overall on handicap ahead of Ambersail, the offshore boats coming into their own in the large conditions so far experienced in this race.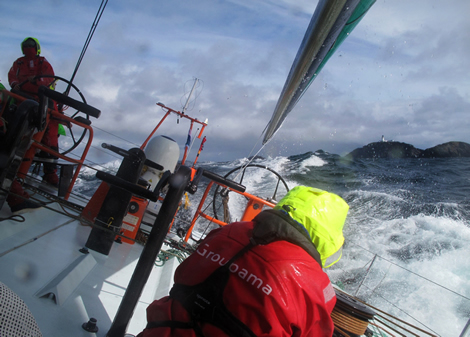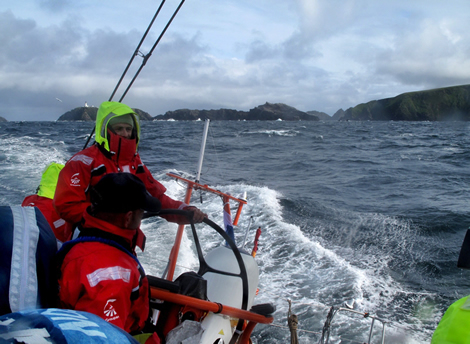 Back to top
Back to top