Back to school for Bernard Stamm
Bernard Stamm is one of thedailysail's favourite characters in our sport – a hard man with enough tattoos to make it easy to imagine him at home deep in the bowels of a freighter (where he indeed spent much of his professional career before going sailing), but also with enough reserve and finesse that have seen him join offshore sailing legends Philippe Jeantot and Christophe Auguin in becoming a double winner of the BOC Challenge/Around Alone/Velux 5 Oceans, singlehanded round the world race with stops.
Although Swiss, Stamm has lived in Brittany since the mid-1990s when he first competed in the Mini Transat (coming third in 1995). At the end of the 1990s he spent three years building his own Open 60 to a design by Pierre Rolland, who had also previously penned his Mini, Hotel Albana. The boat was a little too new for the 2000 Vendee Globe and he retired early on in that race with autopilot issues, but turned his fortunes around by sailing to New York and setting a new fully crewed monohull record across the North Atlantic in a time of 8 days 20 hours 55 minutes.
Since then Stamm has always shone in the Velux 5 Oceans, winning all three legs of the last race over 2006-7, but has been singularly unlucky in the Vendee Globe. In 2004 he didn't make it to the start line when he lost the keel from his boat in the Transat. Stamm was forced to abandon his boat, only to do an about turn when he had reached safety ashore in Newfoundland, heading back out into the chilly North Atlantic to undertake the salvage operation of his 60 himself. The boat was virtually a write-off with no keel, a broken mast and an interior destroyed by water, but over the following winter Stamm lovingly restored her, while taking some time off to sail around the world in the Jules Verne Trophy as part of Bruno Peyron's crew on Orange 2.
Following his second win in the Velux 5 Oceans, Stamm acquired a new boat (for him) in the form of Jean-Pierre Dick's first Farr-designed Virbac-Paprec, but once again the Vendee Globe got the better of him, his boat Cheminees Poujoulat suffering bowsprit and rudder bearing damage. He was forced to make for the Kerguelen Islands but his arrival coinciding with a storm and despite having the added support on board of fellow IMOCA 60 skipper Dominique Wavre (who had arrived in Kerguelen before him) and a RIB, his boat was washed on to the rocks, all but destroying it.
And so just when it looked like Stamm's rollercoaster ride of a sailing career seemed to be at its darkest, last autumn he announced his third IMOCA 60 campaign, this time with a brand new boat from one of the stars of the yacht design world – Juan Kouyoudmjian – and built in Stamm's native Switzerland by Bertrand Cardis' company Decision SA, famously builders of all Alinghi's yachts. Currently at Decision the deck mould for Stamm's new IMOCA 60 is under construction and work is soon to start on the hull mould.
The construction of the boat is being paid for by a long term supporter of Stamm's - the family foundation of the late Marc Edouard Landolt, on who's boat Stamm had worked upon leaving the merchant navy and which Decision's own Bertrand Cardis had been skipper. Running costs of the new IMOCA 60 will again be paid for by his long term sponsor Cheminees Poujoulat, which, as it typical in the weird world of French yachting sponsorship, do indeed make chimneys.
Stamm says the new boat will be different to the other Juan K-designed IMOCA 60, the former Pindar, now Hugo Boss. "Pindar was not built as a solo boat, I think everyone knows that," says Stamm, the reckoning being that in fact the IMOCA 60 class's most powerful boat was designed for two handing across the Atlantic. "It was a demand from the client, from Moose to make a boat like this and with the new rules you can't build another Pindar. So we are taking time to think about the possibilities and we don't have every answer still."
With new mast height and righting moment restrictions in the latest IMOCA class rules, it seems likely that all the new boats will be banging the maximum size limit of the sail plan, however Stamm says they might not be looking at maximum power – for example the bulb on Pindar is enormous compared to other IMOCA 60s.
While Stamm had hoped to launch his new IMOCA 60 ready for this autumn's Route du Rhum, he has decided that the build be undertaken at normal speed, rather than rushed, and so now he doesn't expect it to be finished until this coming winter.
So in the meantime, throughout 2010, Stamm is furthering his own development, for on Sunday he set sail on his first ever race in a Figaro – across the Atlantic in the Transat AG2R La Mondiale, two up alongside Gildas Mahe.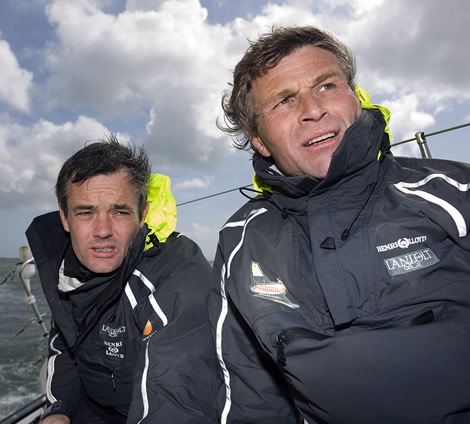 In preparation for the event they were one of the many boats to be training out of the Figaro centre in Port la Foret. "Yes – it was back to school. Or maybe starting the school!" Stamm told us when we enquired about his AG2R preparations. "Before I'd been there several times with 60 footers, but I wasn't official. But this year I am official. The Figaro is part of my global campaign for the Vendee Globe and I will train with the 60 footer there when it is sailing."
Not only is the Transat AG2R, Stamm's first Figaro race, realistically it is also his first main foray into a one design class. "I did a few races in the past when I was very young and I was a crew member doing tactics on a Dragon last year, but basically it is the first time," he admits. "It is very different - every single detail is important and the effects are much less apparent."
Luckily his co-skipper Gildas Mahé is a specialist having back in the 1990s been a 420 hotshot (second at the Worlds in 1995 and after a stint with Jimmy Pahun's successful Tour de France Mumm 30 crew, has been campaigning a Figaro since 2006. "So we have complementary skills," says Stamm, adding on how their roles might divide up on the AG2R: "I think we will both do everything but, I will probably do more navigating and he will do more of the tactics.
"I think it wil be very difficult to be as good as the people who have been sailing these races for the last 10 years, but I will do the best I can!"
Following on from the AG2R, Stamm says he plans to do a full season in the Figaro as part of his training and this will include an event for which his skill level is already higher than most – the singlehanded Solitaire. "It is preparation for the 60 footer, because I have never had time to do Figaro or one design racing before and this year is a perfect one to do it. It is good to have another view of how to do ocean races."
At the end of the season Stamm will return to the Class 40, where he was an active campaigner last year on board Bruno Jourdren's Rogers design. He and Jourdren reached the finish in Mexico in third place in last autumn's Solitaire du Chocolat behind winner Tanguy de LaMotte and second placed Giovanni Soldini. He has this same boat entered in the 2010 Route du Rhum.
As a result this means that Stamm won't be returning to defend his title in the Velux 5 Oceans when it sets sail this year. Now that the race has gone to the Eco60 and no IMOCA 60s are taking part, it is probably no longer for him in any case. "It is very sad that the Velux is not in the IMOCA calendar any more. I don't understand people sometimes - they still don't want to see that there is one of the biggest sponsors in offshore sailing [in Velux]. Two or three people have put the handbrake on that, but that is life."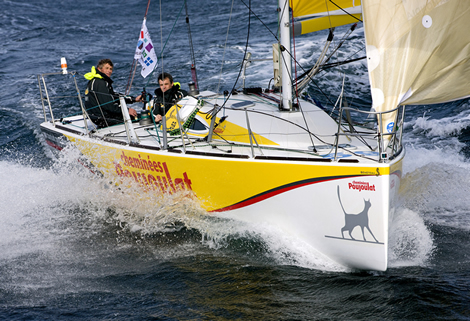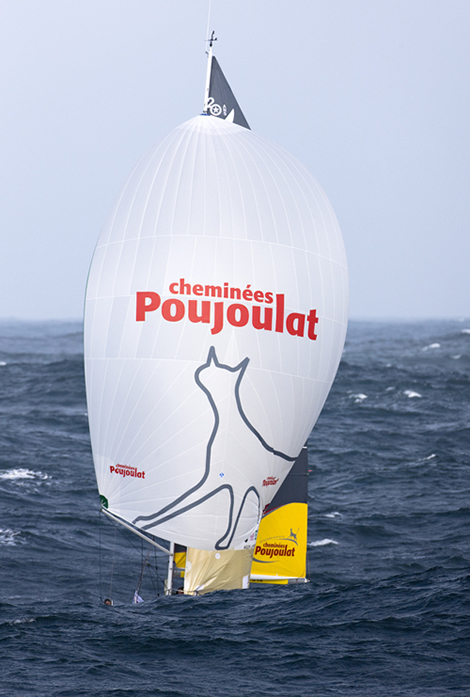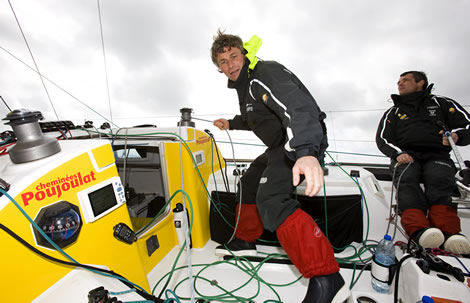 Back to top
Back to top