New L'Hydroptere progressing well
Following L'Hydroptère's 51.36 knot world speed record set last year, so Alain Thébault's project is progressing with the development of two new boats, with the ultimate aim of sailing around the world in approximately 40 days on the new l'Hydroptère maxi.
To reach this objective, the L'Hydroptère team with the help of retired engineers and of their scientific partner, the Swiss Technological Institute in Lausanne, decided to follow the same experimental process as they employed with the original l'Hydroptère – building an intermediate step, a reduced scale a test model called l'Hydroptère.ch. This 35 footer will serve as a lab boat with main purpose of testing the geometry and load characteristics in varied conditions in preparation for the development of l'Hydroptère maxi. Ultimately the aim of l'Hydroptère maxi is for it to be a versatile boat that can work both as a foiler when conditions allow but also as a non-foiler in light winds.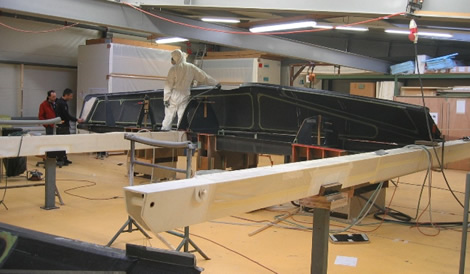 A Franco-Swiss l'Hydroptère.ch test boat is being built in two shipyards, one in Brittany and one in Switzerland. The latter is Décision SA, located in Ecublens close to Lausanne, famous for building the D35s and Alinghi's America's Cup boats including their giant catamaran Alinghi 5. They are making the central flying hull and the floats. The centre hull has been moulded and is now ready for assembly, while the floats are at present being moulded.
Meanwhile in Brittany, the B&B chantier in La Trinité sur Mer has already made the cross beams and has just finished the centreboard. It will be this centerboard that allows the boat to sail with the foils out of the water when wind conditions do not allow a take-off. The shipyard are now working on the boat's remaining rudders and foils.
The launch of l'Hydroptère.ch will take place on Lake Geneva expected at the beginning of this summer. Meanwhile the original l'Hydroptère is in a shipyard in Lorient and she should be relaunched in the spring.
A video of L'Hydroptere can be seen here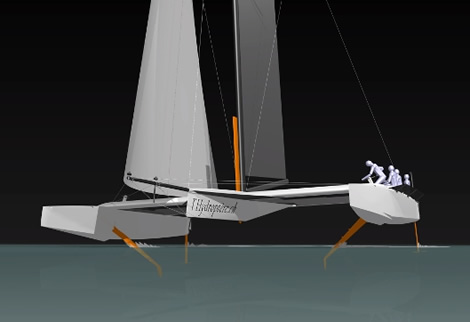 Back to top
Back to top