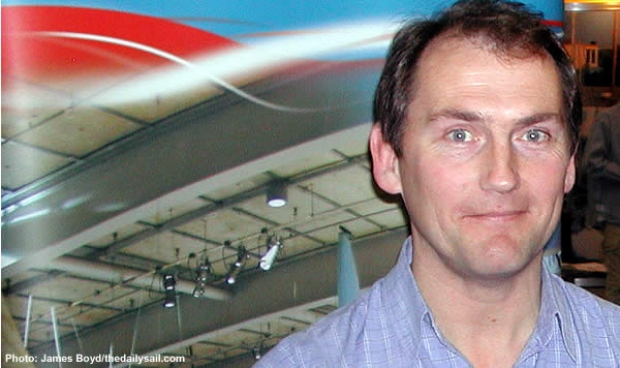 What ever happened to Pete Goss?
Back in 2000 Pete Goss was a household name, certainly in the West Country. His
Team Philips
maxi-catamaran with her sleek hulls and twin freestanding wingmasts was the most radical boat ever to have been built in the UK. The boat was a sensation, engendering massive local pride and support, the visitor's centre adjoining
Team Philips
' build shed in Totnes constantly aswarm with members of the public going to see this extraordinary boat under construction. Following her maiden voyage up to London she was the first sailing boat in recent history to be christened by the Queen.
Once sailing
Team Philips
turned into a disaster zone. First her port bow broke off. The boat was salvaged and return to her build shed in Totnes. Then, once relaunched, she started to break up and was adandoned mid-Atlantic in a severe storm as she was undergoing sea trials en route to the start of The Race.
Debate over what went wrong continues in West Country pubs to this day. Was it the design? Could a catamaran of this size survive without a forward beam to support her slender bows? Was it the engineering? Was it the build? Was it the collosal weight of her otherwise beautifully crafted unstayed wingmasts?
Following the Team Philips debacle Pete Goss has been very much out of the limelight in the sailing world and it was almost with some surprise that we encountered him at London Boat Show. Goss was attending this to help the National Maritime Museum in Falmouth promote a new exhibition about Team Philips. The exhibition opens on 28 January.
"The exhibition is to celebrate the project and certainly the communial side of it," Goss explained. "What I am heartened by is the hull names. When I went up to Iceland [where parts of
Team Philips
eventually washed ashore] I saw the starboard hull and it was floating with the hull names up. Obviously it was tragic to see but it also had a sense of pride and dignity about it. I just made a pledge that I would write to all the hull names when the project had a final resting place which it never really had. So I ended up cutting up the 45ft centre section with the hull names and this is now the centre piece of this exhibition. For me, the hull names represent what the project was all about. So it is nice to see the project come to an end if you like."
Since 2000 Goss says he has been living a happy and fulfilled life with his family at their residence on the Cornish side of the Tamar River just outside Plymouth. "I have been doing quite a lot of teaching which is enjoyable, a bit of business, a bit of adventure. I do a lot of work on leadership with various companies. I work with a number of big organisations and corporations on their fast track training programs. I am involved with London Business School. Business is going well - I'm always busy. That seems to be a trait of mine."
While surfing is the pastime of choice these days in the Goss household, he says sail-wise he has been cruising with his family and jumps on anything he can down in Plymouth.
However recent reports in the press have indicated that Goss is planning to take part in the 2008 Vendee Globe. The man himself refutes this. "There seems to be a rumour going around. If you gave me a boat and the money I'd love to do it. I haven't announced an entry, and I don't know where it came from…"
Goss' current focus is on polar expeditions. "I have been doing some polar travel which I really enjoy. I went up to the North Pole in 2003 and I am going up there again in April so I am training hard for that at the moment. I am an adventurer really and that is an area I have decided to pursue at the moment. In this instance it is part of a training trip. There are six of us and we take a Russian aircraft from Spitzbergen up to 89degreesN and we get dropped off and we do the last degree. So it is not a huge thing but it keeps my hand in and it keeps me sane. I have to do an adventure every year. And it is a wonderful place."
But his main focus when it comes to the adventure side of his life is a project to retrace the steps of another Plymouth man and one of Antarctica's best known adventurers, Captain Robert Scott aka Scott of the Antarctic.
"The idea is that we'd like to follow Scott's footsteps from McMurdo down to the South Pole and back again, which has never been done before and obviously he didn't do it and it is seen in the final chapter in the Golden Age of Antarctic exploration."
Unlike the 'conventional' route to the south pole starting from Patriot Hills on the South American side of Antarctica, Scott's route is unconventional in that it approaches the pole from the New Zealand side. Unlike Scott, Goss says there will be no boat involved with his expedition."You have to fly into McMurdo. If you used a boat you'd have to do what Scott did and sail in and sit there for a winter, do the trip and sit there for another winter. That's not on with the family..."
To help Goss and his team cover the distance - which he equates to Edinburgh to Rome and back - they have been developing special kites that when the terrain allows will pull them along on skis, each with a sled tow astern of them. "We have done a lot of work on them," says Goss. "We spent a month on the Greenland Icecap and managed 40 miles in three miles at one point. We can work to windward with them. Quietly we have done a lot of work on the project."
In Goss' view making a successful passage on Scott's route would be hard without the kites. "The seasons only give you three months and that is what makes it such a big challenge. You have to do those miles in that specified time which is very difficult to do. I personally would question whether you could do it without kites. There is not much wind there. If you were walking you would be averaging between 15 and 20 miles a day. With a kite up you could knock out 100 miles in a day. You don't need many days of kiting to make big inroads into it. Five days of kiting is 500 miles. If you had a few good days you could do far more than that."
The journey to the south pole from McMurdo takes them across the Ross Ice Shelf through an area of glaciers and up on to the Antarctic plateau, 10,000ft up. "There are crevasse fields. They are quite specific where they but you are not quite sure what's in them or where the crevasses are so we obviously don't kite in those areas."
At present Goss says he has no fixed date for the expedition. Originally it was to have taken place in 2003 but Goss is still attempting to raise the necessary £360,000 he needs to make it. Aside from this he says the biggest hold up is the bureaucracy. "There is more bureaucracy in the most remote place on the world than I've ever come across before. It is very political. It comes under the Antarctic Treaty of which many countries are a part and which is being renegotiated at the moment and there is a real stale mate and they don't particularly like private expeditions."
While Goss may have come in for some flack after Team Philips, we wish him the best. The world would be a very dull place without the likes of him.
Back to top
Back to top