And then there were ten
Tuesday June 28th 2016, Author:
James Boyd
, Location: none selected
Two new teams will make their competitive debuts on the GC32 Racing Tour when stage two of the European one design foiling catamaran circuit fires up in Malcesine on Italy's Lake Garda over 7-10th July. For the GC32 Malcesine Cup, taking place as part of Foiling Week, ten GC32 teams will be competing.

Japan joins the GC32 Racing Tour in the form of Naofumi Kamei's Mamma Aiuto! Like Jason Carroll's Argo team, Mamma Aiuto! comes from the Melges 32 high performance keel boat, where it finished a very respectable third in the class' last World Championship. Now into its fifth season, the team last year also took part in the Melges 20 Worlds finishing fourth and, aboard a TP52, won Copa del Rey MAPFRE (this year's Copa del Rey MAPFRE will be the third stage of GC32 Racing Tour, over 3-6 August).

"We were looking for an exciting boat with a good number of teams in the fleet," explains Spain's Manuel Weiller, tactician and mainsail trimmer on Mamma Aiuto! "The GC32 is a fun boat to sail. Every day you go home with a smile on your face, and that is very important for our owner-driver project."

The team took delivery of its GC32 over the winter and has been training with her in Japan. Racing alongside the owner and Weiller are Javier de la Plaza from Spain and Jakob Gustafsson from Sweden, both former crew on ARMIN STROM Sailing Team.

De la Plaza previously competed in the Volvo Ocean Race on board Telefónica Black in 2008-9 and in the last race on Team Brunel. He is also a former World Champion in the 49er Olympic skiff and is a two time J/80 World Champion.

Human muscle machine, Jakob Gustafsson comes with a strong background on the World Match Racing Tour. They are joined by Matthew Barber on bow.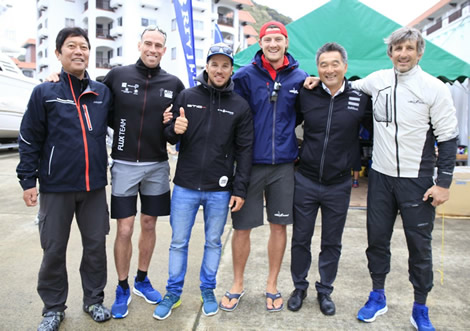 According to Weiller, the team has sailed the GC32 for around 40 days, but this has been on alone - Malcesine will be their first time racing against other GC32s. However he is confident they can get up to speed quickly: "The boat is easy to drive and handle, plus we have Javier and Jakob in our team, who are experienced and guiding us through everything."

While Mamma Aiuto! is new to racing on two hulls, the same is not true for the Swiss on Realteam.

Founded in 2009 by Esteban Garcia, Realteam had its first experience catamaran racing in the D35 circuit on Lake Geneva in 2010. Since then the team has progressed rapidly, and in 2012 won the D35 annual championship and Switzerland's top regatta, the Bol d'Or Mirabaud. It has also competed on the Extreme Sailing Series finishing third overall in 2014.

A fundamental remit of Realteam is to nurture young Swiss sailing talent. However many of the original line-up remain with the team, including helmsman/trimmer Loic Forestier, trimmer/bowman Thierry Wasem and tactician Denis Girardet, all led by skipper Jérôme Clerc and with Remi Aeschimann also on board for Malcesine.

Compared to Mamma Aiuto! Realteam is newer to the GC32 having only acquired its boat one month ago. The crew practiced for a few days last week on Lake Geneva, when conditions were unusually brisk. As Clerc explains: "We did some speed trials – it was very fast. In fact I've never been so fast in my life. We don't know how fast we were, because we didn't have any electronics– but it felt like 40 knots! It is a great, amazing boat."

While they are experienced catamaran sailors, turning into foiling catamaran sailors has been a new step and over the spring Realteam has been learning this on the GC32's little brother, the 18ft Flying Phantom. "That really helped us learn quite fast how to sail the GC32," continues Clerc.



However Clerc acknowledges they are still on a steep learning and they have yet to master GC32-specific manoeuvres such as foiling gybes. "We're in Malcesine this week starting to learn about how to sail the boat around a course. We are looking forward to racing a lot: We went to Riva to watch the racing [the GC32 Riva Cup] and it was fantastic. We hope the wind conditions will be the same, because it looks such fun."

Clerc hopes that they will get competitive quickly. In Malcesine, he says, they hope to find out their level. By Copa del Rey MAPFRE in August, they hope to be getting competitive.

Racing at the GC32 Malcesine Cup, takes place over 7-10 July.

Teams competing at the GC32 Malcesine Cup at Foiling Week

1. Norauto (FRA) - Franck Cammas
2. Team Tilt (SUI) - Sébastien Schneiter
3. Armin Strom (SUI) - Flavio Marazzi
4. Gunvor Sailing (SWE) - Gustav Petterson
5. Team Engie (FRA) - Sébastien Rogues
6. Argo (USA) - Jason Carroll
7. Malizia (MON) - Pierre Casiraghi
8. Orange Racing (NED) - Laurent Lenne
9. Mamma Aiuto! (JPN) - Naofumi Kamei
10. Realteam (SUI) - Jérôme Clerc
Back to top
Back to top