Swinton and Steele go through
Keith Swinton's Black Swan Racing from Australia and Chris Steele's 36 Below Racing from New Zealand have advanced to the Quarter Finals at the 67th annual Argo Group Gold Cup, the penultimate event on the 2015 World Match Racing Tour.

The two crews led the Repechage yesterday and then held on today through a long day of racing to advance to the next round. Swinton won the repechage with a 6-1 record while Steele was second at 5-2. Racing was interrupted for nearly four hours as the wind died from the west and filled in from the northwest.

"It was a challenging day for everyone. We had our share of luck," said Swinton. "We felt like we were sailing well in the first round but had some bad luck that put us in the repechage, so we're happy to go through."

The two crews join six others that qualified after initial round robin racing at the $100,000 match racing regatta. With Qualifying complete the event moves into its ladder-style knockout phase. The Quarter Finals, Semi Finals and Final are all first-to-3 points.

Headlining the Quarter Finals is Taylor Canfield's US One team from the U.S. Virgin Islands. Canfield's crew is the only one to go undefeated through Qualifying. That earned the crew the right to choose their opponent and they'll square off against Steele's 36 Below Racing. Canfield won the Argo Group Gold Cup in 2012 and has placed third each of the past two seasons. He chose to race Steele because the Kiwi is the No. 8 seed in the Quarter Finals.

"We're not surprised," said Steele. "We were the last qualifier and he was the first. But we've learned a lot in the last day and a half."

Other Quarter Final matches pit Phil Robertson's WAKA Racing against Adam Minoprio's BlackMatch in a battle of Kiwi teams. "The winner picks up the tab Sunday night," said Minoprio.

Eric Monnin's Team SailBox races Björn Hansen's Nautiska Racing from Sweden. "People have a tough time telling Swedish and Swiss apart, so we're going to help them out," said Hansen.
ARGO Group Gold Cup Quarterfinal matches:
Match 1: Ian Williams' GAC Pindar vs. Keith Swinton's Black Swan Racing
Match 2: Eric Monnin's Swiss Match Racing Team vs. Bjorn Hansen's Nautika Racing
Match 3: Phil Robertson's WAKA Racing vs. Adam Minoprio's BlackMatch
Match 4: Taylor Canfield's US One vs. Chris Steele's 36 Below Racing

ARGO Group Gold Cup Group Standings
Repechage Round (after seven flights)
1. Keith Swinton (AUS) Black Swan Racing, 6-1 – 6 points
2. Chris Steele (NZL) 36 Below Racing, 5-2 – 5 points
3. Dean Barker (JPN) SoftBank Team Japan, 4-3 – 4 points
4. Johnie Berntsson (SWE) Berntsson Sailing Team, 3-4 – 3 points
5. Francesco Bruni (SWE) Artemis Racing, 3-4 – 3 points
6. Chris Poole (USA) Riptide Racing, 3-4 – 3 points
7. Blythe Walker (BER) Team RenRe, -2-5 – 2 points
8. Reuben Corbett (NZL) Corbet Racing, 2-5 – 2 points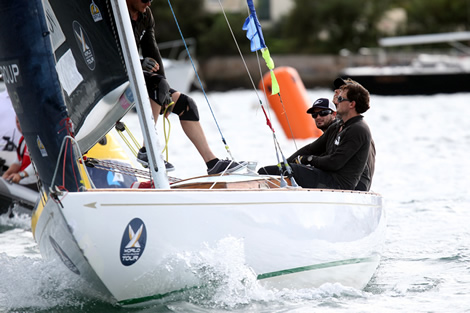 Back to top
Back to top