Biggest line-up for the Artemis Challenge
Zara Phillips will join rugby stars Sylvain Marconet, Gavin Hastings and husband Mike Tindall to do battle one more time for a £10,000 charity prize fund in the Artemis Challenge.
Thursday's round the Isle of Wight event at Aberdeen Asset Management Cowes Week has long attracted big name stars for many years. With the 2015 Rugby World Cup fast approaching, Zara Phillips will be joining rugby stars from England, Scotland and France to take up the challenge to claim a £10,000 prize by winning the annual charity race around the Isle of Wight.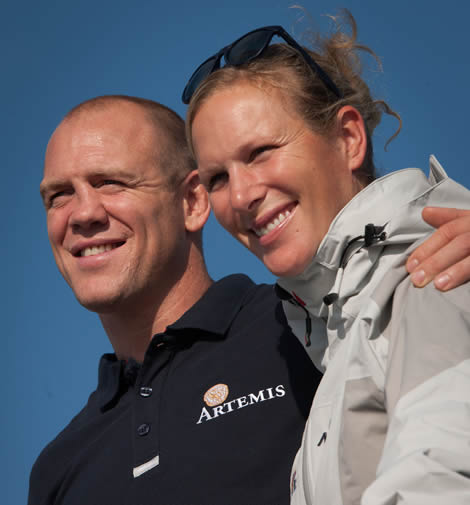 Phillips and her husband, former England captain Mike Tindall will be on board Artemis Ocean Racing and will be hoping to claim line honours ahead of Scottish rugby hero Gavin Hastings and French prop Sylvain Marconnet. Hastings will be racing with the all-female Team SCA, while Marconnet will be joining the French skipper Paul Meilhat on SMA.
Olympic equestrienne Phillips said: "Mike and I have enjoyed racing in the Artemis Challenge a number of times and it's always a lot of fun. With the tension building ahead of the Rugby World Cup and England's game against France next weekend, it is great to get rugby players from England, Scotland and France to join in. At the end of the day everyone is racing to try and raise money for charity but I know these guys still have a strong competitive spirit so am expecting we'll have a decent battle on the water!"
Starting at 1000 BST on the Royal Yacht Squadron Line on Thursday 13 August, the fastest IMOCA 60 to complete the course around the Isle of Wight (weather permitting) will win £7,000 for the charity of their choice, with £2,000 going to the winner of multihulls and £1,000 for the winner of the Volvo Ocean 65 battle.
The race fleet has been growing and will now include ten IMOCA 60s, two VO65s and four multihulls including a top line-up of offshore skippers and racers:
IMOCA 60s
Artemis Ocean Racing/Simon Clay (GBR)
Hugo Boss/Alex Thomson (GBR)
Banque Populaire/Armel Le Cléac'h (FRA)
Groupe Quéguiner/Yann Eliès (FRA)
PRB/Vincent Riou (FRA)
Safran/Morgan Lagravière (FRA)
SMA/Paul Meilhat (FRA)
Initiatives Coeur/Tanguy de la Motte (FRA)
Comme 1 Seul Homme/Eric Bellion (FRA)
Kilcullen Voyager/Enda O'Coineen (IRL)
VO65s
Dongfeng Race Team/Graham Tourell (GBR)
Team SCA/Carolijn Brouwer (NED)
Multihulls
Musandam-Oman Sail/Sidney Gavignet (FRA)
Concise 10/Ned Collier-Wakefield (GBR)
Phaedo3/Lloyd Thornburg (GBR)
Prince de Bretagne/Lionel Lemonchois (FRA)
Back to top
Back to top