UK title for Salvo
The final day's three races of the RORC IRC National Championship was blessed with phenomenal racing conditions in the Central and Eastern Solent with a solid southwesterly wind ranging from 12-20 knots and brilliant sunshine. The three classes sailed two quick-fire windward-leewards while the final race had a reaching start.
Peter Morton's JND 35 Salvo scored a 2-1-1 on the final day to win IRC Three and the prize of overall IRC National Champion. All of the Salvo crew, including Peter Morton, work in the sailing industry in Hampshire, but none of them are professional racers. The core of the crew have been together for over a decade and despite winning class at the championship in the past, this is the first time Peter Morton has skippered his team to the national title. Second overall was Piet Vroon's Ker 51 Tonnerre 4.

Peter Morton commented: "We made a few mistakes but we sailed pretty well in all nine races. Going into the last race we knew that if we won it, then we couldn't be beaten for the overall win. The team kept their cool; frankly we were more relaxed in the last race than the two previous ones. We have a really good team and it has been a great weekend, we really had to work hard for the victory and it has been a real honour to win it. I would like to thank Stuart Childerley and all the RORC team for brilliant sailing, really excellent stuff, a really wonderful weekend and I am absolutely thrilled to have won it."

Peter Morton's Salvo was the winner of IRC Three. However Neil Martin's Sun Fast 3600 Hot Cookie scored their best day of the regatta with a 1-2-2 to tie on points with James Chalmers' J/35 Bengal Magic. Hot Cookie was awarded second place on count back.
IRC One
Piet Vroon's Ker 51, Tonnerre 4 scored a 1-1-2 on the last day to win the high performance class by a big margin. The Royal Ocean Racing Club were delighted to see Piet Vroon back racing after a back operation that has kept the veteran out this year. Mike Bartholomew's GP42, Tokoloshe II was second in class and Sir Keith Mills' Ker40+, Invictus won the last race of the day to hold off Bastiaan De Voogd's Sydney 43 GTS, Coin Coin.

Volvo Ocean Race sailor, Paul Wilcox was at the helm of Tonnerre 4 for the regatta: "This is one of the better fleets I have sailed in the Solent. The 40-foot fleet is coming back to life; this group of boats and their owners are spending a lot of time and effort in raising the game and the teams are responding by performing well. You can see that in the shorter leg courses, because you have to sail around cleanly and you have to sail well. Over the three days, the Race Committee did a really good job; moving us from the Western Solent to the East shows the experience they have got. We have had three good races every day. That is not easy anymore, these boats are getting more and more draft and it is getting harder and harder to lay good race courses and they have been smart in the way they have mixed up the courses."
IRC Two

Steve Cowie's Scottish First 40 Zephyr showed tenacity on the last day to reclaim the class lead, posting a 4-2-1 for the last three races. Simon Henning's Mumm 36 Alice didn't have her best day, but managed to hold onto second place, despite a determined performance from RORC Admiral Andrew McIrvine aboard his First 40 La Réponse, which won two of today's races and placed a second to claim third in class.
Just half a point behind La Réponse was Jim McGregor's Elan 410, Premier Flair, driven by Olympic sailor and former Match Racing World Champion, Lucy McGregor.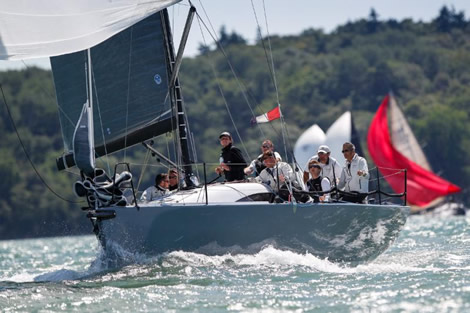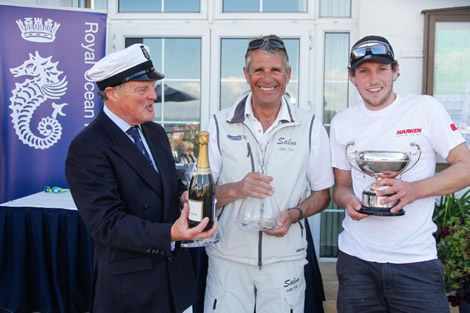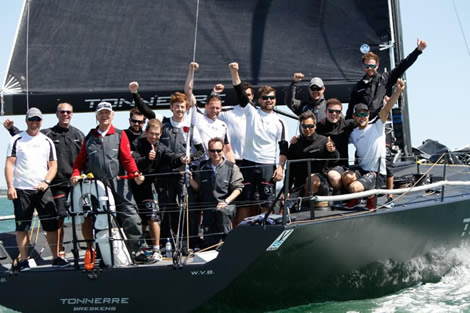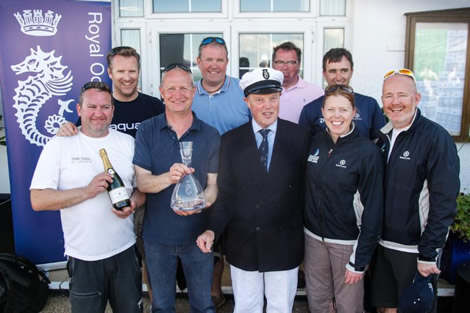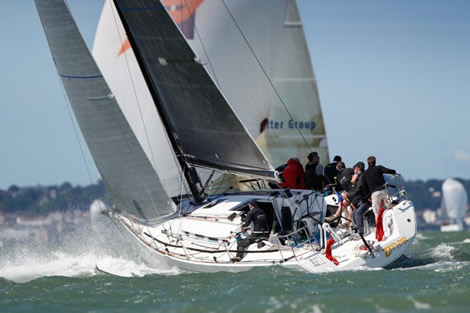 Back to top
Back to top