Flying the Solent
The first visiting team has arrived in the UK to prepare for the Louis Vuitton America's Cup World Series in Portsmouth next month. Emirates Team New Zealand, the Challenger for the 34th America's Cup who came so close to overhauling the defenders Oracle Team USA in 2013, took to the Solent in the foiling AC45 catamaran this week, lining up against home contenders Land Rover BAR.
Emirates Team New Zealand is the first visiting team to begin their training in the Solent prior to the Louis Vuitton America's Cup World Series event in Portsmouth over 23-26 July. Under the leadership of Sailing Director Glenn Ashby, the visiting sailors included helmsman Peter Burling and his Olympic crew Blair Tuke, Ray Davies, Richard Meacham and Guy Endean.
For the Kiwi team the trip to Britain has brought a first taste of sailing the newly converted foiling AC45Fs. The training camp is also a chance for Emirates Team New Zealand to trial different crew members in different roles.
"[Thursday] was our first sail on the water with our converted boat. It was great to be back on the water and just shake the boat down and make sure everything was working," comments Ashby. "We've got a few different crew members here as well who are sort of rotating through, so it was good just to start that process."
Solent challenges
The team is revelling in the opportunity to train on the waters where the very first America's Cup World Series event of 2013 will be held. "The Solent's an interesting place. I think the tide and the currents are probably the thing that's most interesting thing here. Guys like Ray [Davies] have spent a lot of time on the Solent before, so have got quite a lot of experience in that. I think where we're going to be racing, off Portsmouth, will be a great venue. We're really looking forward to it," Ashby commented.
The New Zealand public is famous for passionately following the America's Cup, and Ashby was pleased to see the ACWS is making a big impact as they arrived on England's south coast. "You definitely know that everyone's really looking forward to the event and talking about it. There have been quite a few people stopping us on the street, asking about the regattas, how long the training programme is and that sort of thing. I think the event as a whole will be fantastic. We're certainly going to get a lot of spectators in Portsmouth when the time comes, hopefully the weather will be co-operative!"
When it comes to the forecast for the first America's Cup races to be held in Britain for 164 years, Ashby is hoping for breezy conditions. "The boats really start to become the most spectacular, and perform their best, probably between 13 and 20 knots, so anywhere between that I think would be absolutely awesome.
"For me personally, the windier it is the better! Obviously you want to keep it safe, and I'm sure the spectators would be quite happy to see some carnage, but if it's somewhere around the 15-20 knot range that would be absolutely fantastic and great fun – very physical, everything will be happening very quickly, but that's exactly the style of racing that I really enjoy."
While Land Rover BAR have been training hard out of their home base on Portsmouth's Camber, Ashby isn't intimidated by any home advantage that Britain's Ainslie and his crew might enjoy. "I think being on your home field you tend to have a little bit of an advantage, but with the type of racing that we're doing, it's so micro-focussed when it's happening, it's almost gust by gust, shift by shift. Anything could happen."
Having sparred with the eventual winners of the 34th America's Cup, Oracle Team USA, the New Zealand crew is determined to hit the ground running with their challenge for the 35th America's Cup.
"We are certainly competitive, as a lot of the other guys are as well. But for us really it's about the start of a new beginning effectively for the team going forwards. It's been almost two years since the last Cup and there's been a lot of water go under the bridge between that time. For us as a team really it's about stepping forward with a clean sheet of paper, and really looking forward to the challenge of this next couple of years," said Ashby.
"Having a really solid regatta first off the bat would be fantastic. Obviously we've got a new team, but I think we've got the experience and the knowledge and the know-how to put together a good package, and hopefully get a fantastic result. We're going into it fully eyes open, hoping for a solid podium finish for sure."
Ashby expects all six competing teams in the first America's Cup World Series event will be equally motivated. "I think we've got a lot to prove at this event. At the end of the day everybody expects us to do well, certainly New Zealand would be expecting us to do well! And hopefully we've got no reason for that not to happen. I think all the teams will be wanting to prove a point straight away, so when everyone gets their 'race face' on, it'll be pretty exciting.
"I think it will be absolutely full-out, I don't think there will be anyone holding back. This event will effectively be the first foiling fleet race of an America's Cup World Series – or ever, basically! There could be some different manoeuvres and people trying different things. I think this first event could be one of the most exciting AC45 World Series events ever seen!"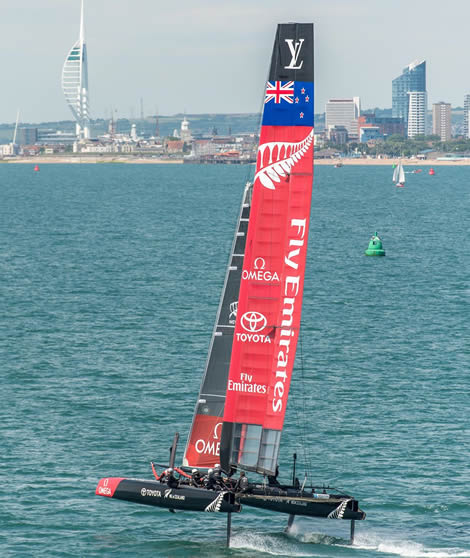 Back to top
Back to top