AC and VOR stars to sail GC32 Racing Tour
Competitors in this week's Austria Cup, the debut event on the 2015 Bullitt GC32 Racing Tour, have been busy assembling their boats and carrying out their first tentative sails on breath-taking Lake Traunsee, prior to the start of racing proper on Thursday.
Five A-grade quality teams will be racing and while the majority are new to the one design foiling GC32 catamaran, by far the most experienced is Armin Strom Sailing Team of Swiss Olympic Star sailor Flavio Marazzi, President of the GC32 International Class Association.
Marazzi has been racing his GC32 for two years and here in Austria is sailing with the same crew as he had for Marseille One Design, the final regatta last season. "We won in Marseille, so I expect to win here!" he quips.
The Swiss skipper is hoping that experience will pay, that sailing the boat will be 'second nature', allowing his crew to concentrate solely on racing. "I think it is the one point where you can win or lose. If you have a good team that knows how to trim the boat and do the manoeuvres right, and have a smooth regatta, it is much better."
Returning to Marazzi's crew is Spanish mainsheet trimmer and tactician Javier de la Plaza, fresh from competing on the Brazil to USA leg of the Volvo Ocean Race with Team Brunel. "The Volvo is very hard work because I didn't train before. And with this you get to sleep in a hotel!" says de la Plaza, who sailed the whole Volvo Ocean Race in 2008/9 with Telefonica Black. He is also a big fan of the GC32. "The boat is fantastic - flying in 9-10 knots - and now level is really high."
The real newcomer to the Bullitt GC32 Racing Tour is the Oman Sail team, led by British Olympian Leigh McMillan, on Sultanate of Oman. To date the crew has only amassed four days training in their GC32 and this was in big conditions on the Solent, when McMillan says they were regularly seeing 30+ knot boat speeds.
While McMillan is a newbie foiling catamaran sailor, the team has had sterling support from Alister Richardson, experienced in this discipline, having most recently been with the Luna Rossa America's Cup challenge. "Alister's helped let us know where the boundaries are and make sure we've had our head in the right place on the boat," says McMillan, on their transition to airborne sailing. "Ultimately you are looking for the same things, like trying to keep the boat nice and level - you have a lot to do with that on the helm, tying it in with the main trimmer. But it is great to go back to school - it keeps us feeling younger than we are!"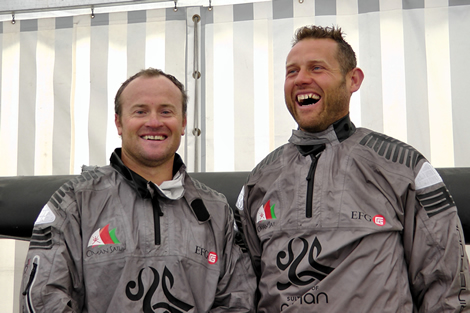 An 11th hour recruit to Sultanate of Oman is Glenn Ashby, the Australian multiple A-Class catamaran World Champion, best known as wing trimmer and B-Boat helmsman for Emirates Team New Zealand. "There is no wing, but otherwise it's the same!" says Ashby comparing the GC32 one design with the AC45 and AC72s, he sailed before and during the 34th America's Cup. "At the end of the day, it is pure and simple racing - you have to get off the start line well, do your manoeuvres well and go the right way, just like you have to in any regatta."
With ETNZ, Ashby spent much time sailing against McMillan's The Wave, Muscat crew on the Extreme Sailing Series last year and is looking forward to sailing with them this week. Lake Traunsee also holds some nostalgia for him: It was here, in 1997, that he sailed his first ever northern hemisphere regatta – the A-Class Europeans. "It is lovely to come back – it is a really nice part of the world."
Racing at the Austria Cup starts on Thursday with a first warning signal scheduled for 1100 local time. Tomorrow the event kicks off with a test and media day allowing the crews to get used to the conditions on Lake Traunsee.
Throughout the test/media day and the regatta, corporate hospitality guests will get to experience foiling catamaran racing as passengers on the GC32s. For this they will be equipped with Helly Hansen foul weather gear and safety equipment from FORWARD WIP, the official clothing and safety gear partners, respectively, of the Bullitt GC32 Racing Tour.
Christian Feichtinger CEO and Founder of PROFS welcomed the Bullitt GC32 Racing Tour: "It is a big honour for us as the organisers and for the region of Salzkammergut to have the GC32s back here on Lake Traunsee. We are very happy with the line-up and that some of the world's top sailors are competing here. And it looks like the weather God is smiling on us, because the forecast is good. We look forward to some great racing."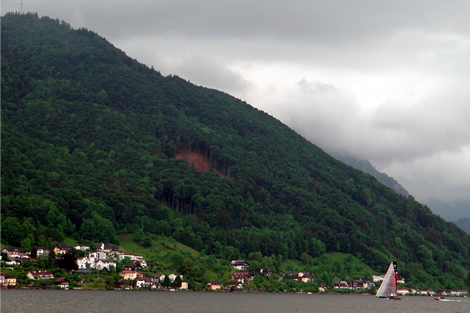 Back to top
Back to top