Langenargen glass out
After near perfect wind conditions on yesterday's practice day, the opening day of Match Race Germany tested sailors' and the race committee's patience in the mini-Doldrums of Lake Constance. Racing started with a delay and eventually got underway in light, shifty winds of two to six knots, but the challenging conditions with Swiss lake racing specialist and world number four Eric Monnin coming out on top.

While Monnin's Swiss SailBox Team lost all their three starts they went on to win all three, breaking with conventional match racing trends where normally more than 75% of race wins occur in the start.

"I was not happy with our start performances today," admitted Monnin, "but our manoeuvres, our boat speed and our tactics were really good."
Unbeaten, Monnin leads after day one on 3:0, followed by Croat Tomislav Basic' TB Race Team (2:1) and Slovenian Dejan Presen's Lumba Match Race Team (2:1).

Joachim Aschenbrenner's Danish Team Aschenbrenner Racing and Reuben Corbett's Team Corbett Racing from New Zealand both won their only match of the day as did Przemyslaw Tarnacki's Energa Yacht Racing Team from Poland.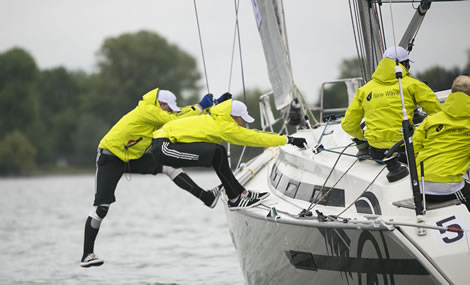 The weather forecast for day two looks more promising in all areas: More wind, more sunshine and rising temperatures, all warmly welcomed by competitors and fans in the race village at the shores of Lake Constance.
With only 12 of 66 scheduled matches in Qualifying so far held, Race Officer Rudi Magg and his team from Yacht Club Langenargen are highly motivated to serve sailors and spectaors up with an action-packed full second day of racing.

Results
1. Eric Monnin , 39, Stäfa/Switzerland, Team SailBox – 3:0
2. Tomislav Basic, 40, Split/Croatia, TB Race Team – 2:1
2. Dejan Presen, 33, Ljubljana/Slovenia, Lumba Match Race Team – 2:1
4. Joachim Aschenbrenner, 21, Nivå/Denmark, Aschenbrenner Racing – 1:0
4. Reuben Corbett, 27, Kerikeri/New Zealand, Corbett Racing – 1:0
4. Przemyslaw Tarnacki, 37, Danzig/Poland, Energa Yacht Racing Team – 1:0
7. Max Trippolt, 24, Bregenz/Austria, Trippolt Sailing Team – 0:1
7. Tino Ellegast, 35, Konstanz/Germany, Team Ellegast – 0:1
7. Mathew Jerwood, 22, Australia, Redline Racing – 0-1
10. Mark Lees, 23, Poole/Great Britain, GBR Match Racing – 1:2
10. Christian Binder, 52, Schwechat/Austria, Flat Lake Sailing Team – 1:2
12. Tim Kröger, 50, Hamburg/Germany & Felix Schrimper, 18, Konstanz/Germany, New Wave by adidas – 0:3
Back to top
Back to top