Slow start and special guest
After forecasts earlier this week indicated the RORC Easter Challenge would kick off on 'breezy Good Friday', in the event the breeze shut down for two hours in the middle of what was a chilly overcast day on the Solent. Eventually the slow moving warm front shifted sufficiently for a 6-8 knot southeasterly to establish. This allowed just one race to be held.
The RORC Easter Challenge being a training regatta, complete with on the water coaching led by Jim Saltonstall and supported by the North U Regatta Services team all the way from the USA, the day began with some practice starts, before the wind shut down.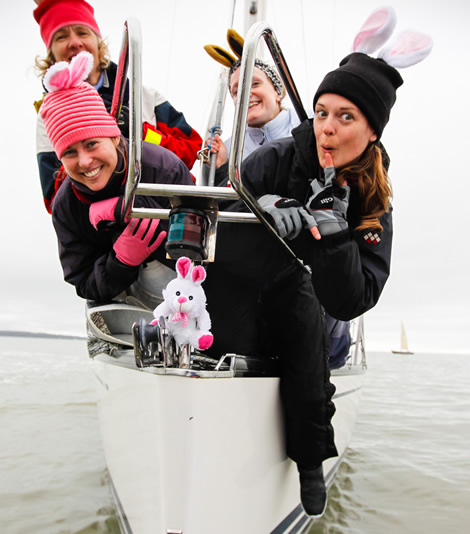 After a two hour wait there was slightly too much excitement for the IRC One start with several top boats such as Mike Greville's Erivale III, Mike Bartholemew's GP42 Tokoloshe II and the new C&C30 Checkmate XVI all over early. In the event it was two time Brewin Dolphin Commodores' Cup winner Anthony O'Leary aboard his latest Antix, a turboed Ker 40, that came out on top with a pleased James Gair skippering the Cowes Race School's Mills 39 Zero II second.
Of the two Farr 45s competing it was the British Keelboat Academy on Niklas Zennstrom's Kolga that prevailed. A British Keelboat Academy new recruit, Women's 420 World Champion Annabel Vose is helming Kolga this year. Kolga finished fourth in today's race, despite this being their first regatta with the new crew line-up.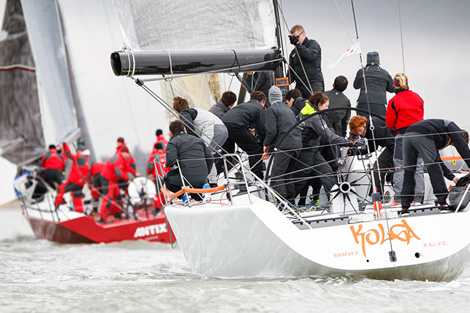 Vose recalled: "We had two hours or so relaxing with no wind and they just gave us a two minute warning to get back in and the wind was completely different which was quite hard."
While the majority of yachts competing are British, three are Dutch including the de Graaf family's citrus-coloured Ker 40 Baraka GP. She finished mid-IRC One, which came as no surprise to elder son and jib trimmer Dirk, since they haven't sailed the boat at all since Cowes Week last August. A training regatta is the ideal vehicle to get the crew to relearn the ropes. Baraka GP was first out on the water this morning "just to settle and remember the boat," says Dirk. "When you have this light breeze it is always a case of finding the right settings on the main and jib so we finally found out how it worked again."
Another Dutch team, Intention, the Bashford Howison 36 of Willem Schopman, won today's race by the biggest of margins across all four classes. In IRC Two it was Simon Henning's Mumm 36 Alice that came out while Quarter Tonners 'owned' IRC Four today with Sam Laidlaw's Aguila and William McNeill's Illegal Immigrant finishing first and second respectively.
Aguila, a two time Coutts Quarter Ton Cup podium finisher, was regularly nipping at the heels of boats 10ft larger than her. "This boat does like the light conditions even relative to other Quarter Tonners," admitted Sam Laidlaw, adding that the unexpected light southeasterly had probably benefitted them.
A secret special guest coach was out on the water today in the form of Volvo Ocean Race skipper, America's Cup helmsman and North Sails President, Ken Read, here supporting coaches Chuck Allen and Andreas Josenhan of North U Regatta Services.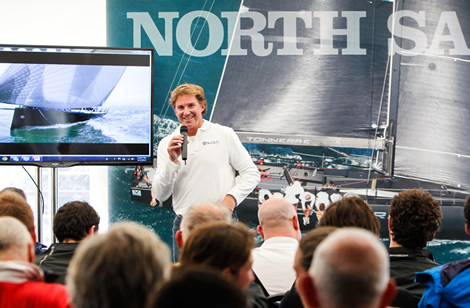 "After this event last year there was so much enthusiasm and excitement about the 'welcome the New Year in' on the water coaching, that I wanted to see it for myself," said Read, who admits he was blown away by the concept. "We don't have anything like it in the States. It is ridiculous that we don't. People sitting around after a cold winter, it gives them an excuse to get out there and get the rust off. It is a great idea." He has already set the wheels in motion to hold an Easter Challenge equivalent in his native Rhode Island next year.
Read was also present at today's post-race debrief held for the first time at the RORC Cowes clubhouse and to a packed room shared his views about sails and rig set-up. Read will be in the UK more this season now that North Sails is owned by a UK-based investment group. He will be competing at the Royal Yacht Squadron Bicentennial Regatta and will be skippering Jim Clark's line honours-hunting 100ft racing maxi Comanche in both the Transatlantic Race and in the Rolex Fastnet Race.
Tomorrow the RORC Easter Challenge is expecting winds in the mid-teens and given the light winds forecast for Easter Sunday, PRO Stuart Childerley will be gunning to get in as much racing as possible tomorrow.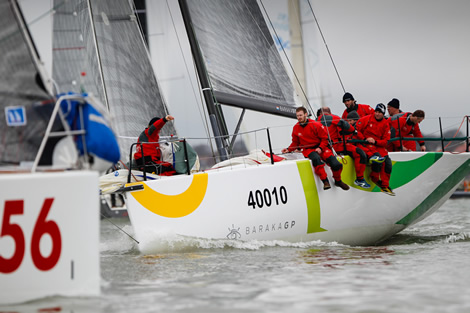 Back to top
Back to top