Zarif and Prada hang on
Day five of Bacardi Miami Sailing Week presented by EFG Bank saw racing getting underway on time in winds that were lighter, between 5-10 knots and out of the southeast.
After one general recall, the Stars started under a black flag with two being called over - Giovanni Coppo/Giovanni Bradanini and Canadians Terry Line/Larry Scott.
Winner of today's race was Arthur Anosov and Andrey Shafranuk followed by Brazilians Alessandro Pascolato and Henry Boening and Douglas Schofield and Robert Schofield in third.
It was a tough race with the overall leaders Brazilians Jorge Zarif and Bruno Prada able to cling onto their lead by three points. Second overall, are last year's Bacardi Cup winners, Lars Grael and Samuel Gonçlaves, followed by Mark Reynolds and Magnus Lilhedahl, seven points adrift of first. Arthur Anosov comments on today's win: "We are very happy. This is the first time we have won a race in the Bacardi Cup after 15 years competing. It feels great, especially for my crew, who is sailing Stars for the first time. Today's conditions were light and shifty, and we tried not to tack too much, while sailing from pressure to pressure. Our objective for the event is to finish in the top 5 and to go to the Bacardi bar and celebrate the win."
The Viper 640s completed two additional races today, having now sailed six in total. First and third placed finishers yesterday swapped places, while the second placed boat held onto her position. The top three finished the day within one point of each other, with Canadian Brad Boston on Jackpot in front followed by Geoffrey Ewenson on Terminally Pretty in second and Britain's Lawrence Crispin on Bubbles in third.
Boston recapped his day: "The first race of the day didn't go that well because we were over and had to restart. Then we made a mistake on the downwind leg and was not aggressive enough coming to the finish, which caused us to finish seventh. The second race was mistake free and with the lighter winds and current, I was able to get back to the top."
Also completing two additional races today were the VX Ones. Holding onto their lead from yesterday is Phillip Norris on Flash Rider. just one point ahead of Kill Bill skippered by William Griffin, in turn only one point ahead of Phip Hallowell on Chuck Wagon. After a tough last race, finishing 21st, Norris said, "I am just hoping for a throwout tomorrow. We had a good first race today, finished fourth, so we are happy with that. Obviously, the last race wasn't what we were looking for. Going into tomorrow we are looking to keep up what we had earlier in the regatta and get our throwout, so we can get that bad result off our score sheet."
The J/70s completed three races today, and have also sailed six in total. Leading is Italian Carlo Alberini on Calvi Network on 14 points, followed by Brazil's Mauricio Santa Cruz on Bruschetta with 19 and Mexican Julian Fernandez on Flojito Y Cooperando on 20.
Alberini commented: "Today six knots of shifty wind and high temperatures made racing very difficult. Today's was a tactician day and ours made the difference. Competition between Mauricio Santa Cruz, Julian Fernandez and us is always very close and it seems to be a continuation of our Key West battles. In reality the top ten boats are all very competitive. For tomorrow I hope in stronger winds in orer to take home Miami!"
The M32s completed four races today with Taylor Canfield on his US One team holding a two point lead over Rasmus Kostner on Trifork a further 12 points ahead of Michael Dominguez on Bronco. "Today was really challenging for our boats with light and shifty winds," said Canfield. "With our catamarans it's extremely difficult to judge lay lines so we decided to run at our own pace and just do our best. It's always a tight race and I like the consistency of our results".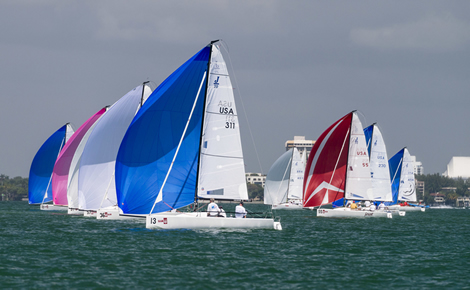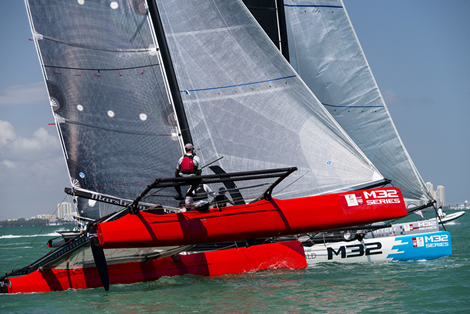 Back to top
Back to top