Strong start for Stig
After the opening day of the Audi Melges 20 World Championship at Riva del Garda organised by B.Plan Sport&Events, Fraglia Vela Riva and Melges Europe, it is the Stig team (Rombelli-Cassinari-Tortarolo) that leads after posting a 11-1-2 scoreline. Alessandro Rombelli's boat, the Gold Cup winner in Miami in 2011, managed to smoothly deal with the ups and downs of Lake Garda's Ora wind that slightly decreased in the afternoon.
Stig is followed, 7-points behind, by Samba Pa Ti (Kilroy-Goodison, 13-4-4), who in turn is four points ahead of his 11-year-old son Liam on board Wildman (Kilroy-Hunt, 3-2-20) that sailed two surprising good races.
The top five is completed by another American boat, Shimmer (Lucas-Melges-Michetti, 5-6-16), and the Italian Mascalzone Latino Jr (Onorato-Page-Ciampalini, 18-9-3).
In sixth is Fremito d'Arja (Levi-Bianchi-Lagi-Masotto, 6-17-8), leader of the Audi tron Sailing Series, which is now on its final leg with this Audi Melges 20 World Championship.
Great performances were also put in today by Russotrans (Kuzmin-Larionov-Morozov, 1-35-44) and Audi g-tron F.lli Giacomel (Martinez-Fonda-Simoneschi, 24-27-1), winner of the first and third races.
Racing resumes tomorrow at 09:00, allowing the Race Comittee to take advantage of the foreseen Peler.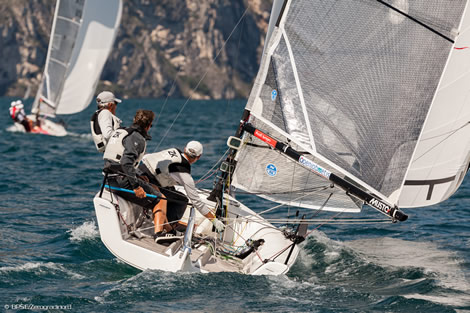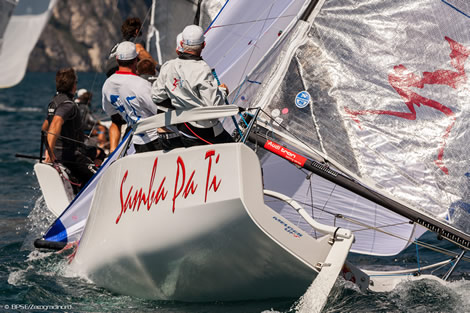 Results
| | | | | | | | |
| --- | --- | --- | --- | --- | --- | --- | --- |
| Pos | Sail no | Yacht | Owner/Skipper | R1 | R2 | R3 | Tot |
| | | | | 1 | 2 | 3 | |
| 1 | ITA 65 | STIG | Alessandro Rombelli | 11 | 1 | 2 | 14 |
| 2 | USA 13131 | Samba Pa Ti | John Kilroy | 13 | 4 | 4 | 21 |
| 3 | USA 311 | Wildman | Liam Kilroy | 3 | 2 | 20 | 25 |
| 4 | USA 008 | Shimmer | Russ Lucas | 5 | 6 | 16 | 27 |
| 5 | ITA 23 | Mascalzone Latino | Achille Onorato | 18 | 9 | 3 | 30 |
| 6 | ITA 50 | Fremito D'arja | Dario Levi | 6 | 17 | 8 | 31 |
| 7 | RUS 047 | Kotyara | Oleg Evdokimenko | 2 | 3 | 28 | 33 |
| 8 | CZE 180 | Aloha | Jan Kuchar | 25 | 11 | 7 | 43 |
| 9 | ITA 106 | Asante Sana Sailing Team | Claudio Dutto | 9 | 7 | 31 | 47 |
| 10 | ITA 167 | Maolca | Manfredi Vianini Tolomei | 7 | 20 | 21 | 48 |
| 11 | MON 333 | Monaco Racing Fleet | Guido Miani | 27 | 5 | 17 | 49 |
| 12 | ITA 027 | Chimera (Corinthian) | Marco Gambardella | 10 | 34 | 6 | 50 |
| 13 | ITA 205 | 3menda | Federico Albano | 4 | 15 | 32 | 51 |
| 14 | USA 1315 | Ninkasi | John Taylor | 8 | 8 | 36 | 52 |
| 15 | ITA 149 | CAMAY | Lauro Bonora | 21 | 18 | 13 | 52 |
| 16 | ITA 124 | Audi G-Tron F.lli Giacomel | Roberto Martinez | 24 | 28 | 1 | 53 |
| 17 | USA 276 | Section 16 | richard Davies | 20 | 16 | 22 | 58 |
| 18 | USA 14 | Red Sky Sailing Team | Paul Reilly | 12 | 22 | 27 | 61 |
| 19 | ITA 112 | Peccere' | Mirko de Falco | 44 | 13 | 5 | 62 |
| 20 | MON 108 | Lucifer | Matteo Marenghi Vaselli | 16 | 10 | 39/SCP | 65 |
| 21 | JPN 271 | Mamma Aiuto! | Naofumi Kamei | 17 | 21 | 30 | 68 |
| 22 | RUS 173 | Ost Legal | Vladimir Lipavsky | 26 | 32 | 14 | 72 |
| 23 | RUS 262 | Fly or die | Denis Lankin | 23 | 25 | 24 | 72 |
| 24 | ITA 157 | ITA 157 | Francesco Farneti | 22 | 33 | 18 | 73 |
| 25 | DEN 150 | upupup | Bo Boje Pedersen | 28 | 37 | 12 | 77 |
| 26 | USA 217 | Slingshot | Wes Whitmyer Jr | 45 | 24 | 9 | 78 |
| 27 | ITA 107 | Leviathan | Davide Albertini Petroni | 43 | 12 | 23 | 78 |
| 28 | RUS 265 | Russotrans | Yuriy Morozov | 1 | 36 | 43 | 80 |
| 29 | GER 204 | Maroi | Jan Kowalski | 31 | 38 | 11 | 80 |
| 30 | ITA 189 | Sailing Lab | Andrea Bruschi | 46 | 19 | 15 | 80 |
| 31 | RUS 156 | RUS 156 QUANTUM | Marina Chubkina | 33 | 14 | 37 | 84 |
| 32 | RUS 7 | ANYWAYANYDAY | Kirill Podolsky | 42 | 26 | 19 | 87 |
| 33 | MON 104 | Money Time | Philippe Pizzichini | 14 | 49 | 26 | 89 |
| 34 | ITA 199 | Rush Diletta PRIMED | Mauro Mocchegiani | 34 | 30 | 34 | 98 |
| 35 | ITA 136 | Raffica | Pasquale Orofino | 49 | 27 | 25 | 101 |
| 36 | MON 713 | Synergy | Valentine Zavadnikov | 15 | 44 | 47 | 106 |
| 37 | RUS 44 | Ottobre Rosso | Artem Kuznetsov | 37 | 31 | 38 | 106 |
| 38 | MON 81 | Customly | Corrado Agusta | 32 | 29 | 46 | 107 |
| 39 | ITA 192 | Mezza Luna | Marco Franchini | 19 | 41 | 51 | 111 |
| 40 | GER 135 | Fantastichina | Fritz Homann | 35 | 52 | 29 | 116 |
| 41 | RUS 25 | Versya | Anatoly Karachinskiy | 50 | 23 | 44 | 117 |
| 42 | JPN 233 | Sokokumaru | Sumio Shimoyama | 40 | 48 | 33 | 121 |
| 43 | CAN 170 | Batteries 4 Bacio | Rhonda Joyce | 38 | 43 | 40 | 121 |
| 44 | USA 231 | Blind Squirrel (Corinthian) | John Brown | 29 | 42 | 52 | 123 |
| 45 | GER 164 | Hellcat (Corinthian) | Juergen Fuchs | 30 | 45 | 56 | 131 |
| 46 | RUS 002 | Pirogovo Sailing | Alexandr Ezhkov | 47 | 39 | 48 | 134 |
| 47 | ITA 158 | Tomahawk | Stefano Santucci | 48 | 35 | 53 | 136 |
| 48 | AUT 159 | N.N. | Klaus Schober | 41 | 53 | 42 | 136 |
| 49 | ITA 181 | Hanneken (Corinthian) | Simone Anichini | 56 | 40 | 41 | 137 |
| 50 | CAN 222 | Wild Deuces (Corinthian) | Paul Currie | 52 | 47 | 39 | 138 |
| 51 | ITA 125 | T2R | Tommaso Pavan | 58/SCP | 46 | 35 | 139 |
| 52 | JPN 277 | Contious | Norikatsu Aizawa | 39 | 56 | 55 | 150 |
| 53 | RUS 36 | Anna | Vladimir Silkin | 53 | 54 | 45 | 152 |
| 54 | ITA 137 | Tachicardia (Corinthian) | Michele Dandolo | 55 | 50 | 49 | 154 |
| 55 | ITA 220 | Turnover | Renato Vallivero | 51 | 51 | 54 | 156 |
| 56 | SUI 206 | Cold Duck | August Schram | 54 | 55 | 50 | 159 |
| 57 | ITA 154 | Spirit of Nerina | Mirko Bargolini / Francesco Scarselli | 58/DNF | 58/DNF | 58/DNF | 174 |
Back to top
Back to top