Cape Fling claims IRC 0
Racing was abandoned for all classes at Aberdeen Asset Management Cowes Week today once it became clear that there was no chance of a consistent wind developing in time for racing to take place.
The winners of a number of classes were decided yesterday, with a day to spare, including Adam Gosling's Corby 36 Yes! in IRC Class 2. Today he has also been confirmed as overall Black Group winner. "We've had great rivalry this week with Andrew McIrvine's First 40 La Reponse and Jim Macgregor's Elan 410 Premier Flair," he said, "they are very good sailors. This is the second time in a row that we've won Black Group, which is rather unexpected.
"We set out to win our class, but we knew it would be hard because we are the smallest boat in the class. The key to our win was good starts, which meant we could stay ahead of the larger boats for longer, before eventually getting buried by them, and control the races that way."
In IRC Class 0, Irvine Laidlaw's Reichel Pugh 52 Cape Fling ll was able to discard an eighth place on Monday to win the class overall with a two-point margin on Michael Bartholomew's GP42 Tokoloshe ll. Richard Watkins 12-Metre Italia took third overall on 15 points.
IRC Class 1 saw Francois Goubau's Belgian First 47.7 Moana has been battling a local boat, James Gair's Zero ll at the head of the fleet. Apart from a fifth place on Monday the visiting boat had the upper hand, with a string of five race wins. Mike Greville's Ker 39 Erivale lll was third overall on 17 points.
IRC Class 3 saw only five of the 22 entries gain podium finishes during the week. Puma Logic, a Reflex 38 skippered by Tim Thubron, had the most consistent performance to win the class, counting only first and second places. Second overall was Peter Morton JND35, which was finally able to discard the 25 points picked up for a retirement on the opening day to finish the series counting 12 points. Another local boat, Bernard Olesinski's X-40 Xinska took third overall one point behind.
IRC Class 4 saw another tight battle between two old rivals – David Franks' JPK10.10 Strait Dealer and Peter Scholfield's HOD35 Zarafa. Of the first four races Scholfield winning moment in the series, however, was in the fifth race, in which there was an individual recall at the start. After a couple of minutes Strait Dealer returned to restart, while Zarafa continued, only to be scored OCS. With no racing on the final two days of the regatta, Scholfield was not able to discard his 29 points for the OCS result, leaving him languishing in fourth place overall. Franks therefore won the class, with nine points, while Mike Bridges' Elan 37 Elaine took second on 22 points, with Peter Hodgkinson and Sarah Bailey's X-362 Xcitable third on 32 points.
IRC Class 5 was dominated by Chaz Ivill's J/97 ETB Tyres Just Like That, with four race wins and one second place. Second place overall was also taken by a J/97 – Nick and Adam Munday's Induljence, on 13 points, while third went to Libby and David Greenhalgh's J92 J'Ronimo on 24 points.
In contrast, it couldn't have been closer at the top of IRC Class 6, with Giovanni Belgrano's immaculate 75-year-old 38ft Laurent Giles classic Whooper ending the series on equal points with Jo Richards' H-Boat Woof. Given his three race wins, against Richards' two, the count back went in Belgrano's favour. Simon Cory's Cory 290 Icom Cool Blue took third, eight points behind on 19 points.
IRC Class 7 was dominated by two Folkboats – Edward Donald's Madelaine and Paul Dunstan's Mandarin. Donald finished on just six points to win the class, four points ahead of Dunstan, while Mike Harrison's Contessa 26 Jiminy Cricket took third overall on 23 points.
Cruiser Division A saw a tight fight all week between Mark Devereux's Swan 42 Brevity and Julian James' J/100 Thunder Squall. James won the first two races, with Devereux second, but then the order reversed for the final three races, leaving Devereux victorious by just one point. Another J/100, Ole Bettum's Alamara B ll, took third place on 16 points, having scored an almost unbroken run of third places.
Piers Dibben's Elan 31 Kalliste won the first two races in Cruiser Division B, however on day three she retired following a protest by Guy O'Beirne's MGC27 Magician, picking up 26 points that could not be discarded as the fleet only sailed five races. This left the way open for Ian Miller's Jeanneau Sun Fast 32 Dabra to win the class overall, two points ahead of Magician. Martin Moore's Limbo Mini Tonner If took third overall on 20 points.
Miller, who has raced at the regatta for almost 30 years with an amateur crew of family and friends, said: "I've never been in the chocolates before and the crew were absolutely ecstatic, especially on the three days that we got a gun at the finish. I'm also very happy with all the work I've put into Dabra over the past two years, especially adjustments to the rig, which have made the boat noticeably faster."
Quarter Tonners may have been around for a long time, but that certainly hasn't diminished the quality – and closeness – of the competition in this class. Tight finishes are not uncommon in this class, but few are as tense as in Sunday's race, in which there were only 62 seconds between places two to six. Similarly, the winner on Tuesday, Tony Hayward's Blackfun, was decided by just one second from Peter 'Morty' Morton's Bullit. These two boats enjoyed a close tussle throughout the week, with the lead changing twice between them. Morty generally held the upper hand, but first places in the final two races saw the two boats finish on equal points, with the count back decided in Morty's favour.
In the one-design classes, the J/109 fleet saw tight racing, with 12 of the 21 entries gaining at least one top-four finish. A consistent run of results for Tor McLaren's Inspara saw him take first overall, 7.5 points ahead of Neil McGrigor's Boo. Arjen van Leeuwen's Joule took third overall, 2.5 points behind.
The J/111 class finished with the top three boats in the 13-strong fleet on 18.5, 21, and 22.5 points. The advantage went to Stewart Hawthorn's Plan J, while a win in the last race helped lift Tony Mack's McFly to second overall, just ahead of James Arnell's Jeeze Louise.
The winners of both the Sigma 33 and Sigma 38 classes – David Rolfe's Shadowfax and Chris and Vanessa Choules' With Alacrity respectively – had a clean sweep of first places. In the 33 fleet, however there was a five-way fight for second place, with a fourth place in the final race for Allan Fraser's Prospero of Hamble sufficient to secure second, one point ahead of both Tony Gorman's Stan the Boat and Jeff Worboys' Workout. Serena Alexander, Peter Hopps and Hilary Cook's Sam took second in the 38 fleet, with Andrew Gordon's Quatro Solutions in third place overall.
The Sunsail Match F40 class was won convincingly by First Sailing, which sailed a very consistent series in the 42-strong fleet to score only first and second places. However, there was a three-way battle for second place, resolved in favour of Aberdeen Sunsail 1, a point ahead of Simply, which in turn was one point ahead of Chaotic.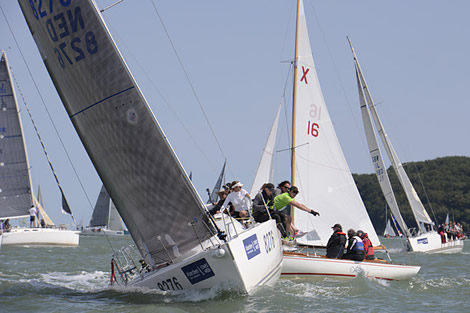 Back to top
Back to top