Lake Garda fails to deliver
Race day three got off to a rough start today with two separate postponements, one onshore and one on the water at the race course area, due to the unusual light northerly wind this afternoon. After only a 1 hour delay, the Race Committee was able to begin a sequence and send the Star fleet on the four leg course four for race three.
All but International Star Class Yacht Racing Association President Lars Grael and crew Samuel Goncalves in Star BRA 8474, got off the starting line successfully. Brazilians Grael/Goncalves were unfortunately called over early at the start at the pin end of the line and therefore were forced to restart by rounding the pin boat. French team FRA 8237 Xavier Rohart with crew Sergio Lambertenghi, Greek team GRE 8434 Emilios Papathanasiou with crew Antonis Tsotras, and Brazilian team BRA 8210 Torben Grael with crew Guilherme De Almeida all started at the pin end as well and headed straight to the left side of the course.
The three leaders Rohart/Pulfer, Papathanasiou/Tsotras, and Grael/DeAlmeida, with sixteen Olympic Games between them, pulled away immediately after the start in clear air and continued to extend on the rest of the all the way fleet through the first leg than onto the second. Near the last quarter of leg two, Brazilian team BRA 8172 Marcelo Bellotti with crew Arthur Lopes had caught up to the top three.
Proving again why he is one of the world's best sailors, Torben Grael with crew Guilherme De Almeida launched ahead of the fleet by an impressive 300 meters on the third leg and holding his position on the fleet as he headed downwind on leg four to the finish line. As the wind neared speeds as low as 2.5 knots, the Race Committee decided to abandon Race 3, much to the frustration of Brazilian team Grael/De Almeida. Shortly after, the Race Committee cancelled racing for the day and postponed Race 3 until tomorrow.
Due to the lack of racing today, the current standings in the 2014 International Star Class World Championship will remain unchanged and the racing schedule for tomorrow has been rearranged to include two races. Tomorrow racing will begin at 8:00 a.m. and sailors will arrive at Fraglia Vela Malcesine as early as 6:30 am to begin preparing for a long Race Day 4. Racing early morning, will probably expose the 87 boats to a stronger Peller wind from the North, adding yet another dimension to a fascinating International Star Class World Championship.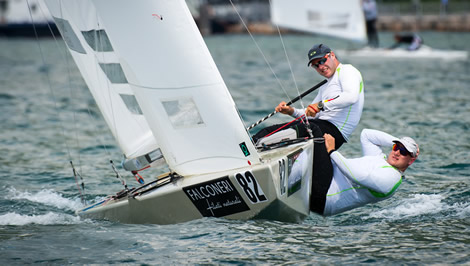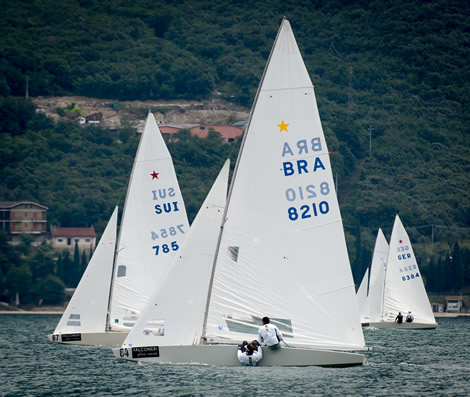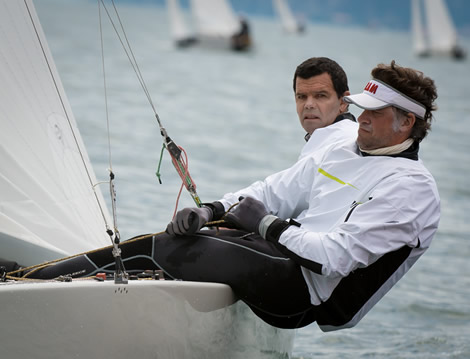 Back to top
Back to top