Tom Slingsby on the 35th America's Cup - part 2
This article continues from from part 1 published yesterday
Hydraulics
For the crew, the AC62s will remain a priming-of-hydraulics fest. In this age of push button technology now being widely used on big boats, one must question why it is really necessary to have the entire crew, save for the helmsman, continually manning the pumps, however Russell Coutts' argument is that sailing in the America's Cup must be a severe athletic exercise. In practice these days even on boats like Mini Maxis, the grinders are responsible not only for winding rope on winches but driving the rotary hydraulic pump to operate 'long travel' hydraulic rams, such as those for the runner deflectors. Perhaps the issue is not so much the degree of crew horsepower having to be put into grinding, but more that the effect of what that grinding achieves being less evident, particularly in still relatively unfamiliar equipment to casual observers' eyes, such as wing and foil trim.
A significant change to the hydraulic set-up, Slingsby advises is that for safety reasons it will this time feature a hydraulic accumulator for foil rake. He explains: "That is being brought in for a safety factor, so if something goes wrong and say we break the hydraulics or a grinding pedestal, you'll still have some oil pressure there to make a bear away and get back to shore, whereas last time the guys had to be permanently grinding. Otherwise, everything else is the same. It is still as hard, and I like that – the athletic element to it is really important. If we all sat there and just pressed buttons, the spectators wouldn't even know what is going on."
Although it would be interesting to see how many crew could sail an AC62 if it were push button. They could be doublehanders perhaps…
At present the spec is still being written for the hydraulic accumulator, but clearly this is a welcome addition to the set-up.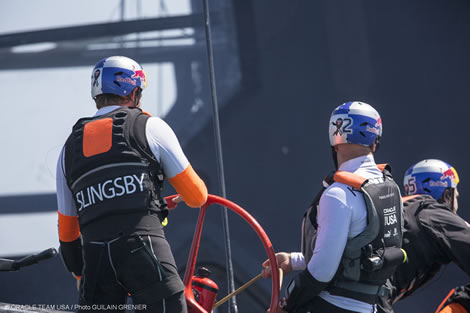 One design...or not
While there has been much talk about elements of the new generation cats being one design, in fact this isn't going to be case, although Slingsby says tolerances will be very tight (ie a very confined box rule) and big ticket items such as the geometry of the wing will be the same across the boats, although teams will be able to develop their own control mechanisms for it.
Similarly the geometry of the catamaran platform - which Slingsby refers to as the 'H-structure', with pods in the middle, ie like the Oracle AC72s, but unlike Team NZ's boats – will be common across the fleet. The boats will also have the same freeboard.
Typically a boat purposed designed to go foiling will minimise its hull volume (as we've seen happen in the Moths), however for safety reasons Slingsby says the AC62s will be required to have a minimum bow volume, to minimise the risk of bow burying and subsequent pitchpoling.
"Basically the hulls will look very similar and the wings will be virtually the same, so there won't be any aerodynamic gains. It is going to be a lot tighter.
"Even the rules on the foils are very tight, there is not a lot you can do, but there is a little bit of room. Definitely, you can't make the AC one design, but we are making it more, tighter closer racing, which will be good for the Cup."
So at this stage it appears that the main areas of development will be around wing control mechanisms, and the foils and their control mechanisms. So expect AC design teams to have more foil geeks and oily handed hydraulics specialists this time around.
Safety

The easing of foil restrictions for the AC62 compared to its predecessor should not only allow them to foil in lower wind speeds and upwind, but also allow the teams to design their boats so that they foil with greater stability and are less prone to porpoising. This in turn should help to minimise the risk of capsize.
"Safety is a huge thing this time," states Slingsby. "We don't want what happened last time to happen again. There are going to be a lot of safety measures. You can never take out all the risk, but you can do what you can. There will always be accidents, you just have to minimise the risk wherever you can with the rules and how the boats are designed. The new boats will definitely be 10x safer than the last ones, but still you can't guarantee that nothing will happen."
There will also be more structural requirements for the new AC62s. "Everyone wants to build the lightest, strongest components and they keep going lighter and lighter, so that they can put weight in other places. For example the main spar of the wing will have to undergo all sorts of structural tests, so that if you do capsize it, it won't break. That is a big safety thing. There will be lot of things like that."
Given that a foiling boat is less likely to pitchpole, the most likely form of capsize will be the traditional over to leeward as the Kiwis came very close to experiencing during the 34th America's Cup match. Slingsby highlights the danger moments being the bearaway around the top mark, but more routine things too such as getting a riding turn in the mainsheet. "That never happened to us last time, but it is something that could easily happen."
As we saw with the later AC72s, the new boat won't have a lengthy bowsprit, so there will be no gennikers and in addition to the wing, they will rely on two jibs as the sole headsails. "The sails won't be one design, but you are allowed two jibs of a certain size - 60m² and 90m² - and inside that you are allowed to shape how you like."
Nationality rule

With Oracle Team USA's sailing team appearing to be largely Australian to date, one wonders what has happened to the calls for some form of nationality rule. According to Slingsby for the 35th America's Cup, 25% of the sailing team will have to be nationals from that team's challenging country.
The AC62s will have crews of just eight.Slingsby observes: "That isn't many. It will be really tough on the crew." So there will be two crew from the challenging nation on board the AC62s, and on the AC45s there will be one.
Controversial racing format

The racing format for the next America's Cup is certain to cause some upset. It will start straightforwardly enough with racing for the AC45s next year, however this time around the America's Cup World Series will count for points going into the Challenger Selection Series. This will prevent a reoccurrence of what happened in past ACWS events where some challengers fielded their 'youth teams', enabling their main team to continue work on the AC72s. "If you win the 45 circuit for the year you'll get a couple of points in the Round Robin Series," advises Slingsby.
The AC45s will remain low-rider when the circuit fires up again in 2015 and according to Slingsby they are going to re-assess whether the AC45s will become foil-born for 2016. "That could be very cool for sure, but making the right modifications, to do that properly is a pretty big operation. They are designed not to foil, so getting them going is not easy. It will pull all the boats off the water for six months.
"The good thing about the AC World Series is that at present it keeps the racing so close, whereas if you add a foiling element to it, the fleet will spread out. I like the 45s in that you are coming into the bottom mark and there are six guys going for the mark - that is what makes the racing so exciting."
And there is also a safety element. While having two foiling catamarans competing on a race course together is one thing, the prospect of 15 foiling AC45s piling into the first mark could easily end in carnage of the severest kind.
So teams will be racing their AC45s in 2015 and 2016 and will only be allowed to launch their new AC62 in November 2016, just five months before the Round Robins for the Challenger Selection Series, preliminarily scheduled for April 2017.
However Slingsby confirms the rumours that whereas in recent America's Cup, the challenger selection series has been a case 'more the merrier', this time around only four challengers will be allowed to be present at the Cup venue. More challengers will be able to compete, but this will be in a first part of the Challenger Selection Series, to be held elsewhere with only the top four from this going through to the main event.
Obviously this is potentially a heinous development for any teams with commercial sponsorship as their opportunity for racing will be severely diminished unless they make semis.
"That is just one of the things that Larry and Russell want," explains Slingsby. "To have 10 challengers, makes it hard to find a venue that can support that. So there will be a challenger selection series and there will be a round robin to get to the challenger selection series. So that will be controversial and we understand that. But it is one of the things that they want."
It is almost a shame that the final four challengers aren't decided next year in AC45s as it would save a lot of time and effort, wasted resource and some profoundly unhappy sponsors for any big teams failing to make the top four.
At present Slingsby believes there to be at least eight teams ready to push the button at the moment. So Oracle, Team NZ, Luna Rossa, Artemis Racing, Team Australia, Ben Ainslie, Cammas-Desjoyeaux-Kersauson and who else?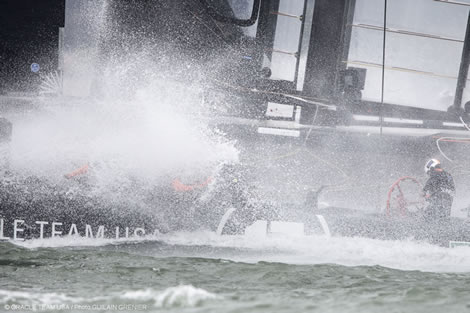 Two boats for Oracle, one for the rest...
Another certain area of controversy is that Oracle Team USA, as the defender, will be allowed to build two boats, whereas the challengers will only be allowed to build one. Ironically isn't this something Alinghi suggested for the 33rd America's Cup only for it to be shot down in flames by Oracle?!
However this is not as flagrantly benefitting the defender as it might seem. Slingsby explains: "We will be able to build two boats and no one else will, but we will only be able to use them both when other boats are racing each other, so when they are doing the LV Cup. Otherwise we won't be allowed to train with two boats."
In addition to this, Oracle will only be allowed to use its first boat in the America's Cup itself. "Everyone is saying 'your second boat will be more refined and better, etc' so we said 'okay, that's fair enough, we will use our first boat in the match'. There is no gain there and otherwise while everyone is off doing challenger selection series we'd be sitting there by ourselves, never getting to sail against another boat. So we need two boats and if you read the rule properly you'll see we are not getting any gain out of it." It remains unclear, quite how much Oracle would be able to change their first boat as a result of sailing the second, but given the only occasion that they will be able to have two boats racing is during the challenge selection series, then the time available for them to make wholescale changes is likely to be limited.
Training

Given that the AC62s won't come on line until very late in the cycle, teams will be placing a premium on training in other boats. The new Protocol will feature a surrogate boat rule, similar to last time, with teams prevented from carrying out R&D on boats larger than 45ft, or bigger than the AC45s in fact. So it seems likely that Oracle will have four AC45s, two low riders for the America's Cup World Series and two more that they will take out of class for use as a test bed for their new foil designs and wing control mechanisms.
"Most people will modify 45s and get them foiling. I think that is probably the way. I think under 33ft you are allowed as many boats as you want. I think most people will get two foiling boats going pretty quick," says Slingsby.
Cutting costs

While we never really believe that costs are ever going to be saved with America's Cup campaigns, this time there genuinely seems to be drive in this direction (rather than what was effectively hyperbole in the run up to the last Cup).
The boats are smaller, the sailing team will be smaller, the shore team required to launch the boat is smaller, the avenues open to design development have been severely reduced, etc.
As Slingsby says: "The size of the teams will be around half of what we were - smaller boats take less people to maintain and launch and it cuts personnel everywhere. Then with the tighter design rules, then design teams are smaller."
Then there's the late launch of the AC62s, just five months before the Challenger Selection Series. "Everyone wants to cut costs, so if we allow boats on to the water now, people are going to have full strength teams all the way through for two years of sailing. Our way will cut millions out of that cost."
But before then...

Meanwhile, this week, Slingsby is in Austria on Lake Traunsee where he will be racing a GC32 foiling cat for the first time. And from there the fun continues: "The next phase for Oracle is getting all the guys into Moths and we have a couple of Foiling Phantoms coming and just back to small boat foiling, just to get everyone's skills upfoiling. So it will be a fun camp…"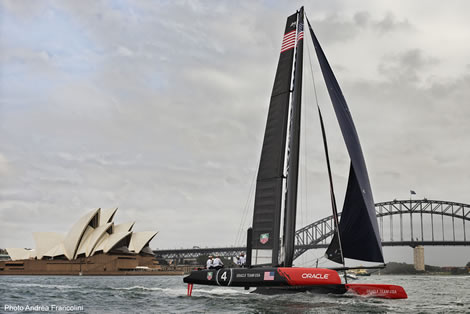 Back to top
Back to top