Vesper and Azzurra tied
After two days of windward-leeward races off Capri, Italy the first Barclays 52 Super Series regatta of the season at Rolex Capri Sailing Week is proving that this would be a very open event with no one boat able to dominate in the light winds. Four different winners from four races endorse this view as Jim Swartz's American crew on Vesper and Alberto Rommers' Azzurra today added their names to the race winners' roster, both excelling in the challenging gentle airs.
But while winning races is important in the grand scheme of things, so too is the hard grind of gaining points from a deep position to convert a high score to something less harmful. And in that regard Vasco Vascotto, the charismatic Italian tactician of Azzurra was as pleased to have come back from last place during today's first race which they converted to a seventh in the fleet of nine 52s from seven different nations.
Those two saved points ensure the Italian team shares the same points tally as Vesper, with the American team only nominally leading on countback.
The race committee did an excellent job in moving the course area and axis slightly further offshore into the channel, negating some of the advantage on the left side of the track which had prevailed on day one. Gavin Brady appeared to read that nicely for the Vesper team and they popped out of the pack as leaders midway up the first beat, before building a lead of just over 100 metres by the first downwind, a seemingly statutory right here afforded to the team which gets in front. Able to sail the pressure and shifts, Vesper was well ahead by the leeward gate while Niklas Zennström's Rán Racing pipped Michele Galli's B2 on the finish line to regain the second place they had at mark one.
The second race was sailed in the lightest breeze yet, only five knots at times. Azzurra made a great start with skipper-helm Guillermo Parada working nicely with Vascotto on their final speed build, which just gave them the early advantage. American Tony Rey and the Provezza crew worked well on the left of the second beat, recognising some extra, local pressure which helped them to squeeze just ahead of Gladiator at the final turn. Ergin Imre's Provezza took second with Gladiator third.
Vascotto was not just pleased with their results today, but that the optimisation that they have for Capri's lighter airs seem to have worked and they are equipped with the speed to compete: "It is a very nice position to be in and we are pleased to be leading. We are also happy about how we managed in the first race which was important as we were last and we managed to pull back a couple of places, which was important. We are happy with the day. The second race was easier because once we were ahead it is easy to choose the breeze.
"Light conditions, for our boat as everyone knows, it is not fantastic but I think we have made some nice steps forwards in terms of speed upwind and downwind. We feel we can compete and that is the best news. If you are not sailing fast it is a little more difficult. The new sailors on board are making a very good job. In the first race we just sailed into a hole and we could not get back. It is very difficult if there is a boat like Quantum Racing which is tacking on you two or three times. But I felt they make a little mistake because I feel if they sailed their own race they could make more points rather than watching us. We are happy."
Meanwhile Vesper tactician Gavin Brady is taking little store from their share of the best tally on the points table but is more pleased that the Vesper crew is ahead of expectations and have given themselves a healthy confidence boost: "The fleet are getting used to the conditions and the current here is a consideration, it has a bigger effect than we all thought. The current is wrapping around the island and it obviously changes at high and low tide with quite a dramatic change. It kind of sneaks up on you. We are out in the middle but there are quite defined current lines.
"In the second race it had a big effect there was more wind on the right but more tide out there and we went out and paid the price. It is light but there are a lot of passing lanes. Getting the win is really important for the team, coming from Miami at the US 52 Super Series we did not feel like we sailed to our potential and I think like today when you go out there and have a good race, everyone does their job to the best of their abilities, we all walk away feeling like we can compete at this level. And that is really important, something we feel we can build on. And we are really looking forwards to the coastal race tomorrow, some straight line sailing a real test for the trimmers, the navigators and the tacticians, it will be a real boatspeed day."
And for Australia's Olympic gold medallist and America's Cup winning strategist Tom Slingsby, if his first day on the Barclays 52 Super Series proved a bit of a disappointing baptism of fire, this evening he is happier to see steady upwards progress, finishing third in Race 4: "Yesterday, day one, we just did not get off the line well and on a one way, left hand track we were fighting to get there and never quite made it. It was better today, we are getting there slowly, we are going in the right direction. It takes time for a tactician to get on board into a team, to learn the team and the owner, with Tony I am just learning how he likes to sail, but we are learning but hopefully better tomorrow again and better the next day. We need to get better starts.
"We are getting into nice positions but it is getting that last acceleration right, we seem to be right there, beside the boats that win but just not getting acceleration. But it is a little bit better today and our results are better every time. The second race the breeze was a bit flicky and it was not a one way track and so we were able to get a nice right hander and we were in the fleet, with the top guys and from there we did well, we were in second but just lose one place. It is tough, I knew it would be tough, but I definitely think you will see us right up there."
Steve Hayles navigator on Rán Racing added: "It was another tricky day with nothing really over ten knots. We were a bit up and down, the first race was good, the second we were lying third and then lost a couple of boats going up the second beat. It is very, very close and it is already proving a high scoring regatta like we thought it would be, we actually scored well today, we were disappointed with the second race. The breeze had been up to its maximum and was fading which was as per the forecast and the left hand side of the course was very strong yesterday and it was again in the second race then. But up until then there had been many more opportunities on the right. It looked light on the left, under the land in the second race, but two boats got in there and around the top and then there were very few opportunities after that.
"It is so important to get off the start line, we had a one way race track on the first day and today was more open. Today threw in a completely different look. It is actually really interesting racing. It is keeping the afterguards busy and thinking and it is all about knowing what is happening weatherwise. I think the race committee are doing a great job here, today they moved it just enough to make the left not quite so dominant. It was just a little lighter on the left this time but so too it was important that the left was a big part of it at the top of the beat. It made it such an interesting day."
Thursday is scheduled to see coastal race for the Barclays 52 Super Series fleet.

Results overall after 4 races
1. Vesper, USA, (Jim Swartz USA) (5,2,1,6) 14pts
2. Azzurra, ITA, (Alberto Roemmers ARG) (3,3,7,1) 14pts
3. Quantum Racing, USA, (Doug De Vos USA) (4,1,6,4) 15pts
4. Rán Racing, SWE, (Niklas Zennström SWE) (2,8,2,5) 17pts
5. Phoenix, BRA, (Eduardo de Souza Ramos BRA) (1,7,3,8) 19pts
6. Provezza 7, TUR, (Ergin Imre TUR) (6,4,8,2) 20pts
7. Gladiator, GBR, (Tony Langley GBR) (9,6,5,3) 23pts
8. Paprec, FRA, (Jean Luc Petithugenin FRA) (7,5,9,7) 28pts
9. B2, ITA, (Michele Galli ITA) (8,9,4,9) 30pts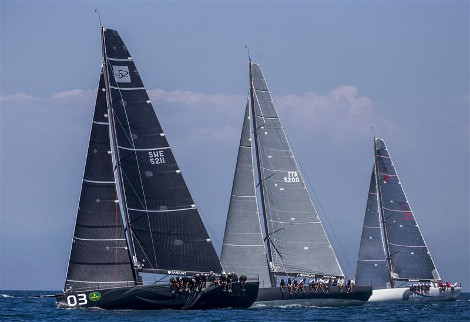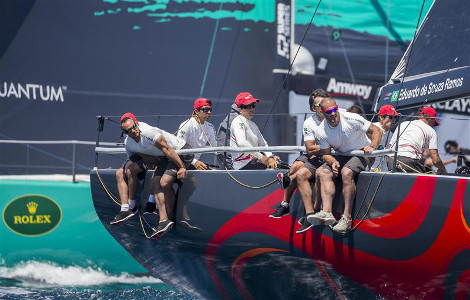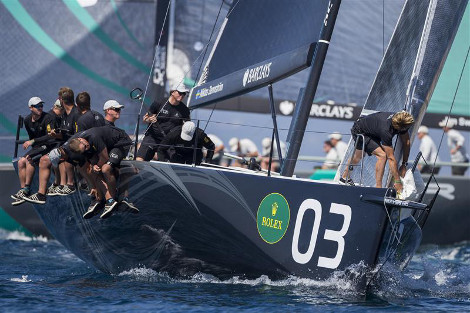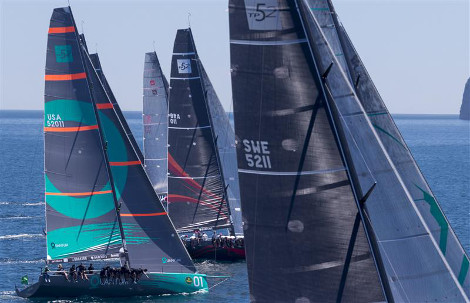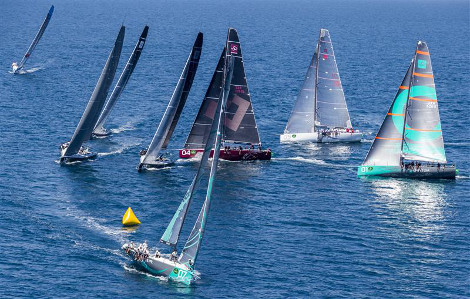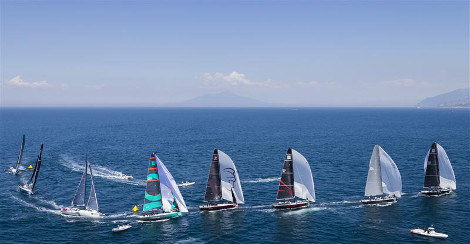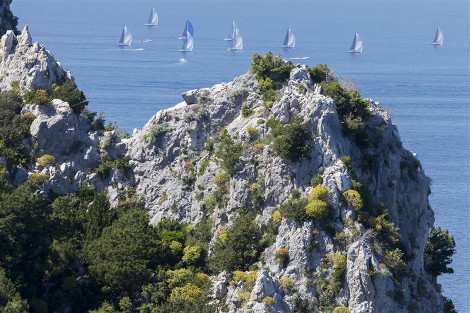 Back to top
Back to top