11th hour victory for Peninsula Petroleum
Racing on the final day of the RC44 Cascais Cup proved an emotional rollercoaster ride for everyone at different times over the course of three races.
Conditions today reverted to idyllic with the sun out, clear skies and a northerly wind that started at 12 knots and built to 18.
Having relieved Peninsula Petroleum of the lead yesterday, Vladimir Prosikhin's Team Nika started the day with a slender two point advantage, the two boats having edged ahead of third and fourth. This was all to change during today's first race, when both boats scored unusually poor results, leaving Nika ahead, but with three boats poised, just three points behind her.
In the second race, Team Nika fought back to take the win, but Peninsula Petroleum was second. Now there was four points separating the two leaders. But then the situation turned on its head. In the final race Nika made a poor start and from there never recovered, finishing 11th. Peninsula Petroleum came home second, enough for John Bassadone's Gibraltar-based team to win the RC44 Cascais Cup by three points, while Team Nika dropped to third.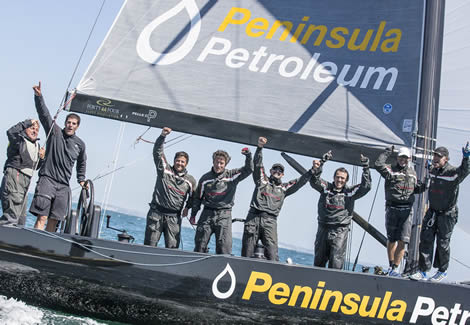 John Bassadone was elated at Peninsula Petroleum's last minute victory, particularly after his team had led the regatta for the first two days of fleet racing. While Peninsula Petroleum won the RC44 World Championship in 2012, this was the team's first circuit victory.
"Having missed out in Virgin Gorda on the last day with that crash, it was great to come back with another solid performance to show that wasn't a fluke," Bassadone explained. "I feel sorry for the Nika team - they sailed great all week. I know how it feels to be one race away, but I am really proud of my guys and the way they sailed. Having a bad result in today's first race and coming back with two seconds shows good character and composure."
This is the third full season Vasco Vascotto has been with the team, and the jubilant, champagne-drenched Italian tactician enthused: "We are very very happy and proud about what we've done during these last years. We've improved as a crew, our speed, everything in all the details and now we are in good shape. We know that if we do our job properly, we can have a good result."
Vascotto added that perhaps a mistake they had made on Peninsula Petroleum yesterday when they handed Nika the lead, Nika herself had made today. "When we were in front we sailed a little too conservative - that was the mistake and that also happened to Nika in the last race and was why they lost: They had a good amount of points and in this class you have to keep pushing hard in every single race."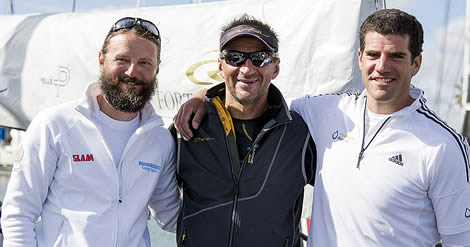 Team Nika's Vladimir Prosikhin felt disappointment having fallen at the final hurdle, but said third was still the highest place his team had ever achieved in the RC44.
Prosikhin explained what happened in the final race. "It was a bad start. We miscalculated and somehow I was carried away a bit - probably over excited. We tacked on to port and one boat tacked on us and it was very difficult to escape. We got jumped, everything went wrong and we couldn't recover. To lose one race was okay today. Two was too much."
Tactician Terry Hutchinson appeared more devastated, but looked on the bright side: "It was just the subtleties of it all and we'll get better at them." He praised Peninsula Petroleum for its victory and acknowledged that third place was probably a more accurate indication of how good Team Nika currently is as a team. "I certainly don't feel like they beat us. I feel like we beat us."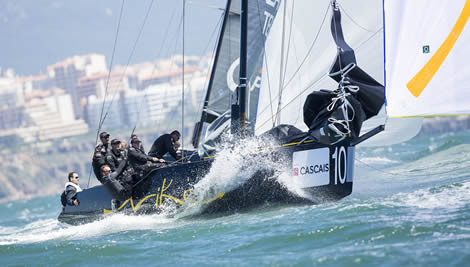 No podium in the RC44 seems to be complete without Team Aqua and sure enough, after a slow start in Cascais, Chris Bake's four-time Championship winning team finished the regatta second.
Bake commented: ""It's been a really tough week. There are a lot of boats doing really well out there. We made a lot of basic positioning mistakes early on so today we had a pretty firm view on where we needed to be and how we were going to get there. We stuck with that and that shows in the results.
"Today was probably the first day where we felt we had got some good channels and were going well upwind, but still fighting a lot downwind."
Aside from Team Nika in the second race, today's other race winners were Andrea Pozzi's Bombarda in race one while Valentin Zavadnikov and Leonid Lebedev's Synergy.
Also remarkable was the performance of Nico Poons' Charisma in its first ever RC44 regatta. With London 2012 Laser gold medallist and Oracle Team USA strategist Tom Slingsby calling tactics, the Dutch businessman's team ended the regatta in fourth place, ahead of much more experienced RC44 teams after scoring a 3-11-7 today.
Next up for the RC44 class is the RC44 Sotogrande Cup, in the south of Spain, over 25-29 June.
Back to top
Back to top