New Farr 280 makes its mark
Dead calm wind postponed the action on the inshore courses for day two of Sperry Top-Sider Charleston Race Week today, though a moderate sea breeze kicked in around noon, allowing for as many as three races for most of the 16 classes competing here. While a few exceptional performances have produced big leads in some classes, much of the action for Sunday's finale will be knock-down, drag-out brawls as sailors vye for the honour of standing on the podium tomorrow.
The all-new Farr 280 Chessie Racing continues to enjoy a big lead over a PHRF B Class that is full of former Charleston Race Week winners. Owner Ian Gordon says his crew's learning curve with this boat (less than a week old) is through the roof: "We've had great conditions for a new boat, and thanks to great competition – from especially the Cape Fear 38 and the SR-33 – we're pushing ourselves and the boat as hard as we dare," he said.
Like the Farr, Steve Benjamin's Carkeek 40 Spookie used Saturday's races to extend its lead in the HPR class, and Heidi Benjamin says there are no shortcuts to winning in this high-profile class: "We have been sailing together for quite some time now, and put a lot of practice and effort into learning and tuning the boat. The mood is great, everyone is positive and helps each other out, and everyone contributes."
In the J/70 Class – with 80 boats, by far the biggest of the regatta – Minnesota's Joel Ronning leads by three points over perennial J/24 standout Will Welles. Ronning's crew is a good example of the calibre of talent participating in this massively growing fleet. Trimming is multiple Farr 40 World Champion Willem Van Waay, and calling tactics is Italian Vasco Vascotto. A long time match racer, America's Cup tactician, and multiple world champion, Vascotto is in Charleston for the second time: "Last year we didn't have a great result, but had an incredible time here," he said. "This year, we are having a great time and having a good regatta." Vascotto says he is lucky to be sailing with a great crew and strong driver, and hopefully they can sail well tomorrow. "What I can say is that, above all else, this place is always incredibly fun."
23-year-old standout Jason Michas continues to lead the exciting Melges 20 Class, while young Grace Lucas continues to shine as well, holding a solid third place after six races. Grace's father Russ says he has nothing but admiration despite the fact that his daughter is beating him soundly in his old boat. "Last month my daughter Molly came down here and nearly won the E-Scow regatta, beating Moth World Champ Bora Gulari, and this month, Grace is beating some of the best sportboat sailors in the world. I am overflowing with pride to see her sailing so fast."
Lucas said it's gratifying to see so many young sailors and so many women doing well at the event. "These kids are our future, and Charleston is a perfect place for them to grow their love for the sport."
Charleston-based crews continue to perform well at the event, with longtime J/120 skipper Bill Hanckel's Emocean taking the lead in the Pursuit – Spinnaker Class. Trimmer Rainey Hale says today threw a little of everything at her fleet. "We had a nice run until the wind shut off, with the whole fleet parked until the sea breeze kicked in," said Hale. "But we stayed in it, and focused on keeping the boat moving and having a good time, and that saw us through."
It's not all about the bullets though, as Dave Galloway from Annapolis pointed out after two days crewing for Ken Mangano on board Mango in the J/80 class. "We're psyched. We had an iffy day yesterday, but today was great. We can't touch the guy in first, he's got all bullets, but we performed well enough to be sitting in third. And when you consider that we're here in 80° weather racing sailboats in such a cool place, that's awesome."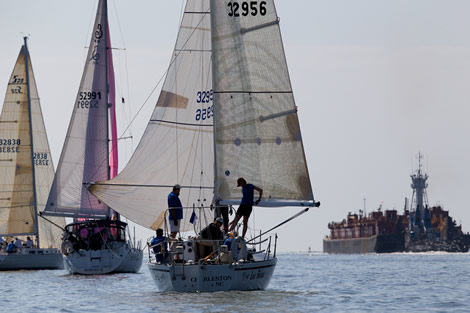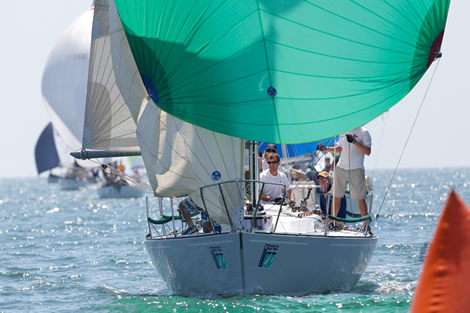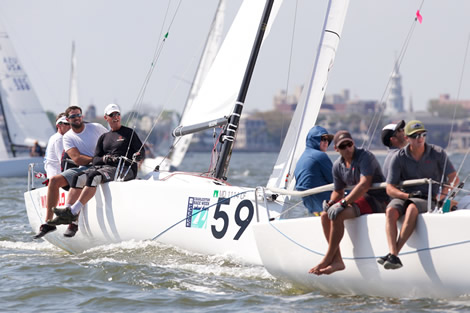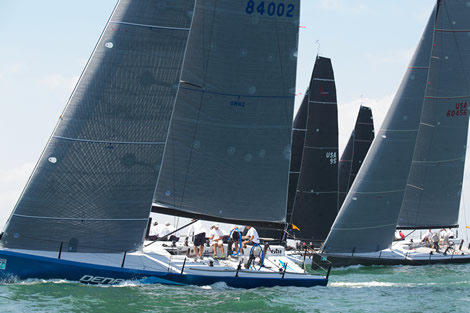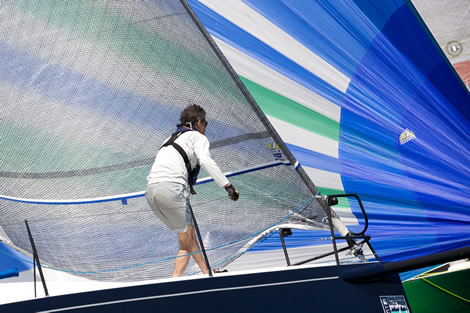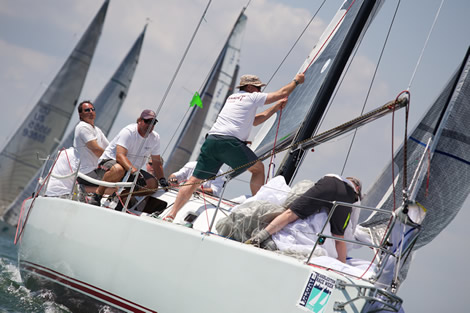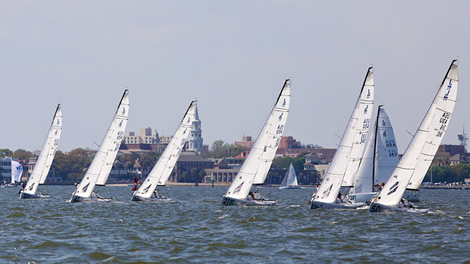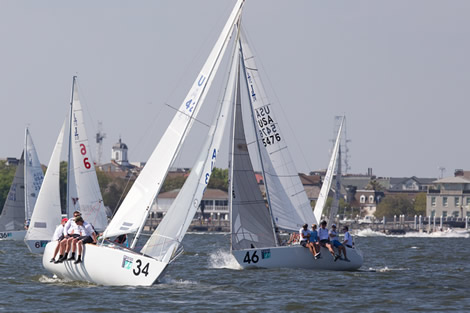 Back to top
Back to top