Freddy Loof goes catamaran racing
The latest stalwart monohull sailor to make the transition to two hulls has been the London 2012 Star gold medallist, Swede Freddy Lööf. As mentioned in our interview with Håkan Svensson earlier in the week, Lööf has been regularly campaigning an M-32 catamaran since London 2012 and now says his Star sailing days are behind him.
"I'm finished with that!" Lööf says of the boat in which he won Olympic Gold two years ago, plus bronze in Qingdao (in addition to his Finn bronze in Sydney in 2000). It doesn't sound like he is going to be enticed back, despite the Star going through a metamorphosis with the advent of the 'Star Sailors League' last year. "I spoke to [Iain] Percy about it the other day and it like it is a closed chapter a little bit - let's move on," says Lööf.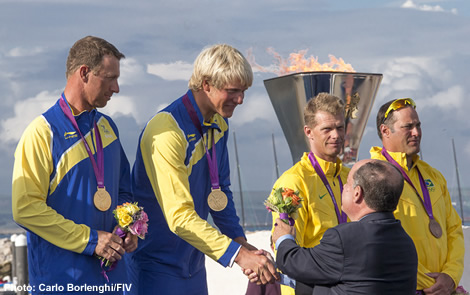 Most recently Lööf has been hanging out in Miami, and has acquired a Mach2 which he sailed in the US Moth Nationals, his first foray into the foiling Moth class. "It is just cool to learn and do something just for fun with no pressure. I learned to foil gybe yesterday, so I am all happy!"
While the most successful Moth sailors are typically not Finn/Star sailor-sized, Lööf says he didn't find he had any speed deficit above 11-12 knots. "I was sailing against other guys in 14 knots, and upwind I was just as fast – and that was only my 10th time in the boat. But that was upwind. Round the course – no way!"
But Lööf's main sailing at present is in the M-32. He first sailed the Marstrom cat in 2011, subsequently getting his old friend Håkan Svensson involved, the former Berg Propulsion boss now owner of the class. "We talked about it and I was going 'God, it is fast - in 8 knots and we were doing 15. It is just the coolest thing.' A couple of months later, he [Svensson] bought a boat and that was the start of it..."
Lööf and Svensson sail together on the growing M-32 circuit. "He always brings good input and he is so passionate about it," says Lööf of his colleague. "What the [race organisation] team has done in Sweden is quite remarkable - last year we had five or six events and five boats racing – and it was good. This year we will have seven or eight and I think we will have some Americans coming over too. We have some competition out there as well, so it will be interesting to see how it goes."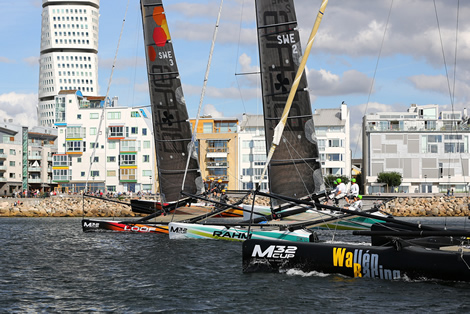 So how does he find the M-32 to sail, now that he has spent some time in it? "It is really fast downwind. I would say it is as fast as an AC45, maybe even faster, downwind - I think in bigger breeze we can get bigger numbers. It is really wide and it has nice volume, so it is quite forgiving. You can really send it.
"Downwind VMG, we are doing 23-24 knots in 18-19 knots of breeze. Upwind we are looking at good VMG of around 13 knots in medium breeze conditions, depending on the waves."
With the M-32s being una-rigged, the boat tacks through about 95-100° according to Lööf, but as he says "it is more fun to go fast. Tacking is a little tricky without the jib, but once you spend time on the boat that is not an issue, it is matter of playing the foils right and using your body weight. Because the boat is so light and so wide, body weight is crucial and that makes it very interesting to sail. Even as a helm, you run into the middle of the boat just to pop the hull – almost like a 49er sailor. I think that part of it is interesting."
Lööf says he is not sure about the una-rig, although he reckons that in the next Cup the tiny jibs that help the boats tack may disappear altogether. "In the lighter stuff you need them. On the M-32 we pull the genniker out in light breeze. It actually works pretty well."
Lööf reports that the M-32 is very stiff. He is also a big fan of its racks. "They are maybe the coolest feature of the boat, because that makes them almost 9m wide. They are an issue in tight situations – we have had some crashes." At present the racks don't have any protection or bumpers.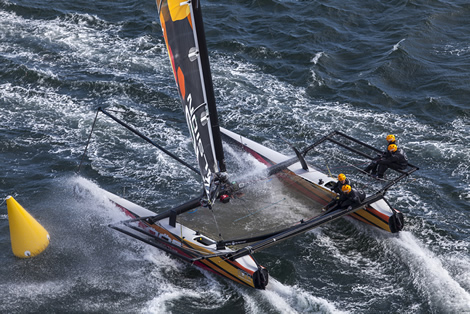 "The good thing with the boat is that it is so simple. You rig the boat in three hours, and we break down the boat – this year it will get it down to about 1.5 hours. And then you just hook it on to a trailer on the car and off you go. You don't need a special license - it is so simple." The beams are simply through-bolted to the hulls.
So how long did it take him to become a proficient cat sailor? "It did take a while, because you have to respond so quickly and there is such a different feel to it. To be comfortable, to get a proper feel for it and to be able to send it in the bigger breeze, took me about 30-40 days, but I am still not perfect obviously."
To get him up to speed he and his team have been working with Martin Strandberg, who represented Sweden at the Sydney and Athens Olympics in the Tornado.
As to how Lööf sees the class developing, the M-32 now has racing regularly in Scandinavia and Florida. He thinks they should get the boat racing in the Mediterranean.
In Sweden the events are comparable, but on a smaller scale, to the Alpari World Match Racing Tour's Stena Match Cup Sweden, the annual match racing fest held annual on the idyllic tourist island of Marstrand on the west coast. It should also be remembered that not so long ago, there was the Oops! Cup for the retired ORMA 60s that took place around Scandinavia, so there is precedent in the region for fast multihull racing.
"I think the size of the boat is interesting, because when we can have guests on the boat they really get a feel for it. I have done some corporate sailing events for some bigger companies like Volvo with the boat last year - and they all want us back."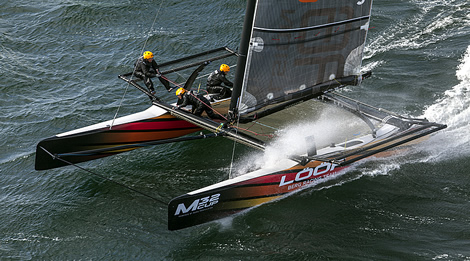 At present the M-32 appears to be in competition with the Martin Fischer-designed GC32, however the two boats are vastly different and the latter boat will this year be sailing on foils (in fact it went foiling with its prototype set of foils in the south of France only yesterday...more here)
"It is almost a different concept because that boat is so complex and it demands so much more," Lööf continues. "Rather than competing against each other, I think we are complimentary. We will probably going to go foiling as well, but I don't think that is going to be the thing – we have a boat which is easier to sail and gives people the taste of catamaran racing."
So here we are, speaking with Sweden's top sailor, who is now racing catamarans, who is a close friend and long, long term competitor in both the Finn and Star with Iain Percy. Surely the invite must be waiting for Lööf to join Artemis Racing?
"I sailed with them last week," he admits (this would have been week before last...) "I was with them for two weeks. It all depends on the Protocol and the nationality rules. It is going to be interesting to see."
Part of the issue is that aside from sailing, Lööf also runs a ski resort which opened in November 2012 (more here). That comes with three ski lifts and 300km of prepared cross country tracks and is located in Norway, two hours north of Oslo. "Last year I didn't sail so much because of that. It is quite a big and it is going well and we are still building cottages. It is a really big project, so I shouldn't be here! I just needed to get away and do the things I normally do for a bit. But I can sail more now because we have got the thing going."
Crikey – so he has his exit strategy from professional sailing sorted! "Yes, more than some..."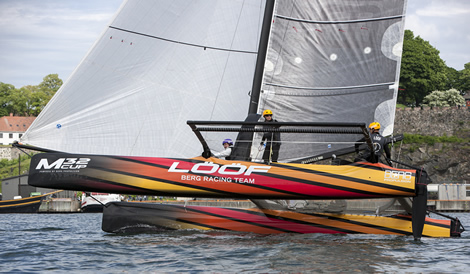 Back to top
Back to top