M-32 catamaran gets wings
The onward march of catamaran racing continues apace with the latest development being the arrival of a major backer for the M-32 class.
Over the last decades Göran Marström has been a giant in the catamaran world, and could be described as Sweden's answer to Reg White (in fact they used to race against one another – while Reg famously won Tornado gold in Toronto in 1976, Marström took the bronze in Moscow four years later).
Marström Composites was the builder of choice for the Tornado during the later years of the 20ft catamaran's tenure in the Olympic Games. Since then the Västervik-based yard has built the Extreme 40 fleet, the SeaCart 30 trimarans, the 90ft maxi cat for Polish round the world sailor Roman Paszke. but is best known for its A-Class catamarans, the high performance M-20 and over the last few years its big brother, the M-32.
The M-32 got off to a modest start after the launch of the first boat in May 2011 followed by the sale of a few units, but at the end of last year the moulds and rights to the class were bought off Marstrom Composites by Aston Harald AB.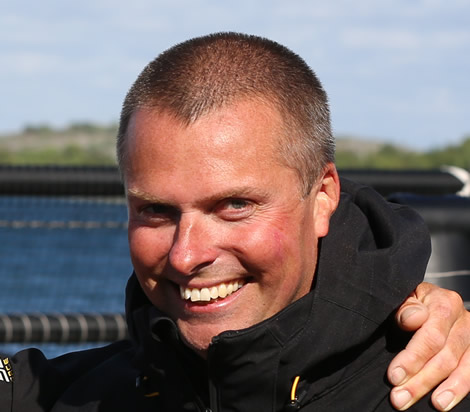 The driving force behind this move has been Håkan Svensson (above), who until recently was the CEO and owner of Berg Propulsion, which readers will remember was a significant sponsor of the last Puma Volvo Ocean Race campaign. In September 2013, Johan Walter Berg AB (whose key brand is Berg Propulsion) was sold to the US giant Caterpillar. This has now left Svensson free to apply the same entrepreneurial verve to his latest project as he once did with his ship propulsion company.
Around this same time Marstom Composites had a management shake-up that saw Göran Marström retiring. The company that bears his name will continue to build boats and spars, but is now focussing its core business on composite work for industrial use.
As a result Svensson has moved production of the M-32 across Sweden to a facility on the Öckerö Islands due west of Gothenberg, the location of the Berg Propulsion HQ. Here the initial aim is to build seven boats with the help of Marstrom Composites and with Göran Marström on board as a consultant.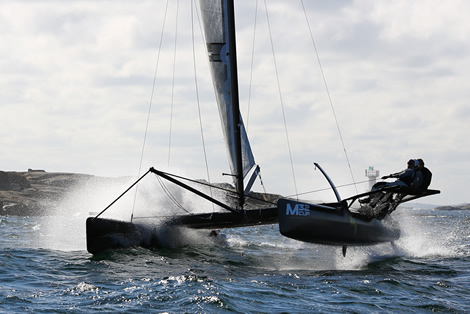 So what has brought on this radical move? Svensson explains: "I've bought a number of M-32s over the last couple of years and I've seen we can create a nice racing circuit and it seems to attract the right sailors like Freddy Lööf - plus I like the racing part! And I think this is the right approach for the future: It is a fast boat - not the typical 37-40ft keelboat where the family has to compromise because the husband is interested in racing. It is more a thoroughbred racer. I thought it was a good move into the market, probably not the best time for the market, but it gives us a little bit of time to get a feel for what the market wants."
While the M-32 could be thought of as a small Extreme 40, in fact it is much newer design (by Göran Marström and Kåre Ljung, whereas the 40 came from Yves Loday). Most noticeably the boat features a una-rig (ie main, kite, but no jib), has curved daggerboards and has racks that extend its 5.54m beam out to a whopping 8.35m.
Compared to the Extreme Sailing Series, Svensson says the M-32 circuit he envisages will be entirely different. Rather than have a world tour as the Extremes do, the aim with the M-32s, initially at least, is to follow the traditional one design model and develop local fleets, with the prospect of international get-togethers, such as a World Championship, when the fleet is large enough and there is the demand. "I would say the Melges 32 is more the model," he explains.
While he has been focussing on his business life for the last years, Svensson is a keen yachtsman, who has sailed all his life and in fact grew up racing against Freddy Lööf, the London 2012 Star gold medallist – the Lööfs and Svenssons are family friends. More recently Berg Propulsion has also been a key backer of Lööf and Max Salminen's evidently very successful Star campaign. In fact it was Lööf who first pointed Svensson towards the M-32. As Svensson recalls: "Freddy called me one day and said 'Håkan, I have been sailing a really cool catamaran...' And that was the Marstrom 32." Svenssen subsequently went sailing on the M-32 himself and bought one which Loof and he now campaign.
The M-32 initially got off the ground in Sweden, but has also developed in the US partly thanks to Svensson enlisting the help of Puma skipper and silvery tongued North Sails President, Ken Read. "After the Volvo Ocean race, Ken came to Sweden and we went out sailing and he really loved the boat and he decided to push for a fleet in the USA, which we did. So we have four boats down in Miami now."
Typically Svensson sees M-32 owners as being people who've either sailed competitively in their early years and who want to get back into it (like himself), or teams who have managed to get corporate sponsorship. Among the Swedish fleet skippers we have heard of (apart from Lööf) for example are former match racer and Victory Challenge strategist Mathias Rahm and Volvo Ocean Race crewman and ORMA 60 skipper on the Oops! Cup, Klabbe Nylöf.
While an announcement about the full team line-up for 2014 is imminent, Svensson says they expect to get eight boats racing on the Scandinavian circuit this year.
The schedule for Scandinavian circuit has already been published, with racing in Gothenberg over 21-24 May, heading north to Oslo, Norway over 11-14 June and back to Sweden and Malmo over 23-26 August, to Denmark and Copenhagen over 27-30 August with the season finale taking place in Stockholm over 10-13 September. Svensson has employed a Project Manager to run the M-32 circuit in Peter Gustafsson.
Of the seven additional M-32s currently in build, four are destined to join the USA fleet, while three will stay in Scandinavia.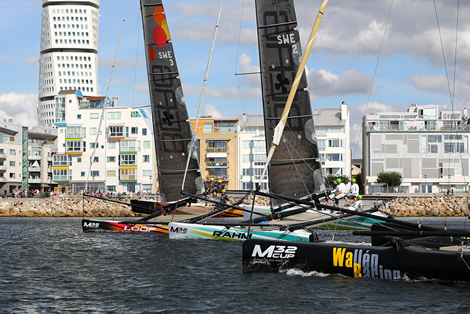 However not one to sit on his hands, Svensson has grander plans afoot and in contrast to Marstrom Composites, which was building boats to order, after the current production run of seven boats, he plans to build a further 20 "more or less on speculation. I have a lot of respect for production flow, so I'd rather invest in 20 boats, so that we sort out the product flow correctly." He adds that they have no plans to change the one design nature of the boat in order to achieve this.
To date 15 M-32s have been built. While embryonic M-32 fleets are already established in Scandinavia and the USA (specifically Florida) and single boats have been sold to Germany, Italy, Thailand (Phuket) and Australia (Sydney), Svensson is hoping in due course to get footholds in Auckland, Sydney and Perth, Singapore and Hong Kong, plus Gulf states such as the UAE and Qatar. "There are maybe 15-20 places around the world, where I'd like to market it. In Europe we have to think of almost every country. I don't expect this all to happen over one year. It'll take five years to make this work. And we have to create a one design rule so that people believe in it as a long term boat."
Obviously with the America's Cup and on-going developments with the Martin Fischer-designed GC32 and the A-Class, the catamaran world is going foil-crazy at the moment. According to Svensson the prospect of the M-32 becoming air-borne is just an idea at present.
"That could be the way that we go, then we will look at a foiling kit to see if we can upgrade existing boats. We'll see if we are able to do that, but to make a boat like this foil with four people on board, where the rig is moving around a little bit, we have to make it quite a safe platform and it will take more R&D to get to that point. It is one thing to foil a boat that is big or very small, where you only have got one man who is controlling it - like a Moth. That is a different story, because you can control everything a bit more easily. When you have to coordinate a team of four people on board then I think that would be a 'nice' challenge."
So this doesn't look as though the M-32 will be foiling imminently. Svensson adds that there is also a safety aspect to going foiling given the speeds that the boats go when they are airborne as well as the handling issues this presents. Going foiling - as Cup teams will attest - is also much easier 'said than done'. However with his background at Berg, hydrodynamics is a side of sailing that Svensson feels he is comfortable with.
Already the M-32 is fitted with curved daggerboards, like we've seen on A-Class cats and the Nacra 17. On these boats the curved foils generate considerable vertical lift. According to Svensson this is also the case with the M-32, when it is going flat out. "Already the daggerboard is creating the foiling effect. When you reach 28 knots and then the boat is feeling a little bit funny to handle!"
Given Svensson's involvement with it, we can expect a bright future for the M-32s. While the basic boat itself costs in the region of £150,000, Svensson says that it costs another £100,000 on top to campaign it. The M-32 is also a strict one design, even with one design sails.
Tomorrow Freddy Lööf gives us his impressions of the M-32, his dramatic move from the Star keelboat to high flying to two hulls and whether or not he's going to join Artemis Challenge as their lone Swede.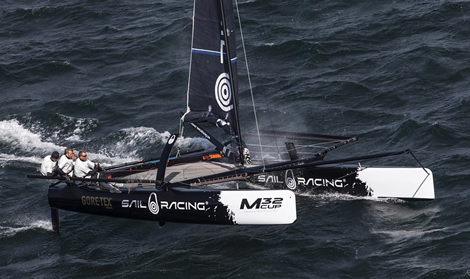 Back to top
Back to top