British campaign for the 35th America's Cup: Almost a green light
Sir Ben Ainslie was in London on Tuesday for the launch of SOS Rehydrate (more about this here), for which he is both an ambassador and a shareholder.
Ainslie met SOS Rehydrate co-founder James Mayo at a reception being thrown by the British ambassador in San Francisco and subsequently got the trainers and sailing team at Oracle Team USA to try the product, which they then adopted prior to the 34th America's Cup. Having already launched out the product in the USA and New Zealand, SOS Rehydrate is now in the process of being rolled out in the UK.
The big news of course is that Ainslie seems to have pulled off the impossible and there is very likely to be a British team in the 35th America's Cup. Frankly, this is awesome news.
"It's been a grand vision as far back as a couple of years ago, which is how the relationship came around with Oracle," Ainslie explains. "We were very fortunate with how it all worked out in the Cup and the support back here in the UK. Jo [Grindley, of Into The Blue] has been doing a bloody good job on the commercial side to tee things up and as things fell into place, it started working. We pulled up a lot of momentum, a lot of support. So you occasionally have to pinch yourself...it's amazing we've got to this point..."
Certainly Oracle Team USA's come-from-behind victory has boosted Ainslie's profile to new heights in the UK where he is now approaching household name status, to the same extent as Ellen MacArthur managed a decade ago.
According to Ainslie there was no one green light moment after which they knew they could definitely press ahead with the campaign. "The result in San Francisco helped a huge amount, but then there have been a couple of key meetings where we needed the support of one or two individuals or we needed someone to come through and that's made a real difference."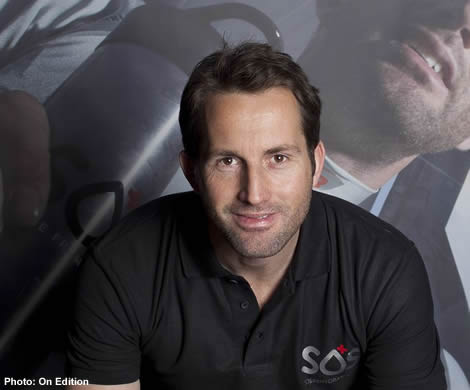 At present Ainslie says he is 70% of way to getting the required budget. Part of this is from private investors who will have ownership of the team. And the rest will come from commercial backers, the obvious candidate for title sponsor being his long-term partner JPMorgan. "We have got some deals we are quite far down the line on and others which are still dependent on the Protocol coming out – to be honest they all are dependent on that, because we need to know exactly the venue and the dates before you can get a firm commitment. But that side has been going really well and has given us the confidence that we can find the rest of the money we need."
So there is a campaign, albeit at this stage subject to several ifs, buts and final hurdles, the most significant being what is published in the Protocol document for the 35th America's Cup and the associated class rule for the new boat.
"We have been in contact with both Oracle and Hamilton Island and it sounds reasonably positive the noise coming out of those negotiations and hopefully we'll hear something in the beginning of March about a Protocol. I'm sure there'll be the usual issues... I think the main thing is to get a Protocol out there as soon as possible, then we can start working on it. The commercial side you can't really tie down until you get that."
While the Protocol document is for the Defender (ie Oracle Team USA/GGYC) and Challenger of Record (ie Team Australia/ Hamilton Island) to hammer out between themselves, according to Ainslie the challengers have been allowed a slight input into the process. "Obviously it is up to those two parties to come up with the deal that best suits them. Then the challenging teams have to work around that. That is part of game and you have to understand that going into it."
Nonetheless it has been necessary to put the wheels in motion before then, else the talent pool gets sucked dry by the other teams. Already over these last months there has been hungry recruitment going on between Oracle Team USA, Artemis Racing back with Iain Percy in charge, Luna Rossa this time unlikely to leave any stone unturned and already established in their new base in Cagliari in the south of Sardinia and positive sounds emanating from Emirates Team New Zealand, hoping it will be third time lucky after their defeats in 2007 and 2013.
At this stage Ainslie will only talk about his campaign in general terms, but for example Freddie Carr was present at the SOS Rehydrate launch wearing JPMorgan BAR crew gear and key members of the sailing and design teams have already been signed up. "We have got some meetings next week with some of the designers coming over so we can try to work out how to tackle the project," says Ainslie.
"The philosophy is to slowly build things up rather than saying 'we're going to have an America's Cup team: Let's hire 80 people'. We're trying to do the right thing and not rush into any agenda, get the right people and then, with that group, sit down and work out how to take on the challenge, what's important and not rush into any decisions and get it wrong."
So many Cup teams in the past have come unstuck at this, one of the most crucial stages of a campaign, by failing to get the right foundation blocks in place from the outset. Fortunately over the years Ainslie has had first hand experience of One World, Team New Zealand, TeamOrigin and most recently Oracle Team USA and has learned valuable lessons from all.
For example, vital is how the management of the team is set up. With the exception of Russell Coutts' and Alinghi in 2003 (who already had two Cup wins behind him at that point), having team CEOs who are also skippers of the race boat has usually proved a recipe for disaster in recent Cups. Ainslie says he is all too aware of this. "Really my goal is to help with the guys we've got to set this up, get everything in place, then the day to day operation won't be my bag, I'll be out there on the water with the guys, focussing on how we can get the boat going as fast as possible."
Saying this, the feedback we've had is that Ainslie is proving as effect as a manager as he is on the water. "I love sailing and to take on a project like this has been a huge amount of hard work, but it has been really interesting," he admits. "I wouldn't claim to be the world's greatest manager or CEO, but if you have got good people around you, that is really the key."
Presumably that other Finn Gold medallist, Russell Coutts has been a significant role model for him. However Ainslie says it is unlikely the team will have a CEO initally at least, although it is something they will continually review. "I think it will be quite a flat management structure. At the end of the day if you can't sit around a table and agree on what's important in a team with the goal of winning yacht races, there is something wrong."
Already the existing teams are starting work on their 35th AC campaigns, despite there being no Protocol or design rule in place. "I think some of the other teams have been out there doing some foil testing or other types of testing in the 45s. But obviously we don't have the luxury of being a billionaire-backed team with a budget that's totally underwritten, so we have to take on the challenge as it is for us. I am very happy with the decisions that we've made and the people we are talking to and the way everything is going."
So presumably hiring a design team comes first at this stage? "That is obviously critical, getting that key design group together and then working out the philosophy of what you focus the most on. Then you need the Protocol and the rule to find out where the main focus is going to be. Most people imagine it will be around the foils and it is hard to see any reason why that wouldn't be the case right now, but you never know. We are not rushing into any fundamental decisions until we get the rule and then we can move forwards."
Ainslie has always been keen to fly the British flag with his campaign – one of his Desert Island Disc tracks recently was even Nimrod from Elgar's Enigma Variations (which could easily stand in as an alternative British national anthem) – but he says this isn't effecting his recruitment policy. "Our view has always been if you had two equal candidates, you'd always take the British one. We want to support British sailing as much as we can. Saying that all the people, bar a couple I think, are Brits, at least on the sailing team."
With the Cup potentially not taking place until 2017, another important step at this stage is a base. The team has already been looking into suitable sites in the Portsmouth and Southampton area. "One of our projects is on the sustainability and we have a potential partner there which would tie in nicely to a base somewhere on the south coast. And I think that is good to try and get the public support and try and get school kids in there so they can see what we are doing in the UK. And strategically we might have to have a base abroad, although that will be Protocol-dependent."
Ainslie hopes that the widely-mooted intent of cutting campaign costs for the 35th America's Cup comes to pass. For example keeping all the racing in one venue rather than having to ship the boats around would represent a significant saving. Ideally he says it should be possible to run a competitive team with a budget of less than US$ 100 million, although inevitably teams with deeper pockets will always find a way of spending extra money if they feel it is going to give them the slightest performance edge. "The venue, the type of boat, the one design element – they are going to determine the cost."
But the event must be commercially viable too. For example Larry Ellison has recently acquired most of the Hawaiian Island of Lanai, and there has been talk of hosting the 35th America's Cup there, which frankly would be commercial suicide for the event. The other alternative to San Francisco doing the rounds is San Diego, but that is typically a light wind venue which would be less than ideal for foiling catamarans.
But as Ainslie reiterates: "We are open to whatever the challenge is. It is obviously up to Oracle and Hamilton Island. They both want to make it as commercial as they possible can and they'll both have their own ideas about what suits them the best. We just have to rise to that challenge. From what I have heard, speaking to the two parties, I think we are going to get a realistic commercial protocol."
Fingers crossed for the British campaign and a big hand, doffed cap, etc to Sir Ben.

Back to top
Back to top