Emirates Team New Zealand back on the water
Tuesday January 21st 2014, Author:
James Boyd
, Location: none selected
Emirates Team New Zealand have today confirmed as the tenth team set to compete on the 2014 Extreme Sailing Series, with skipper Dean Barker once again at the helm. With a further team announcement due in the coming weeks, a full grid of 11 teams will embark on the eight stop global tour, which kicks off in Singapore in just over four weeks, with the first day of racing on 20 February.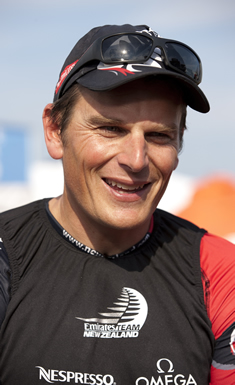 London 2012 silver medal winning 49er duo Peter Burling and Blair Tuke, who last week were announced as part of the Kiwi development squad for the 35th America's Cup, will join Barker on board the Extreme 40. While the pair are currently campaigning for the Rio 2016 Olympics, Barker and Burling will share skipper duties, as Barker explains: "I will skipper five. We will rotate sailing squad members through the other crew positions. Between the two of us we will be able to field competitive crews through the year."
Barker will be at the helm at the first two events in Singapore followed by Muscat, Oman, in March. Burling will then take over for the following two in Qingdao, China in May and the brand new event in Saint Petersburg, Russia in June. The remaining events will be confirmed throughout the year.
Emirates Team New Zealand last competed in the Extreme Sailing Series in 2011, and after an unforgiving introduction to the world of elite level multihull racing, the team soon got to grips with the high performance catamaran. Barker recalls their first event: "It was at Almeria, Spain, and we were last. Extreme 40 racing is unlike any other; the teams are very competitive, races are short, the action non-stop and split-second decisions are needed."
Burling and Tuke sailed in three Extreme 40 regattas last year with Team Korea, quickly getting to grips with the stadium racing formats before going on to win the Red Bull Youth America's Cup in AC45s in September. The final crew members are still to be confirmed.
Commenting on the number of teams on the starting grid in 2014, Mark Turner, Executive Chairman of OC Sport said: "We don't have a need or even want to grow the fleet massively – eight boats is our optimum to deliver top level stadium racing. We want the best sailors – we need to maintain that. Our model is commercial model and we attract commercial brands. It has been a conscious decision to take additional teams in 2014 as the next Cup cycle gets going again, and in 2015, it certainly wont be a failure to have eight boats again."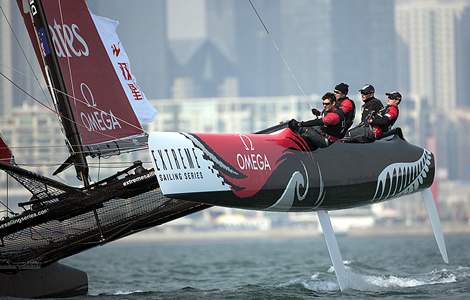 Back to top
Back to top