Paul Goodison goes cat sailing
Beijing Laser Gold medallist Paul Goodison is a man in demand on owner driver circuits like the Melges 32 and RC44, but this year faces a new challenge, called up to do mainsheet and tactics on the JPMorgan BAR Extreme 40 with Sir Ben Ainslie.
Ainslie and Goodison were sparring partners in the Laser prior the Sydney Olympics in 2000, when the knight of the realm earned his first Olympic gold following the famous dust-up with Robert Scheidt. Goodison says that in their down time training he and Ben did a little bit of big boat sailing together, but this will be the first time they have sailed together in anger since then.
Goodison made an attempt to get into multihull sailing last year when he acquired an A-Class cat, but then found himself without the time to put into it. He's also had the occasional taste of the Extreme Sailing Series, when he coached the two Omani crews on The Wave, Muscat and Oman Air in Cardiff two years ago.
"I have always been interested in doing some cat sailing and then Ben asked me and it was a bit of a no brainer to get involved and learn more about it," Goodison explains. "Ben is the man to sail with, rather than anyone else. If you could pick a helm to do tactics for, he'd be at the top of the list. For me, doing a lot of owner driver stuff this year, it is going to be great to get to do some fully pro-ed up sailing. It will be a big task, but something I am looking forward to."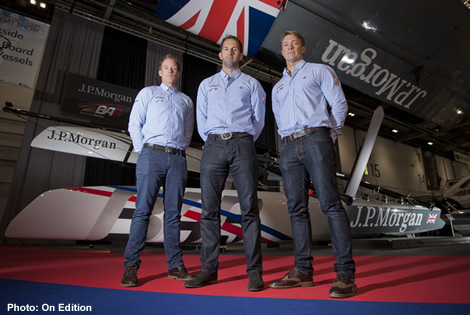 Goodison acknowledges that he'll be on a steep learning curve, however there are old Extreme 40 hands on board, including bowman Matt Cornwell and their as yet unannounced fifth crew member, who will be able to show him the ropes.
"What struck me was how intense and short the races are and how non-conventional the courses are, so they will be a bit different from all of the stuff we are used to," says Goodison of how he reckons he's going to take to it. "The main thing is that you have to start well, because the courses are so short - you have to have speed and start well and then it's just about knocking out consistent results. It is a bit different for me doing reaching starts, and cats manoeuvre a bit differently, but I'm sure get to grips with it."
While there is no AC45 circuit for 2014, it is likely that the same crew will move on to that in 2015/6and ultimately into the AC72 if the stars align correctly and Ainslie is able to put together a British campaign for the 35th America's Cup (fingers crossed).
One suspects that if Ainslie is able to press the 'go' button on his Cup campaign and Goodison is involved then his chances of competing at Rio 2016 may be slim. But our man hasn't discounted the possibility.
"I do look at the Laser results and when you aren't having the best of days in the yacht racing you're doing, you sometimes wish you were a bit more in control of your own destiny rather than being part of a team. That is when I miss Laser sailing the most," he admits. "I think as the Games get closer and the trials process is announced, it is going to be hard not to think very seriously about that.
"Just listening from the stories coming back from Rio – it sounds quite China-esque, with tides and light winds and something that could be quite up my street. In the past, that has been my strong point. So that does ignite a small fuse... But unless that is the only thing you want to do, you shouldn't be doing it, because if you don't do it properly you aren't going to win. So we'll cross that bridge when we get to it. At the moment I have too much else on and I'm really enjoying part of a team and managing things like sail development and mast changes – I feel like I am learning so much all the time and getting better and better."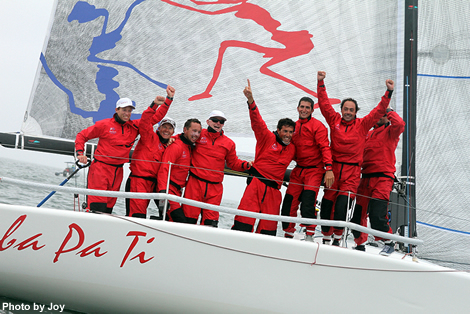 As mentioned, when it comes to owner-driver one designs, Goodison is in demand. In this the Melges 32 is top of the pile and in 2012 he won the Worlds with John Kilroy on Samba Pa Ti. For personal reasons, Kilroy wasn't able to defend his title in 2013, but plans to be back with a vengeance (with Goodison back on board) this season.
During 2013 Goodison sailed with Stig owner, Italian Alessandro Rombelli, mainly on the Melges 20. "The plan was for us not to do the 32, just the 20, but literally a month before the [32] Worlds, he said 'I want to do this'. So he bought a five year old boat that had been in storage, we did four days training and we ended up fourth, two points off second. So he was blown away by that and said 'we'll have to do the 32 again next year,' but I was already committed..."
With the Melges 32 Worlds in Miami in December this year, the Samba Pa Ti team will be focussing on sailing in the USA, so Goodison can expect to be upping his transatlantic air miles greatly. "A lot of the big teams are ramping up their programs again with the aim of doing the Worlds, so it will be a competitive fleet this year and tough to win, but it is good fun. And the little Melges 20s which go alongside that - having over 50 boats at the World Championship and having some really good, intense fleet racing is something I miss from not having my Laser, so I get my fix there."
And then there is the RC44. Last year he sailed with American David Murphy on Ironbound and had, what Goodison admits, was an up and down year. For example they led into the final day of the Worlds... "but we blew up a kite and did two capsizes, so we didn't have the best finish to the regatta but it felt like we were getting better all the time, so it is a bit of a shame we couldn't continue with that."
Goodison is unsure of whether he'll be able to do the RC44s again this year because of his already packed schedule with the Extreme Sailing Series and the Melges.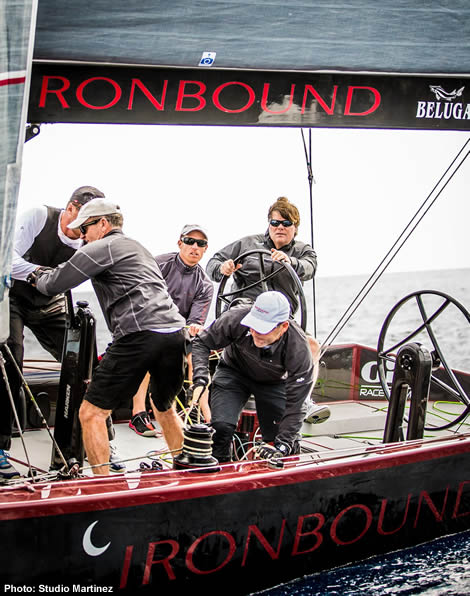 Fun

When he's back home in Weymouth, Goodison is able to get his fix of singlehanding, not in the Laser, but aboard his Mach 2 Moth. "When I go home, I am desperate to go sailing again and I just love being out on the water racing my Moth," he admits. "It reminds me of when I was 12-13 years old and I was tugging as my dad's shirt sleeve to take me to the club on a Wednesday night to go sailing because I loved it. It has reignited a passion for the sport that I haven't felt for the sport for a long time."
He missed out going to the Moth Worlds in Hawaii last year because it conflicted with his brother's wedding. "That was probably a blessing in disguise, because I still had quite a lot of learn on the boat handling side. But then I lost 6kg in weight for the RC44 Worlds and all of a sudden my Moth sailing went through the roof – my foiling tacks were working, all the boat handling was easy but you do lose quite a bit of upwind speed, not having quite as much leverage. But sailing a bit lighter and getting through your tacks is the way forwards. And it is so much fun."
In Weymouth this is an impressive group of Moth sailors, including Olympians Simon Hiscocks, Stevie Morrison, Nick Thompson, Dylan Fletcher, Ed Powys and Richard Mason, among others, who are joined occasionally by Rob Greenhalgh, Tom Offer and reigning European Champion, Chris Rashley (currently coaching the British 49ers).
However Goodison reckons he is not a 'proper Mothie' because he's not getting involved enough in the arms race. "They all like to come tuning against me because I have one set of foil and one sail and one mast and they use me as the benchmark and they are all changing stuff every day."
Saying that, Goodison was heading back from the Boat Show last week clutching a brand new carbon fibre foil that had been delivered from Australia. Oh and he has a new sail from the US. "So I say I am not involved in the technology race, but maybe I am getting into it more than I would admit to myself..."
Following Bora Gulari's victory at the Moth Worlds last year, aero fairings for everything seems to be the way forward in the class and ever enterprising Simon Hiscocks has been refining and making these, in turn acquired by the Weymouth fleet. A 3D printer has also been acquired, so we can except to see more custom plastic widgets being used on the boats.
Obviously the big deal for British Moth sailing this year is that the Worlds are to be held out of Hayling Island Sailing Club over 16-25 July. Inevitably for Goodison this clashes with another event, which he says he will do his best to weedle his way out of if he can. "It is such a great opportunity, but with having a schedule that is so busy, it is hard to find enough time to get competitive. It is a class that to be at the top it rewards time, time and time. But there is a good enough group of British sailors doing it and if we work together well we should be able to get close to the Americans and Australians, who've traditionally been in front."
He says he is also enjoying the camaraderie in the Weymouth Moth group and swapping info. "The guys with the Olympic background - it is not their main focus, so they are happy to be open and it is nice to have that mentality again.
"The Moth is such an amazing boat and so easy to get into. For me foiling boats has got to be the future of sailing. Even if it is not faster than a boat that is in the water, people want to get in the air. The first time you go out in the Moth and it gets up and everything goes eerily silent and you are off... people need to have access to that, that aren't athletic or Olympic standard. If you could safely get up on foils without going to great expense and bring something that did that into the market, it is going to make sailing not viral but it will reach out to a large number of people."
Back to top
Back to top