Ninkasi shines on big day
The penultimate day of the 2013 Audi Melges 20 World Championship, hosted by Ocean Reef Club was better than expected, most especially where racing conditions were concerned. What started out with uncertainty, ended as one of the very best days of racing yet.
John Taylor aboard Ninkasi stunned spectators with an outstanding performance that has him now seated in first overall, nine points ahead of Travis Weisleder on Lucky Dog|Gill Race Team in second. Marcus Eagan and family aboard Cajun Underwriting moves up a notch to third overall. Alessandro Rombelli's Stig and Tony Tabb's Yolo both had a great day to complete the top five placing fourth and fifth respectively.
Of today's three races Taylor won two. Richard Davies aboard Section 16 with Charlie McKee on tactics and Matt Pistay on bow claimed the win in race seven.
Rhonda Joyce's Batteries Not Required is currently ranked as the top female boat with tactician Steve Hunt and crew member Matthew Woodsworth. They are in heated contention with Leo van denThillart's Team True Racing with Cate Gundlach at the helm. Kent Haegar's Mach Schnell is next in succession with Laura McKenna aboard, as well as his daughter Annie Haegar and fellow Team HP470 partner Briana Provancha. Annie and Briana have teamed up as they both share the dream of winning a Gold Medal in the Olympics. The Audi Melges 20 has become a big part of their program over the last few months. Additional female teams include Camille Rasdal's Odin and Bob Hayward's Gypsea.
Other notables include fleet newcomer Drew Friedes on Pacific Yankee with Chad Corning and Charlie Smythe. It's their first time competing in the class and having a wonderful event currently seated 18th overall. W
With only one day of racing left, tension will be high on the course on Saturday. Two final races are scheduled and with the points still relatively tight, this Championship is still very much up for grabs.
In the Corinthian results, Eagan and his crew comprised of his father and brother lit up the course on Friday, sitting fourth overall and first in the Corinthian Division. John Brown's Blind Squirrel remains in second with Paul Currie's Wild Deuces in third.
Apres racing, teams gathered at ORC Town Hall for food and drinks with daily race winner trophies being awarded to Taylor and Davies. A Pussers Survival Kit, presented by Pussers Rum went to Elliott James and crew Jeff Causey and Dan Morris on Problem Child for most improved.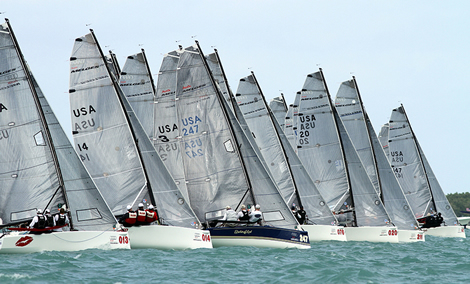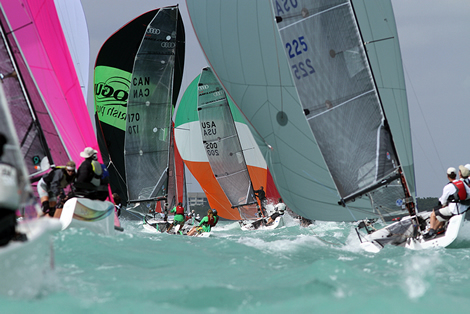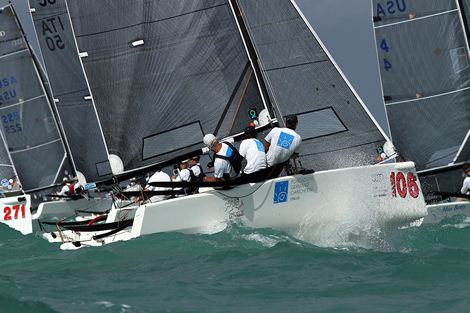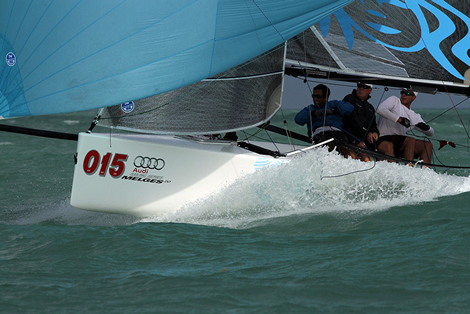 Back to top
Results

| | | | | | | | | | | | | |
| --- | --- | --- | --- | --- | --- | --- | --- | --- | --- | --- | --- | --- |
| Pos | Sail no | Boat | Owner/Skipper | R1 | R2 | R3 | R4 | R5 | R6 | R7 | R8 | Net |
| 1 | USA 1315 | Ninkasi | John Taylor | 1 | 11 | 31 | 4 | 14 | 1 | 5 | 1 | 37 |
| 2 | USA 3 | Lucky Dog / Gill Race Team | Travis Weisleder | 2 | 9 | 4 | 5 | 1 | 12 | 13 | 21 | 46 |
| 3 | USA 176 | Cajun Underwriting | Marcus Eagan | 6 | 27 | 13 | 2 | 7 | 5 | 11 | 3 | 47 |
| 4 | ITA 65 | STIG | Alessandro Rombelli | 29 | 4 | 6 | 3 | 20 | 3 | 6 | 6 | 48 |
| 5 | USA 088 | YOLO | Anthony Tabb | 5 | 17 | 1 | 18 | 46 | 2 | 2 | 7 | 52 |
| 6 | USA 228 | Midnight Blue | Jason Michas | 4 | 1 | 20 | 13 | 13 | 11 | 4 | 8 | 54 |
| 7 | USA 226 | Section 16 | Richard Davies | 20 | 15 | 2 | 17 | 8 | 9 | 1 | 5 | 57 |
| 8 | USA 20 | STAR | Jeff Ecklund | 17 | 7 | 27 | 7 | 3 | 26 | 3 | 4 | 67 |
| 9 | USA 13131 | Samba Pa Ti | John Kilroy | 9 | 2 | 32 | 1 | 27 | 13 | 10 | 12 | 74 |
| 10 | USA 147 | Cinghiale | Robert Wilber | 43 | 3 | 9 | 6 | 21 | 24 | 14 | 2 | 79 |
| 11 | USA 247 | Barking Mad | James Richardson | 15 | 5 | 19 | 9 | 5 | 22 | 7 | 28 | 82 |
| 12 | USA 193 | Heartbreaker | Robert Hughes | 16 | 6 | 10 | 11 | 26 | 6 | 9 | 24 | 82 |
| 13 | USA 13 | Bacio | Michael Kiss | 11 | 14 | 17 | 12 | 35 | 10 | 8 | 10 | 82 |
| 14 | USA 21 | Fu | Marc Hollerbach | 8 | 20 | 16 | 10 | 11 | 14 | 16 | 19 | 94 |
| 15 | USA 14 | Red Sky Sailing Team | Paul Reilly | 22 | 13 | 29 | 14 | 10 | 16 | 23 | 11 | 109 |
| 16 | USA 8 | Shimmer | Russell Lucas | 36 | 25 | 8 | 16 | 15 | 19 | 17 | 13 | 113 |
| 17 | USA 250 | oleander | James Wilson | 21 | 28 | 11 | 21 | 24 | 4 | 18 | 23 | 122 |
| 18 | USA 236 | Pacific Yankee | Drew Freides | 19 | 8 | 26 | 30 | 18 | 46 | 12 | 20 | 133 |
| 19 | ITA 23 | Mascalzone Latino Jr. | Achille Onorato | 10 | 16 | 25 | 15 | 36 | 20 | 20 | 29 | 135 |
| 20 | USA 217 | Slingshot | Wes Whitmyer Jr | 13 | 23 | 42 | 53/DNF | 17 | 7 | 19 | 18 | 139 |
| 21 | BRA 245 | Portobello | Cesar Gomes Neto | 14 | 21 | 7 | 37 | 23 | 28 | 37 | 15 | 145 |
| 22 | MON 333 | Monaco Racing Fleet | Guido Miani | 25 | 24 | 5 | 27 | 16 | 37 | 30 | 30 | 157 |
| 23 | USA 207 | Velocity | Bruce Broussard | 49 | 12 | 3 | 33 | 39 | 18 | 34 | 27 | 166 |
| 24 | CAN 170 | Batteries Not Required | Rhonda Joyce | 12 | 32 | 23 | 19 | 38 | 17 | 29 | 35 | 167 |
| 25 | CAN 201 | Team True Racing | Leo van denThillart | 3 | 10 | 41 | 8 | 49 | 30 | 47 | 33 | 172 |
| 26 | USA 121 | Catapult | Joel Ronning | 28 | 35 | 24 | 34 | 29 | 25 | 32 | 9 | 181 |
| 27 | ITA 50 | Fremito D'Arja | Dario Levi | 18 | 26 | 22 | 31 | 6 | 43 | 41 | 53/SCP | 187 |
| 28 | USA 225 | Flygfisk | Tom Kassberg | 7 | 49 | 21 | 43 | 12 | 49 | 24 | 31 | 187 |
| 29 | USA 12 | Mach Schnell | Kent Haeger | 50 | 41 | 40 | 23 | 19 | 8 | 33 | 26 | 190 |
| 30 | GBR 269 | ngoni | Tony Buckingham | 38 | 42 | 15 | 48 | 9 | 35 | 26 | 25 | 190 |
| 31 | USA 7676 | Kuai | Daniel Thielman | 42 | 30 | 12 | 28 | 32 | 38 | 25 | 32 | 197 |
| 32 | USA 196 | W | Drew Wierda | 24 | 46 | 39 | 36 | 25 | 23 | 15 | 37 | 199 |
| 33 | USA 280 | Volpe | Ryan DeVos | 30 | 34 | 18 | 25 | 37 | 27 | 28 | 46 | 199 |
| 34 | USA 200 | Flat Stanley Racing: Hooligan | Trey Sheehan | 40 | 18 | 46 | 29 | 4 | 40 | 27 | 43 | 201 |
| 35 | CAN 142 | dp | David Pollock | 35 | 22 | 38 | 22 | 31 | 15 | 39 | 47 | 202 |
| 36 | ITA 106 | Asante Sana | Claudio Dutto | 23 | 36 | 28 | 45 | 47 | 21 | 40 | 14 | 207 |
| 37 | CAN 2 | Touch2Play | Rob & Sandy Butler | 32 | 48 | 43 | 49 | 2 | 33 | 22 | 36 | 216 |
| 38 | CAN 214 | Bella Rena | Henry Demone | 27 | 43 | 36 | 35 | 50 | 34 | 35 | 17 | 227 |
| 39 | JPN 271 | Mamma Aiuto! | Naofumi Kamei | 31 | 29 | 14 | 20 | 44 | 48 | 53 | 50 | 236 |
| 40 | USA 231 | Blind Squirrel | John Brown | 46 | 19 | 37 | 24 | 43 | 44 | 31 | 44 | 242 |
| 41 | USA 211 | Makaira | Skip Shapiro | 26 | 39 | 34 | 32 | 34 | 41 | 38 | 40 | 243 |
| 42 | USA 134 | Problem Child | Elliott James | 33 | 40 | 48 | 53/DNC | 53/DNC | 36 | 21 | 16 | 247 |
| 43 | CAN 222 | Wild Deuces | Paul Currie | 37 | 37 | 49 | 26 | 30 | 45 | 45 | 38 | 258 |
| 44 | USA 4 | Miss Betty | Oliver Luebker | 44 | 44 | 50 | 41 | 48 | 32 | 36 | 22 | 267 |
| 45 | USA 202 | upupup | Bo Boje Pedersen | 45 | 50 | 45 | 40 | 22 | 42 | 43 | 42 | 279 |
| 46 | ITA 167 | Maolca | Manfredi Vianini Tolomei | 34 | 33 | 30 | 38 | 42 | 53/DNF | 53/DNF | 49 | 279 |
| 47 | USA 194 | Odin | Camille Rasdal | 47 | 31 | 53/ZFP | 42 | 41 | 31 | 44 | 48 | 284 |
| 48 | CAN 254 | CAN-254 | Frank McLaughlin | 51 | 38 | 33 | 39 | 40 | 50 | 50 | 34 | 284 |
| 49 | JPN 179 | Sokokumaru | Sumio Shimoyama | 39 | 47 | 35 | 46 | 45 | 47 | 42 | 39 | 293 |
| 50 | USA 227 | Gypsea | Bob & Cheryl Hayward | 41 | 45 | 51 | 47 | 33 | 29 | 48 | 52 | 294 |
| 51 | USA 131 | Le Rescator | Erwan le Gall | 52 | 51 | 44 | 50 | 28 | 39 | 49 | 45 | 306 |
| 52 | USA 238 | Affordable Mistress | Brian Henke | 48 | 53/DNF | 53/DNC | 44 | 51 | 51 | 46 | 51 | 344 |
Back to top