Introducing the FAST40+
As readers of these pages will be aware, there is today a multitude of 40ish foot long fast inshore race boats that designers and builders are touting – the Ker 40, Soto 40, Carkeek 40 (now in its Mk2 form), the Botin 40, the GP42, the Hakes 42, Farr 400, McConaghy 38, etc.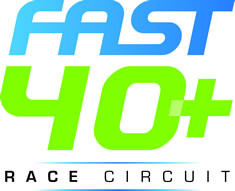 With this in mind Rob Greenhalgh has joined the dots and is in the process of setting up the FAST40+ to provide an opportunity for such boats to race in the UK, and, in due course, overseas: "All we're interested in is going sailing, getting some good racing in and trying to encourage fast sailing. I don't think people want to go sailing anymore in Ker 39s and King 40s, slow boats with interiors they'll never use: It is just too boring."
The intention is for these boats to compete in a relatively narrow band to keep the racing tight. "I only want three minutes an hour, so you are in the same bit of water. As things go on, people will migrate to similar boats, the band will get narrower," continues Greenhalgh.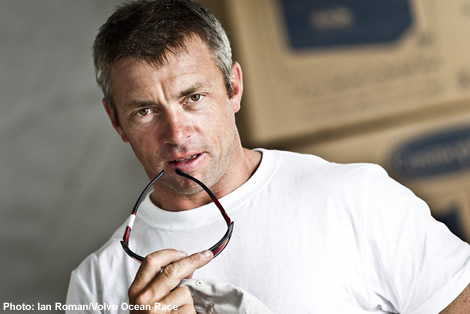 At present the aim is to include the Ker 40 as the slowest boat within the band and at present there is no limit on what the fastest can be, with the Carkeek 40 at present topping the scale as the fastest. In terms of displacement:length ratio this equates to 125 for the Ker 40 or just 80 for the Carkeek, similar to a TP52. However Greenhalgh says they would like D/L ratios across the fleet to drop below 100, so, if it is possible, the upper limit might be lowered to this for 2014 for new builds, while, for example, it might be possible to rekeel at Ker 40 to lighten it. The D/L limit is also in place to eliminate the possibility of entering a long, slow boat.
Containing costs
While this has all the hallmarks of a class where boat and campaign costs could sky rocket, the potential for dramatically escalating costs are being nipped in the bud.
Firstly there are sail inventory limitations. The initial proposal is to allow one main, three jibs and four kites in year one, plus six buttons for year two with J4s and staysails free.
Limits are also being placed on the number of pro crew that can race on board, with a ratio of 60-40 pro/amateurs being the currently mooted, plus one additional slot for a guest/media.
Team RIBs won't be allowed contact with their boat while out on the race course.
The race program is designed to maximise time on the water while minimising the number of days off work owners have to take.
"We are trying to encourage fair racing, where it is not coming down to cheque book sailing," says Greenhalgh. "Obviously you want new boats to have a slight advantage, because you have got to evolve, but hopefully the best team will win, not the best boat."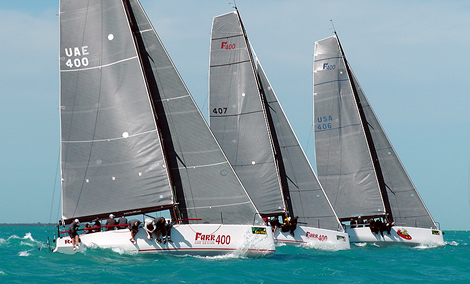 Schedule
At present there will be five events in 2014 are being proposed:
24-26 May: Royal Southern YC
20-22 June: Royal Corinthian YC, including the JPMorgan Asset Management Round the Island Race
11-13 July: Royal Lymington YC
2-4 August: Aberdeen Asset Management Cowes Week
12-14 September: Royal Southern YC
"So high profile racing, bespoke courses with no muck about, because the biggest commodity to owners is the time, not necessarily money," continues Greenhalgh. "People don't want to be hanging around all the time or doing long events. Our circuit is based around 15 days of racing with four days off work, covering one bank holiday. There are 46 races in the series."
According to Greenhalgh courses will be "a bit of everything". In addition to windward-leewards, there will be coastals, but no overnighters. For example, the June event will comprise two days of racing either side of the Round the Island Race on the Saturday. "We'll probably have a multiplication factor of 3x for the Round the Island, but we'll end up with an event that whole weekend which will be great for everyone."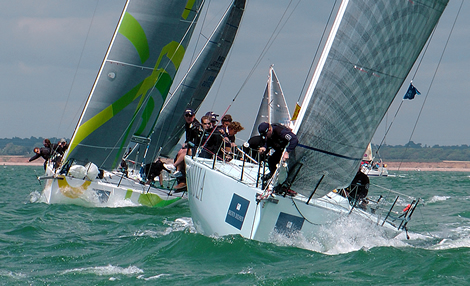 Around one month ago, a preliminary meeting was held to discuss the FAST40+.This was attended by many of the top UK-based race boat owners. Currently three have signed on the dotted line including two with newly acquired GP42s - Mike Bartholomew's latest Tokoloshe and Mark Lloyd's new Chaos.
"Everyone was enthused by it," says Greenhalgh. "I think there is a strong appetite for racing modern 40 footers, and around the world, not just the UK. They represent a sensible manageable budget, and it will bring more people into the game. And these new boats are high performance: You are getting good sleigh rides downwind, at similar speeds to a TP52, but for less than half the budget."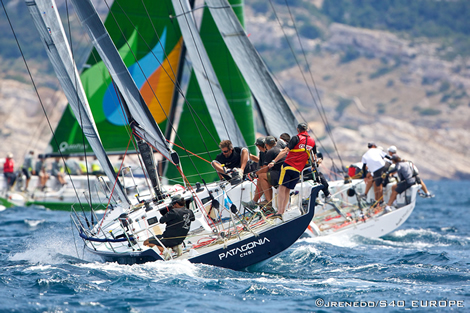 The path ahead
Similar to the 52 Super Series, the FAST40+ will be paid for by the owners, but if sponsors come on board, then some of the costs can be offset. According to Greenhalgh, if two or three more owners agree to compete in 2014 by mid-January then they can press ahead and set up the FAST40+ circuit. A small issue is simply not having enough of this type of boats in the UK at present. To alleviate this, Greenhalgh says they are looking at importing some charter boats from overseas.
"I think what we'll focus on is building a brand and an identity and then it becomes something. If we can get the fundamental rules down of what we are trying to achieve, then it can go places, something the owners can go to and feel they are part of something special: Bespoke courses, like-minded individuals.
"We want to try to do is to create something where people can buy secondhand and likewise when people have a boat, they can sell it because there's something to go and do with it."
The FAST40+ already has the bones of a management structure in place with Greenhalgh CEO, capable wife Leslie handling the sponsorship and marketing with Stuart Childerley on board as Race Director. These will operate in conjunction with an owners' forum.
The Notice of Race for the FAST 40+ 2014 season is due to be published next week.
Back to top
Back to top