Ironbound ahead
As the RC44s cruised out of Puerto Calero Marina, past the Team SCA base and some of the Mini Transat fleet limping in for repairs, Race Officer Peter 'Luigi' Reggio was not hopeful the wind gods were going to play ball on the opening day of the Calero Marina's RC44 World Championship.
The wind fluctuated between 4-10 knots throughout the day, but the race team did a great job slotting in two good races. David Murphy's Ironbound proved to be the most consistent player and there were race wins for Russia's Bronenosec and Team Ceeref.
A fight for the pin end of the line in the opening race saw three boats, Nika, MAG Racing and Peninsula Petroleum, called over early. Krill Podolsky on his newly branded Gazprom Youth Challenge won the pin and headed left, along with them Brosenosec and Ironbound. The shift favoured the trio who rounded with Brosenosec leading, Gazprom second and Ironbound third. An early gybe by Krill Podolsky didn't pay, letting Ironbound into second by the leeward gate. With no further place changes in the top three, Vladimir Liubomirov's Brosenosec took their first RC44 race win since joining the class in June.
After an hour's delay waiting for the wind to reappear, race two started in 8 knots. The 15-strong fleet managed one general recall before getting away cleanly. Ironbound looked strong in the middle of the fleet up the first beat, but it was Igor Lah's Team Ceeref, coming in from the right, who crossed ahead of the Americans to take the lead. A tight mark rounding saw Peninsula Petroleum and Katusha both penalised for trying to fit into a space they maybe shouldn't have.
At the bottom of the run Team Ceeref took the left hand gate allowing Ironbound to close, a tight cross at the top of the second beat saw the Slovenian team tack on top of Ironbound to take control. The battle for third was equally tight between Nika and Artemis Racing, Vladimir Prosikhin held off the Swedish team for the first lap, only to succumb on the second windward leg. Finishing positions were Team Ceeref followed by Ironbound, Artemis Racing and Nika.
Igor Lah has returned to the fleet for the first time since May for the World Championship, and is definitely in it to win it: "The World Championship is only once a year so it is a big challenge. There are several teams here that could win it, but we are also one of them."
With two second places Ironbound sits at the top of the overnight leaderboard on four-points, Team Ceeref and Artemis Racing tied with eight-points in second and third. David Murphy couldn't have been happier with the team's performance. "Yesterday we were the goats and today we are the kings, two seconds feels pretty good. It's great having tactician Paul (Goodison) onboard. He's patient, has good insight and makes good decisions all the way around the course. Our challenge is to stay in the pack, we want to be top five top six every race and if we can do that when we get to the end of the regatta we will be in the hunt."
Daniel and Jose Juan Calero have re-joined the fleet after an 18-month break. Jose Juan won the battle of the brothers, a tenth and seventh place leaves them in tenth overall. "It's amazing to have the fleet back, the class gives a lot of life to the Marina and for us it's a tradition now. I'm really happy with the team and motivated after our second race finish, especially in such a competitive class. Anything can happen in any race and if you make even the smallest mistake you lose three or four places. I think the race committee did an extremely good job; Peter Reggio really knows Puerto Calero and picked the two best moments of the day to race."
Results
1. Ironbound 2 2 – 4
2. Team Ceeref 7 1 – 8
3. Artemis Racing 5 8 – 8
4. Gazprom Youth Challenge 3 6 – 9
5. Team Aqua 6 5 – 11
6. Bronenosec Sailing Team 1 13 – 14
7. Team Nika 11 4 – 15
8. Aleph Sailing Team – 4 11 – 15
9. Synergy Russian Sailing Team – 16
10. Puerto Calero Residence Club Black 10 7- 17
11. Peninsula Petroleum Sailing Team 12 9- 21
12. Team Italia 9 12 – 21
13. Mag Racing 14 10 – 24
14. Katusha 13 14 (1) – 28
15. Puerto Calero Residence Club Grey 15 15 – 30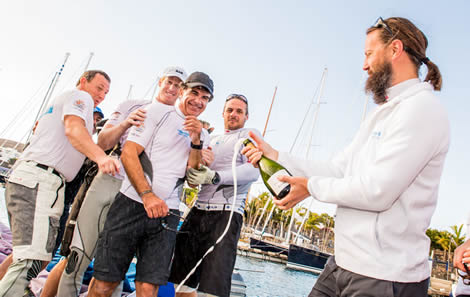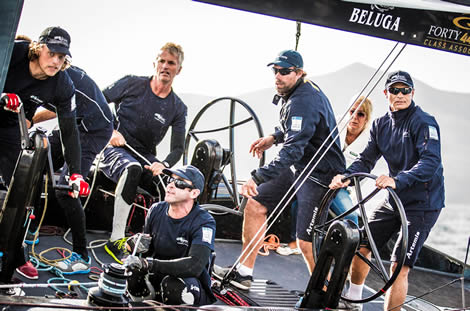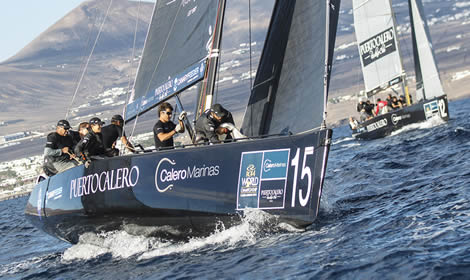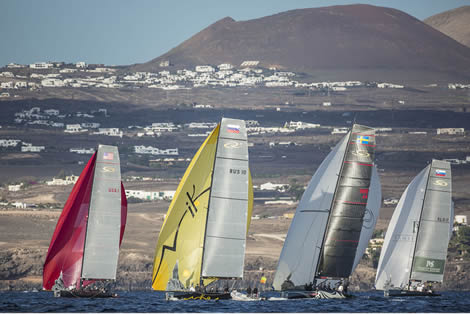 Back to top
Back to top