Williams and Bruni unbeaten
A full second day of Qualifying racing took place at the Argo Group Gold Cup with fantastic conditions on Bermuda's Hamilton Harbour, the wind at 12 knots, brilliant sunshine and continued balmy temperatures.
At the end of play the 2013 Alpari World Match Racing Tour leader, Ian Williams and his GAC Pindar crew top the leaderboard, currently unbeaten on 8-0 with just Swede Bjorn Hansen's eWork Sailing Team left to race tomorrow in Group 2. In Group 1, Italian Francesco Bruni and his Luna Rossa crew have also yet to lose a race, but at 6-0, while New Zealander Adam Minoprio and his Team Alpari FX are on 6-1, having lost to the Italians.
The 'battle of the Brits' started the day with a slightly lacklustre race between Williams and the Ben Ainslie Racing Team sponsored by Argo Group. Both boats came off the line evenly on starboard with Ainslie up to weather, heading out to the far left. This tactic worked out best for Williams who was ahead at the first cross and led from there, bringing to an end Ainslie's undefeated run.
"We were happy with the left, but I think it was really about whether we could close the gap at start time and still have speed," explained Williams. "We managed to do that and once we'd squeezed him off, if that guy does a down-speed tack away, you expect to cross on the next one. And we did."
Triple Olympic medallist Iain Percy, calling tactics for Ainslie, observed that the left had paid in that match. "We thought we had a good enough gap off to windward of him, but they were a little bit quicker and managed to get around us. It is all early days, good fun."
Here to raise money for the Andrew Simpson Sailing Foundation, Percy admitted that they are still getting into the swing of things. "It is pretty sad being back in Bermuda. We had good times with Bart [Andrew Simpson] here, so we are trying to do the same things we used to do with him, which generally involves drinking Dark 'n' Stormies, playing golf with a little bit of sailing in the middle!"
Their closest race came against Mathieu Richard and his GEFCO Match Racing Team when they were trailing the Frenchman around the race course, but managed to get an overlap and then plant a penalty on him for failing to keep clear and ultimately take the point. Richard, who won the Argo Group Gold Cup in 2007, is uncharacteristically off form here, currently last in Group 2 on 1-6.
While Williams was relieved to have beaten Ainslie, his toughest match today was against Kiwi Phil Robertson's Waka Racing team. In this he reckons they prevailed, despite losing the start, simply through having better boat speed. "We managed to get the boat locked in and in this puffy stuff if you can do that, you can make quite big boat speed gains. But it's hard, you need to coordinate everything..."
Former Luna Rossa AC72 tactician Francesco Bruni felt he had improved his starts today, while also having good speed. "Yesterday we had two races coming from behind - so two tough points. Today we sailed well, we were ahead on almost every start and we could control the lead in a nice way. I was the rusty one and today I was definitely feeling better. The boys are sailing very, very well. We sail very fast all the time and are playing the shifts well. Whenever we are ahead, we stretch and we have a big lead, which makes things a lot easier."
Team Alpari FX lies second to Bruni in Group 1. Kiwi skipper Adam Minoprio came ashore kicking himself for having lost to Bruni. "We didn't take it to him enough in the start and we basically let him have gauge to windward, which was stupid of me and gave him the race from there. It wasn't a good feeling to lose to him that way - we didn't even give him a fight."
But otherwise Minoprio was pleased with his day. "In the other three we had either two penalties on them or a penalty and them over the line. So it was a good day...except for the one against Bruni."
Several teams got into their stride today. Defending champion Taylor Canfield and his USone team won all four of their matches today in Group One and are now on 6-2. "Today we calmed everything down a little bit and took a deep breath before we made any definite decisions," said the US Virgin Islands skipper. "That was huge today - tacking in the pressure and just sailing our race, rather than our opponent's."
Similarly Pierre Antoine Morvan's Vannes Agglo Sailing Team from France won all three of their matches. Morvan says they were worried because this is only their second time racing in Bermuda and the classic International One Designs take some getting used to.
Qualifying is set to conclude tomorrow. At present only Williams and Ainslie look to have done enough to have guaranteed their berths in Friday's Quarter Finals.
Group 1 results
Francesco Bruni (ITA) Luna Rossa 6-0
Adam Minoprio (NZL) Team Alpari FX 6-1
Taylor Canfield (ISV) USone 6-2
Johnie Berntsson (SWE) Stena Sailing Team 4-2
Keith Swinton (AUS) Black Swan Racing 3-3
Simone Ferrarese (ITA) Ferrarese Sailing Team 3-4
Lance Fraser (BER) Digicel Business Match Racing 3-5
Eric Monnin (SWI( Swiss Match Race Team 2-4
Marek Stanczyk (POL) Nautiner Yachts Sailing Team 1-6
Chris Poole (USA) Riptide Racing 0-7
Group 2 results
Ian Williams (GBR) GAC Pindar 8-0
Sir Ben Ainslie (GBR) Ben Ainslie Sailing Team sponsored by Argo Group 6-1
Pierre-Antoine Morvan (FRA) Vannes Agglo Sailing Team 5-2
Bjorn Hansen (SWE) eWork Sailing Team 5-2
Phil Robertson (NZL) WAKA Racing 4-3
Chris Steel (NZL) 36 Below Racing 3-4
Will Tiller (NZL) Full Metal Jacket 2-5
Mathieu Richard (FRA) GEFCO Match Racing Team 1-6
Nicolai Sehested (DEN) Trefor Match Racing 1-6
Joshua Greenslade (BER) Wide Open Racing 1-7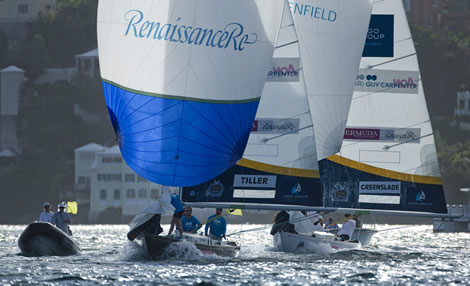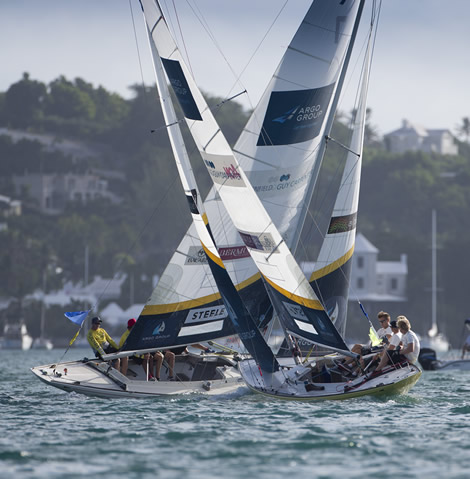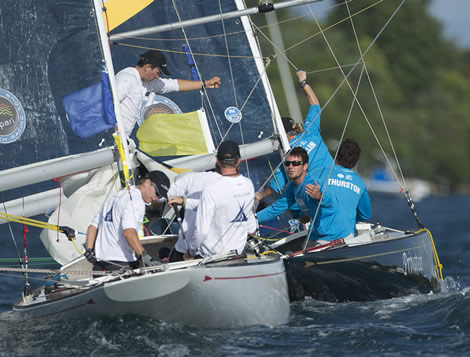 Back to top
Back to top