Ready for action
Racing returns to the longest standing event in the Alpari World Match Racing Tour next Tuesday, 8 October, when the Argo Group Gold Cup, the penultimate event on the 2013 Tour, sets sail on Hamilton Harbour, Bermuda.

First held in 1937, when yachtsman C. Sherman Hoyt gifted the magnificent King Edward VII Gold Cup to the Royal Bermuda Yacht Club, the Argo Group Gold Cup over past years has been contested by all the match racing greats. Past winners include America's Cup skippers Chris Dickson, Peter Gilmour, Rod Davies, Peter Holmberg and James Spithill while the record number of victories is held by Russell Coutts, who won the Gold Cup no less than seven times between 1990 and 2004.
The most successful skipper in recent years is Ben Ainslie, winner in 2009 and 2010. Ainslie returns to Bermuda fresh from the 34th America's Cup where he played a significant role in the dramatic about-turn in the fortunes of Larry Ellison's defender, Oracle Team USA, changing a 8-1 deficit into a 8-9 win.
"We're really looking forward to being back on the Alpari World Match Racing Tour," says Ainslie, for whom the Argo Group Gold Cup will be his first event since the America's Cup. "I'm really excited about racing on the harbour again and enjoying some great sailing and great competition. All of the guys are. We've had some great memories and great victories and always enjoy the hospitality and sailing in Bermuda."
The event will see Ainslie reunited with Star gold medallist Iain Percy, now head of Swedish America's Cup challenger Artemis Racing, and Christian Kamp and Matt Cornwell who were previously part of his match racing crew. Sadly missing from the original line-up is Percy's Star crew, Andrew Simpson, who was lost when Artemis Racing AC72's catamaran capsized on 9 May.
A special evening celebrating the life of Andrew 'Bart' Simpson is to take place on Thursday, 10 October in Bermuda. This will double as a fund raiser for the Andrew Simpson Sailing Foundation, that has been set up in honour of the Star double Olympic medallist.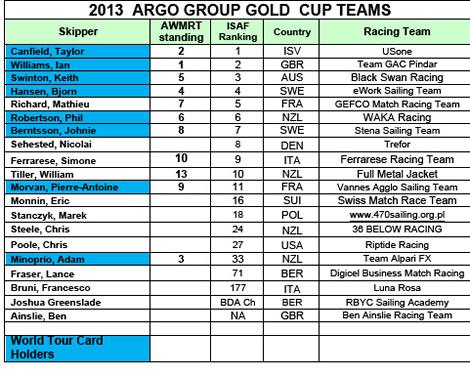 Qualifying will see two groups of ten teams each sail a round robin before the top four teams from each head into knockout quarter finals on Friday (11th October) and culminating in the Finals on Sunday (13th), after which the US$ 100,000 prize money will be distributed, the event is unusual in having a large field of 20 teams on the starting grid. This includes all the Alpari World Match Racing Tour, Tour Card Holders.
The Argo Group Gold Cup will also be significant to the Alpari World Match Racing Tour leaderboard, where at present British skipper Ian Williams and his GAC Pindar crew hold first place on 82 points. Competition is particularly tighter for the remaining podium positions, with Taylor Canfield's USone team second on 73, tied with the Adam Minoprio-skippered Team Alpari FX, and with Björn Hansen's eWork Sailing Team just one point behind in 72.
The effect of having six events on the Alpari World Match Racing Tour this year means the racing in Bermuda is all the more vital, maintains GAC Pindar skipper Ian Williams. Last year teams had to count four of the first seven events with the eighth event, the Monsoon Cup, non-discardable. This year four of the five events leading into the Monsoon Cup count, i.e there is just one discard as opposed to four.
"There is a lot more riding on the Argo Group Gold Cup this year than in previous years," says Williams, who is gunning to enter the history books by becoming the first person ever to win the Tour and the ISAF Match Racing World Championship title five times (he's currently level with Peter Gilmour on four wins).
"This time last year, it could have been a swing between Björn [Hansen] and us of +/-4 or 5 points, whereas this time, we could leave Bermuda 17 points ahead, but we could also potentially leave 16 points behind on the leaderboard. So it won't finally decide the Tour, but it could have a big impact."
Williams has won the Argo Group Gold Cup once, in 2006, but says he has a soft spot for the event as it was his first ever event win on the Alpari World Match Racing Tour. "It is very unique: The combination of the IODs being very heavy and not very manoeuvrable and Hamilton Harbour generally having quite fickle breeze makes it a very challenging event. Things have to go your way, but at the same time you look at Russell [Coutts] who won it seven times and that suggests it is not all about luck."
The line-up at the Argo Group Gold Cup this year includes several past winners including GEFCO Match Racing Team's Mathieu Richard (winner in 2007) and Johnnie Berntsson's Stena Sailing Team (2008). US Virgin Islander Taylor Canfield's USone team will certainly be one to watch, firing on all cylinders after winning the last event on the Alpari World Match Racing Tour, Chicago Match Cup in early August. Significantly Canfield also came out on top here in Bermuda last year – part of a winning streak that saw them also claim the season concluder, the Monsoon Cup.
Back to top
Back to top