Lars Grael claims opening race
Sailors faced tough conditions and high competition at Day 1 of the Star Worlds. Star sailors Lars Grael, John MacCausland, and Andrew Campbell battle to win the first race of the Qualcomm 2013 Star World Championship today.
The race course offered conditions typical of San Diego with the wind at 8-10 knots from the WNW and 3ft waves. The Race Committee set a Course 3 with 2.1 mile long legs and fired the first signal on time at 1230 local.
With five seconds left to the start, the Race Committee postponed the race to avoid a general recall as well as make some course and starting line adjustments. Shortly thereafter, the windward mark bearing was changed to 285° the second starting sequence began.
Second start had an individual recall and four boats were called OCS: USA 7294 Charles and Chas Beek, USA 8260 Bill Buchan and Erik Bentzen, USA 8306 Thomas Springer and Dave Wood, and USA 8361 Tom Londrigan Jr. and Rick Peters.
USA 8361 Tom Londrigan Jr. and Rick Peters filed for and were denied a redress by the Race Committee to have their OCS score changed.
Although the start was the key factor in sailing a successful race, competitors had to fight for a good position on the first upwind leg. The majority of the fleet sailed to the right side of the course and reached the windward mark without much separation.
Americans Mark Reynolds and Hal Haenel were the first to round the first mark, followed closely by Andrew Campbell and John von Schwarz. The fleet saw several position changes throughout the first downwind leg, then the top boats began to sail away from the rest of the fleet. Brazilians Lars Grael and Samuel F. Goncalves were able to take the lead from Andrew Campbell in the second downwind leg after Campbell was penalized by the judges for violating Rule 42, and maintain their position all the way to the finish.
Winner Lars Grael commented: "We started in the middle of the starting line and we were looking to cross the fleet as soon as we had the chance. We were in a good position, but teams in the corner on the right came off a bit better. We rounded the first mark in 4th place, managed to finish the first downwind leg in 2nd. Then we were in a good fight with Andrew Campbell, but it was a pity he was penalized (rule 42) and we got the lead.
"In the last upwind leg we protected the right, so we decided not to cover him just do our best and it was good enough.
"Our plan is to be top ten. We know it is very difficult to be top five in each race. The fleet is very even, we have a lot of gold star winners. The level is very high. We have to make a good average and not make too many mistakes to be in the top 10. That is our goal."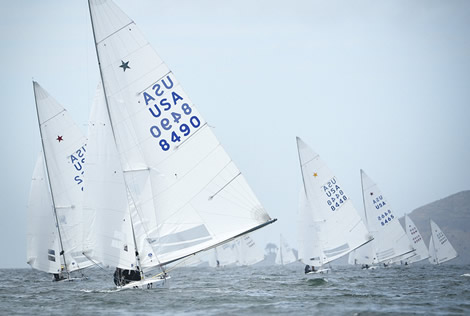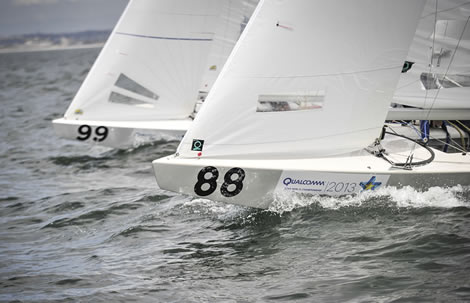 Back to top
Results

| | | | | | |
| --- | --- | --- | --- | --- | --- |
| Pos | Nat | Sail# / Skipper | Crew | R1 | Total |
| 1 | BRA | 8474 Lars Schmidt Grael | Samuel F. Goncalves | 1 | 1 |
| 2 | USA | 8490 John MacCausland | Phil Trinter | 2 | 2 |
| 3 | USA | 8209 Andrew Campbell | John von Schwarz | 3 | 3 |
| 4 | USA | 8362 Vincent Brun | Brian Terhaar | 4 | 4 |
| 5 | USA | 8440 Jim Buckingham | Austin Sperry | 5 | 5 |
| 6 | FRA | 8237 Xavier Rohart | Serge Pulfer | 6 | 6 |
| 7 | USA | 8320 George Szabo | Craig Moss | 7 | 7 |
| 8 | USA | 8129 Mark Reynolds | Hal Haenel | 8 | 8 |
| 9 | USA | 8203 Brian Ledbetter | Gregg Morton | 9 | 9 |
| 10 | USA | 8323 Eric Doyle | Payson Infelise | 10 | 10 |
| 11 | USA | 8023 Mike Dorgan | Matt Dorgan | 11 | 11 |
| 12 | USA | 8448 Carl Buchan | Jamie Buchan | 12 | 12 |
| 13 | USA | 8465 Augie Diaz | Arnis Baltins | 13 | 13 |
| 14 | USA | 8072 Doug Smith | Myles H. A. Prichard | 14 | 14 |
| 15 | CAN | 8028 Steven Fleckenstein | Rob Mulder | 15 | 15 |
| 16 | BRA | 8390 Alessandro Pascolato | Henry Raul Boening | 16 | 16 |
| 17 | ARG | 8268 Alejandro Bugacov | Eugenio Cingolani | 17 | 17 |
| 18 | SUI | 8479 Jean-Pascal Chatagny | Patrick Ducommun | 18 | 18 |
| 19 | USA | 8082 Ben Mitchell | Julian Busch | 19 | 19 |
| 20 | GER | 8331 Hubert Merkelbach | Gerrit Bartel | 20 | 20 |
| 21 | CAN | 8271 Allan Cullen | Dave Martin | 21 | 21 |
| 22 | CAN | 8143 Brian Cramer | Cam Lymburner | 22 | 22 |
| 23 | USA | 8015 Donny Massey | Isao Toyama | 23 | 23 |
| 24 | USA | 8291 William Swigart | Brian Fatih | 24 | 24 |
| 25 | USA | 7209 Mark Butler | John Rudderham | 25 | 25 |
| 26 | USA | 8484 Larry Whipple | Mark Strube | 26 | 26 |
| 27 | USA | 7620 Derek De Couteau | Jamie Stewart | 27 | 27 |
| 28 | SUI | 7929 Michel Niklaus | Tyler Bjorn | 28 | 28 |
| 29 | USA | 8229 Tomas Hornos | Josh Revkin | 29 | 29 |
| 30 | USA | 8000 Arthur Anosov | David Caesar | 30 | 30 |
| 31 | CAN | 8235 Mark Passmore | Chris Rogers | 31 | 31 |
| 32 | CAN | 8466 Stuart Hebb | Mike Wolfs | 32 | 32 |
| 33 | CAN | 8389 Jerry Wendt | Bryan Milne | 33 | 33 |
| 34 | USA | 7741 Benjamin Sternberg | Valentin Veytsman | 34 | 34 |
| 35 | BRA | 8459 Admar Gonzaga Neto | Andre Serpa | 35 | 35 |
| 36 | UKR | 8247 Vasyl Gureyev | Vitalii Kushnir | 36 | 36 |
| 37 | USA | 7985 Steve Brown | Erick Lange | 37 | 37 |
| 38 | SWE | 7978 Ingvar J-son Krook | Benjamin Pettersen | 38 | 38 |
| 39 | USA | 6840 Chris Wright | Kyle Henehan | 39 | 39 |
| 40 | SUI | 8409 Christoph Gautschi | Dominik Schenk | 40 | 40 |
| 41 | USA | 8088 Stephen Gould | Greg Sieck | 41 | 41 |
| 42 | USA | 7621 Peter Costa | Jessica Costa | 42 | 42 |
| 43 | FRA | 7663 Guillaume Rasse | Nina Aviles | 43 | 43 |
| 44 | USA | 8379 Bill Allen | Eric Beckwith | 44 | 44 |
| 45 | USA | 8189 Robbie Haines | Chris Barnard | 45 | 45 |
| 46 | CAN | 8017 Bruce Long | Paul Cobban | 46 | 46 |
| 47 | USA | 8215 John Chiarella | Bob Carlson | 47 | 47 |
| 48 | USA | 7425 Laura Beigel | Read Beigel | 48 | 48 |
| 49 | USA | 8410 Mike Phinney | Rick Burgess | 49 | 49 |
| 50 | USA | 8163 Jon Pelliconi | Henry Brawner | 50 | 50 |
| 51 | USA | 8065 Doug Steele | Andy Dippel | 51 | 51 |
| 52 | BRA | 8403 Frederico H. V. de Lima | Renato Moura | 52 | 52 |
| 53 | USA | 8087 Keith Donald | Kevin Elterman | 53 | 53 |
| 54 | USA | 7844 Foss Miller | Malcolm Macneil | 54 | 54 |
| 55 | USA | 8187 Robert A Teitge | Sam Eadie | 55 | 55 |
| 56 | VIE | 8176 Huy Nguyen | Andro Korlaet | 56 | 56 |
| 57 | USA | 8269 Jock Kohlhas | John Wulff | 57 | 57 |
| 58 | USA | 7531 William Gerard | Bill Gerard | 58 | 58 |
| 59 | USA | 8267 Stephen Gunther | Chris Wurtz | 59 | 59 |
| 60 | USA | 8162 Chuck Driscoll | Jim Oberg | 60 | 60 |
| 61 | GER | 8416 Hubert Rauch | Kilian Weise | 61 | 61 |
| 62 | USA | 7977 Paul Kresge | Jon Kidder | 62 | 62 |
| 63 | USA | 7294 Charles Beek | Chas Beek | 67 ocs | 67 |
| 64 | USA | 8260 Bill Buchan | Erik Bentzen | 67 ocs | 67 |
| 65 | USA | 8306 Thomas Springer | David Wood | 67 ocs | 67 |
| 66 | USA | 8361 Tom Londrigan, Jr. | Rick Peters | 67 ocs | 67 |
Back to top