Germany the fastest
The Red Bull Youth America's Cup team from Germany, All in Racing, showed brilliant speed on Saturday, posting the fastest time at the Speed Trials, ahead of tomorrow's start of the Red Bull Youth America's Cup.
Each team had two runs down the course, with Objective Australia posting the time to beat in an early first run in near-perfect conditions. It appeared as if that time, 40.70 seconds, would stand. But the German All in Racing, in its second run, with two men 'riding the bull' in the back stern scoop to lift the bows out of the water, streaked across the finish line just .06 seconds ahead, to take the win in a photo finish.
"We had a tough first run, but the second time, we had a good trip and using the two guys in the scoop made a difference," said helmsman Olympic 49er sailor, Erik Heil. "We took a different line, not as close to the start boat for the second run. We knew it was a good one, but we weren't sure we'd done enough to win."
Racing in the Red Bull Youth America's Cup starts on Sunday at 11:10am PT. There are two fleet races per day, Sunday through Wednesday, and all races count towards the final result. The final race on September 4 will be scored for double points.
"We really appreciate the opportunity of the Red Bull Youth America's Cup. Representing your country by racing these great boats on San Francisco Bay is pretty special," said Objective Australia's Jason Waterhouse. "We're going to grab it with everything we've got. We can't wait to get racing. The boys know what they've got to do, I know what I've got to do and together as a team we're going to do it.
Red Bull Youth America's Cup – Speed Trials
All in Racing (GER) – 40.64 seconds – 23.91 knots
Objective Australia (AUS) – 40.70 seconds – 23.87 knots
USA45 Racing (USA) – 41.56 seconds – 23.38 knots
Team Tilt (SUI) – 42.43 seconds – 22.90 knots
Full Metal Jacket Racing (NZL) – 42.68 seconds – 22.76 knots
Swedish Youth Challenge (SWE) – 43.19 seconds – 22.49 knots
American Youth Sailing Force (USA) – 43.34 seconds – 22.42 knots
Next World Energy (FRA) – 44.15 seconds – 22.00 knots
ROFF/Cascais Sailing Team (POR) – 44.24 seconds – 21.96 knots
NZL Sailing Team with ETNZ (NZL) – Did not compete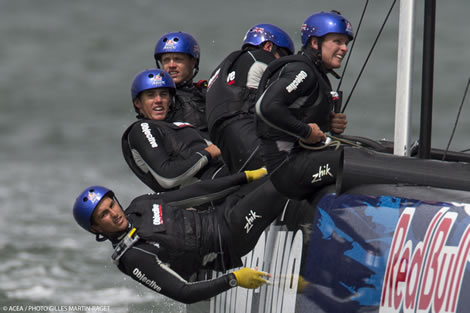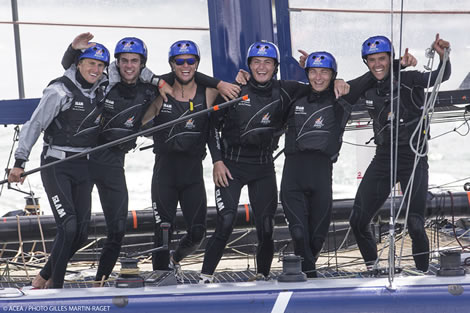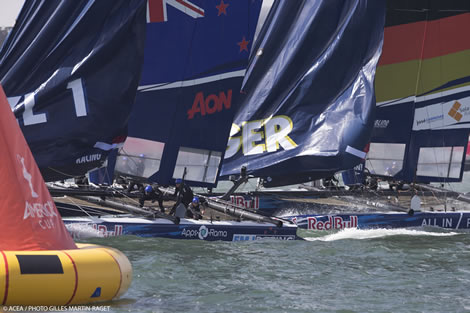 Back to top
Back to top