Red Bull Youth America's Cup preview
What could be the most competitive sailing likely to take place on two hulls on San Francisco Bay sets sail on Sunday with the first races of the ground breaking new Red Bull Youth America's Cup.
The worthy aim of the event is to provide a much-needed stepping stone for the world's most talented young sailors to get into America's Cup racing.
Followed two weeks of selection trials in February, so 10 international teams from eight nations (there are two from both the USA and New Zealand - conveniently also the nations of the teams heading for the America's Cup itself). Teams are composed of six sailors, aged 19-24, who represent their country through a nationality rule.
The fleet racing between the teams in the Red Bull Youth America's Cup will take place over 1-4 September. They will sail eight races today, with two races of 25 minutes each to be held per day, the final being a double points scorer (and also the tiebreaker). Racing is scheduled to begin each day at 11:10.
The crews will sail a seven-leg course, now familiar from the America's Cup World Series based on a windward-leeward course, with a reaching start to a mark half way up the course, down to the leeward gate followed by two laps and then down to the reaching mark before heading aross to the finish.
Teams are of course racing AC45s, but these are with the wing extensions removed.
The event is being supported by Red Bull, with Austrian double Olympic Tornado gold medallists Roman Hagara and Hans Peter Steinacher the energy drink manufacturer's long term ambassadors in sailing deeply involved with the event as its Sports Directors.
"The young guys are learning about what it takes to compete at the highest levels of the sport," Hagara says. "It's not just about sailing skill but also fitness, nutrition, how they conduct themselves with the media, dedication, and working within a team."
"Imagine, all of these 60 sailors would like to be a pro sailor in the future," said Steinacher. "I've spoken with each one of them and they are all focused on being a professional sailor. At least 20 percent of the sailors in this group will be doing a job in the future in the America's Cup or another event."
The teams arrived in San Francisco on 8 August and received their AC45 catamarans for training on 12 August. However almost all have been training beforehand on cats. Will Tiller's team for example has taken over campaigning the GAC Pindar Extreme 40 this year. The French Next World Energy team sailed aboard on Energy Team AC45 in Naples, then on Groupama's Extreme 40 in Lorient, on a Formula 18 and an Open 7.50 at the Quiberon French Sailing School. In case, you're wondering the French team's skipper Antoine Lauriot Prevost, is son of the eminent multihull designer, Vincent.
Favourite is certainly Peter Burling and his Emirates Team New Zealand-backed team. Aside from he and Blair Tuke being the 49er silver medallists from London 2012, Burling is also the only skipper taking part who has previous experience in the America's Cup World Series, where he skippered the Team Korea AC45. In his team are also Kiwi Laser aces Andy Moloney and Sam Meech. They won yesterday's practice race ahead of Will Tiller's team and the Aussies.
The Aussie team is also bristling with young talent, skippered by former Hobie 16 World Champion and now Nacra 17 sailor Jason Waterhouse but with a crew including Australian Laser ace (and the present no1 in the world) Tom Burton and reigning Moth World Champion, Josh McKnight.
The two American teams are led by skippers Charlie Buckingham and Ian Andrewes. Buckingham is a top Laser sailor, he was ranked No. 3 in the world in February, and Andrewes has raced multihulls and other high-performance dinghies such as the Moth, 49er and 18-foot skiffs.
"We'd love to defend our home turf," said Charlie Buckingham, skipper of USA45 Racing. "There are lots of talented guys on each team. We have our work cut out for us, but we'll work hard and represent the U.S. as best we can."
"We're feeling stoked and pumped, we're feeling ready," said Ian Andrewes, skipper of American Youth Sailing Force. "We've been here a year and a half, and this has been our No. 1 goal. We're excited, but most of all ready and looking forward to racing."
There should be a big hand for Germans Erik Heil and Philipp Buhl of their appropriately named All In Racing team. Buhl, a regular top 10 finisher in the Laser and Heil, similarly positioned in the 49er and their team qualified for the Red Bull Youth America's Cup in February. However following the capsize of Artemis Racing and the death of Andrew Simpson, the plug was pulled from their campaign by the yacht club they were representing. Nonetheless they jumped back, neatly sidestepping this issue by choosing to represent another boats and have made it to the start line. (Read more here)
Sadly there is no British team in this competition after James French's team didn't manage to qualify in February. Read more about this team here
At a press conference yesterday the skippers commented:
Charlie Ekberg, Swedish Youth Challenge (SWE): "The knowledge among the youth sailors is so good and they're all fantastic sailors. I reckon the competition here might be harder than during the America's Cup World Series. The development curve has been really steep these past two weeks. Now, since we've come here, the development of all the guys, with the help from Artemis Racing, has been fantastic. We think we have a great chance to win this."
Lucien Cujean, Team Tilt (SUI): "We've sailed 150 days in Switzerland and Europe. We train now in San Francisco but it's very hard for us to compare and make a good prediction before the race. We will see on the first day of racing. The speed trials will be a fantastic opportunity for all of the teams to sail fast and test the boat."
Michael Menninger, American Youth Sailing Force (USA): "We've done a lot of practicing on San Francisco Bay and it's helped a lot. The Bay is a difficult place to sail. There's consistent breeze, but also a lot of current changes, current lines and other things to take into account. We've spent a lot of time practicing on the smaller SL 33 catamaran on the Bay, and that's a good advantage for us."
Charlie Buckingham, USA45 Racing (USA): "The America's Cup and the Olympics are the pinnacles of our sport so this is an amazing opportunity for all of us. When our team got selected, it was something I couldn't pass up. It's been challenging. Every day I go out in the catamaran I learn something new about high-performance sailing and I'm really enjoying it."
Jason Waterhouse, Objective Australia (AUS): "There's no surprise there is a lot of Aussies in the Cup and that means we have a lot of mentors, Jimmy Spithill, Darren Bundock, Nathan Outteridge. This is our chance to jump into the America's Cup and to be seen so we're going to give it everything we've got."
Arthur Ponroy, Next World Energy (FRA): "France has been strong in multihull sailing but there is a lot of talent in this fleet. It won't be easy to win. We have had good advice from Loick Peyron and the Energy Team from the AC World Series. His most important tip was, 'have fun!'"
Philip Buhl, All in Racing (GER): "Obviously Roman and Hans-Peter have so much experience so they are always helpful in coaching us and letting us know how to improve… The starts are a lot of fun. There's good racing, tight racing with 10 boats on the starting line. It's so important to have a good start."
Peter Burling, NZL Sailing Team with Emirates Team New Zealand (NZL): "I think it's an advantage to have sailed in the America's Cup World Series before, but in the last month everyone here has had a lot of training and a lot of good yachting together as teams so I think everyone has come up in their level."
Will Tiller, Full Metal Jacket Racing (NZL): "We come from the match racing, keelboat, background. Much slower boats than these AC45s. But as soon as the Red Bull Youth America's Cup was announced we fully committed to this. Everyone in the team has got involved in multihulls. It's been a steep learning curve but this month has been great and we've really come together strong."
Antonio Mello, ROFF/Cascais Sailing Team (POR): "The starts are going to play a big role in these races. The boat that gets to the mark first is going to have a good race. But still, you can make big gains on the downwind legs. All of the teams here are strong. Anyone here can win."
Objective Australia (AUS) Royal Prince Alfred Yacht Club
Skipper
Jason Waterhouse
08/11/1991
Wing
Ted Hackney
28/05/1990
Tactician
Tom Burton
27/06/1990
Trimmer
Luke Parkinson
22/02/1990
Runner
Keiran Searle
09/06/1990
Bow
Fang Warren
13/09/1989
Trimmer
Josh McKnight
07/05/1991
Runner
James Wierzbowski
23/12/1991
Next World Energy (FRA) Yacht Club de France
Helmsman
Antoine Lauriot Prevost
19/03/1990
Wing Trimmer/ Skipper
Arthur Ponroy
08/04/1990
Tactician/floater
Hubert Savatier
31/10/1990
Trimmer
Edouard-Marie Alikiagaléléi
23/11/1989
Floater
Romain Bellet
17/10/1992
Bowman
Paul Dagault
08/07/1991
Sailing team
Valentin Bellet
10/03/1991
All In Racing (GER) Bootshaus 20
Helmsman
Erik Heil
10/08/1989
Skipper, Wing, Tactician
Philipp Buhl
19/12/1989
Runner
David Heitzig
26/09/1990
Trimmer
Max Boehme
22/08/1991
Floater
Michael Seifarth
30/06/1992
Bow
Max Kohlhoff
07/05/1993
Spare
Justus Schmidt
15/05/1992
NZL Sailing Team with Emirates Team New Zealand (NZL) Yachting New Zealand
Skipper
Peter Burling
01/01/1991
Sailing team
Blair Tuke
25/07/1989
Sailing team
Andy Maloney
02/06/1990
Sailing team
Jason Saunders
22/11/1990
Sailing team
Jono Spurdle
13/03/1991
Sailing team
Guy Endean
31/03/1989
Sailing team (r)
Sam Meech
04/04/1991
Full Metal Jacket Racing (NZL) Royal New Zealand Yacht Squadron
Helm
Will Tiller
24/10/1989
Wing
Stewart Dodson
16/09/1993
Runners
Shaun Mason
31/08/1989
Trim
Harry Thurston
08/09/1989
Tactician/Bowman
Matt Steven
25/12/1989
Bowman
Ash Hammond
18/01/1989
ROFF/Cascais Sailing Team (POR) Naval Club of Cascais
Helm
Bernardo Freitas
18/02/1990
Skipper/Wing trimmer
António Mello
14/06/1989
Runner
João Mello
02/02/1991
Runner
Manuel Cunha
22/07/1990
Jib Trimmer
Ricardo Schedel
03/09/1989
Bow
João Rosa
27/06/1991
Bow (r)
Paulo Manso
13/06/1089
Artemis Racing/Swedish Youth Challenge (SWE) Royal Swedish Yacht Club (GKSS)
Helmsman
Charlie Ekberg
20/08/1989
Tactics
Niclas During
06/04/1990
Wing
Andreas Axelsson
26/06/1989
Trim
Arvid Bild
25/07/1991
Trim
Jonathan Ameln
17/02/1990
Bow
Nils Åkervall
15/06/1992
Trim
Tom Gross
16/09/1990
Team Tilt (SUI) Société Nautique de Genève (SNG)
Skipper/helm
Lucien Cujean
16/08/1989
Tactics
Bryan Mettraux
23/07/1990
Wing
Jeremy Bachelin
11/07/1992
Sail Trimmer
Thomas Mermod
14/04/1989
Grinder
Lionel Vaucher
13/07/1990
Bow
Jonas Schagen
20/04/1989
Reserve
Mikis Psarosfaghis
08/10/1990
Reserve
Jocelyn Keller
03/08/1994
American Youth Sailing Force (USA) Richmond (Calif.) Yacht Club
Skipper/Helm
Michael Menninger
07/07/1989
Runner/Afterguard
Ian Andrewes
04/12/1989
Wing
David Liebenberg
26/10/1991
Soft Sail
Evan Sjostedt
07/05/1993
Mid Bow
Tommy Pastalka
13/10/1990
Bow
Mikey Radziejowski
28/11/1991
Bow
Solomon Krevans
26/02/1992
Soft Sail
Cooper Dressler
01/11/1990
Mid Bow
Ben Lezin
02/11/1990
USA45 Racing (USA) San Diego Yacht Club
Skipper/Helm
Charlie Buckingham
16/01/1989
Sailing team
Sam Hallowell
30/04/1993
Sailing team
Peter Kinney
23/10/1990
Sailing team
Jake LaDow
17/06/1993
Sailing team
Graham Landy
30/01/1993
Sailing team
Jake Reynolds
22/09/1993
Sailing team
Nevin Snow
17/10/1993
Sailing team
John Wallace
02/01/1992
Sailing team
Matt Whitehead
03/02/1993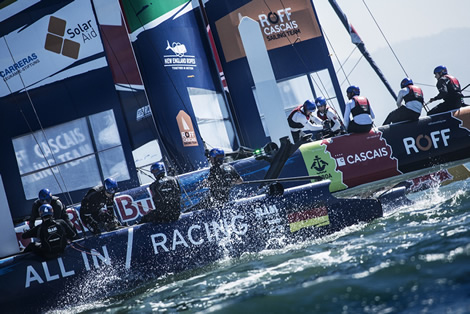 Video of yesterday's practice race by John Navas:
Back to top
Back to top