Where next for the America's Cup?
With the 34th America's Cup poised to begin, in the back offices at Emirates Team New Zealand and Oracle Team USA, deals are in various stages of being done by each to pick their Challenger of Record and to have a Protocol for the 35th America's Cup at least drafted, in case they win the 34th.
One can guess that in the case of Kiwi victory, then the Challenger of Record might be Luna Rossa, who has buddied with them, buying into their technology and training with them during this Cup cycle. If Oracle successfully defends then it could well again be Artemis Racing, with whom they have had a cosy relationship this time (overly cosy, the other challengers argue), or if he genuinely believes he can get backing for his team, then Ben Ainslie, who is currently part of Oracle Team USA as its B-boat skipper, might be another alternative.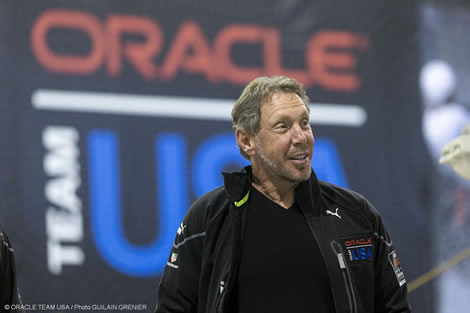 If Oracle Team USA wins, there is a rumour circulating that Team Principle Larry Ellison is not overly keen to defend it for a second time. San Francisco is Ellison's main home with Oracle's global HQ further up San Francisco Bay in Redwood Shores. Locally Oracle backs the Golden Gate Warriors basketball team and its venue, Oakland Arena, was renamed Oracle Arena. However the number of hurdles the city has made the America's Cup Event Authority leap and the amount of red tape required to be cut has been wearing. The deal with the city then required ruthless scaling back and renegotiation when it became apparent that the event was set to be much smaller, with less teams, than originally forecast.
If Oracle Team USA does come out on top then one wonders if Ellison would stay in San Francisco or if he might take the event across to the East Coast, and back to its spiritual home of Newport, Rhodes Island where he owns the Bellevue Avenue mansion, Beechwood, originally the summer retreat of the Astor family. Although quite where one would put the team bases given that they require substantially more space than they did in 1983...
If Emirates Team New Zealand comes out on top – and for the first time in the 34th America's Cup, that is an outcome we can't predict with any certainty – it will be back to ticker tape parades through Auckland for Dalts, Deano and the crew, with the team breathing a joint sigh of relief with the New Zealand government that provided their campaign with a grant for NZ$ 36 million to bring the America's Cup back to New Zealand, with all its associated financial benefits.
In this case the 35th America's Cup is most likely to be held in Auckland (those who think Dubai, because of the Emirates sponsorship, are dreaming), although quite where is uncertain, given that the Viaduct Basin has been developed since it was home to the 30th and 31st America's Cups. Alternatively the government might take the opportunity to use the event to revitalise another part of its glorious country.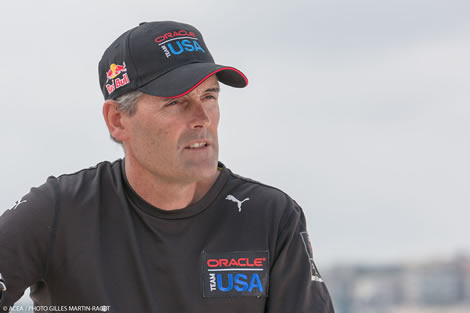 Who is the America's Cup for these days?

Part of Russell Coutts' vision for the future of the America's Cup is for it, and the teams competing in it, to be able to survive on sponsorship rather than billionaire backers. While a worthy sentiment, this certainly hasn't come to pass for the 34th America's Cup. In fact it has taken a step back from the 32nd America's Cup when companies such as UBS were investing eight figure sums, although this is partly through bad timing – the build-up to this Cup coincided with a global recession, while over a similar period prior to the 32nd America's Cup, the international economy was riding the crest of a wave.
To boost the commercial side of the event, huge effort this time has been put into turning America's Cup racing into a television sport. Working from a blank sheet of paper, one of the first steps made by Oracle was to do a tour of leading television executives in the USA to find out how they needed to rejig the competition in order to get the America's Cup televised. Explaining why only two boats from a field of x would get to compete in the main event allegedly took some doing.
It was this that dictated the choice of boats (wingsail catamarans – fast and can be raced in all conditions) as well as new course configurations. But the first America's Cup World Series events in 2011 also enjoyed the largest television initiative ever undertaken in sailing with more cameras and microphones on boats than ever previously used, all fed back to shore and contributing to what, not surprisingly, was the best ever live broadcasting of yacht racing.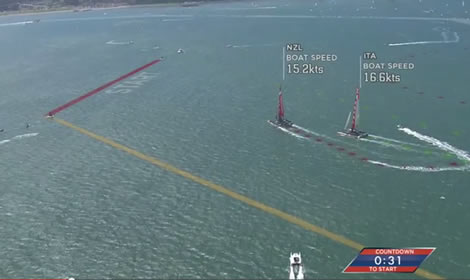 This TV effort included some groundbreaking work by professional navigator Stan Honey, who developed some ultra-sophisticated tracking based on millimetre accurate military grade GPS, that allows everything on the race course - including marks, boats, but in a ground breaking move, also start lines and course boundaries - to be superimposed over live video images, regardless of camera angle.
In 2011 more than 120 people were working on the America's Cup television effort alone. Since the event downscaled, this has been pared back dramatically, but there remains an unparalleled number of cameras and mics on board the boats, used to feed the live coverage of racing on YouTube and live on NBC in the US. Thanks to this, when Emirates Team New Zealand goes down the mine, the incident can be replayed and scrutinised from every angle, just like incidents in other major sports.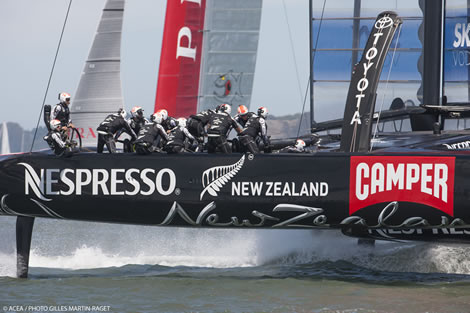 Sponsorship decline

Despite the television effort, sponsors have been slow to come forward for the 34th America's Cup. Perhaps this is due to the economic climate, or companies waiting to see how the event transpires or put off by the small number of entries – just three challengers, compared to the 11 we saw in Valencia or the nine challengers and five defenders that competed in 1992 in San Diego for the first iteration of the ACC yachts or the record 13 challengers and four defenders in 1987.
Among the few that have returned is the long term backer of the challenger series, Louis Vuitton, but even the French luxury goods manufacturer, a long term supporter of the event, has been expressing its unhappiness in particular over the small number of challengers. However LV's hands-on involvement with 'their event' had already plunged in 2007 when ACM took over the running and media side of the Challenger series in the build-up to the 32nd America's Cup.
Among the challengers, Luna Rossa is the long term pet project of Prada boss Patrizio Bertelli, but this time Prada has been using images of its AC yachts and sailors in TV and billboard advertising internationally (alarmingly Torben Grael and Nick Hutton have been all over my local bus stop in west London).
Emirates Team New Zealand is otherwise the only team with any ostensible corporate funding, having secured backing from Emirates Airlines, Omega, Nespresso, Camper, Toyota (as well as the New Zealand government). Beyond this, the bulk of the outlay for this America's Cup has come from the Team Principals, in particular Larry Ellison of the defender, Oracle Team USA, but also Torbjorn Tornqvist (Artemis Racing), while even Emirates Team New Zealand has received backing from private individuals, notably Team Principal Matteo de Nora and Stephen Tindall.
A significant issue is that while the global economy has been in melt-down, campaign costs for the 34th America's Cup have risen significantly, mostly thanks to the high price tag on creating, running and racing AC72s. For example Artemis Racing lists more than 120 personnel in its design and technical teams alone and we suspect the number has been similar at Emirates Team New Zealand with even more at Oracle Team USA where they are running two boats in parallel. Emirates Team New Zealand boss Grant Dalton has said that the design effort alone this time around has required more than four times the resource it did in 2007 and all this requires money with the big three teams spending well in excess of what the biggest team spent in 2007.
So with campaign budgets now on their way to being those of Formula One teams, 'return on investment' for team sponsors has been well down this time compared to 2007, and still a very very long way from being adequate to sustain a fully commercial America's Cup. Even in 2007 the Team Principals were contributing a substantial proportion of campaign budgets, their fiscal input best described to us as being comparable to engine manufacturers' investment into Formula One teams.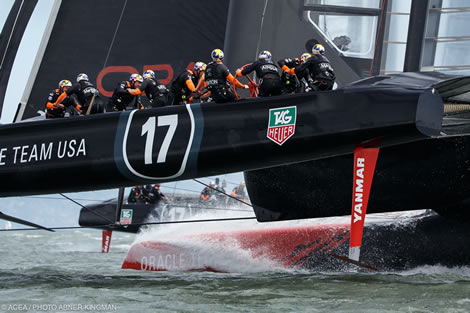 The boats

While sports marketing professionals will have us believe that the boat used is of little consequence, we would argue that it is of profound importance in a design-led competition like the America's Cup. In particular it dictates the whole agenda and budgets for teams taking part.
If we should respect Larry Ellison and Russell Coutts' bravery in making the 34th America's Cup the most ground breaking in the event's 162 year history, within this one of the biggest technological leaps has been the step from the ACC Version 5 lead mines used in 2007 to the absolute state of the art in sailing technology - the wing-powered, foil-born, flying AC72 catamarans. The efficiency of these boats in converting wind power into boat speed is second to none and for this reason, plus their ability to sail at 3x wind speeds and reach at speeds into the high 40s, we still find ourselves mesmerised watching them, just as we were with foiling Moths a decade ago. In fact many sceptics of the AC catamarans have expressed surprise over how captivated they have found themselves merely watching an AC72 as it defies gravity, effortlessly gliding along at what are supersonic speeds for the maritime world.
That has been fortunate with Luna Rossa and Emirates Team New Zealand both finding themselves alone on the race course in the Round Robin stage of the Louis Vuitton Cup, having to go through the motions of lining up against an absentee Artemis Racing to get points on the board. And the first three Louis Vuitton Cup Finals races, all ended with one of the teams having to retire with technical issues, leaving the other free to deliver its yacht around the race course to gain the point.
It is testament to the fastidious work of the shore crews involved that during the Louis Vuitton Cup there were so few breakages, none of which were catastrophic. One wonders how the attrition will be, come the America's Cup itself, when for the first time in this event we might have a proper yacht race on our hands.
Rotten racing
While AC72s are fast, the racing to date has not been close, generally with one party having either a faster boat (Emirates Team New Zealand in their matches against Luna Rossa) or profoundly more training time (Luna Rossa in their LVC semi-final matches against Artemis Racing) while the pre-starts are lacklustre with the dial-ups removed (or so we thought...) and neither party willing to engage. In fact given what we have seen so far, the pre-start seems to be a complete waste of time and an added complexity to new audiences – why not dispense with it altogether, although we suspect the pre-start might be more lively between Spithill and Barker come the AC proper. We hope that the outcome of the 34th America's Cup won't be the boat that is first to the reaching mark of race one.
The problem is that when people think 'match racing' they imagine the tightest possible nip and tuck between two boats and this gets typically less close the faster the boats involved sail. The ideal boat for close match racing is slow and ideally so heavy that it goes well upwind and digs a hole for itself downwind so that there isn't the effect we've been witnessing between the AC72s, where the leader bears off around the top mark, doubling its speed and in turn its lead on the chasing boat, as it finishes the upwind leg. This is not a multihull-monohull issue – it would be exactly the same in fast lightweight monohulls. Those who warned of the future when A-sails were introduced were right!
Racing between the AC72s would be much closer if they weren't such ground breaking boats (let's face it, no one fully believed they'd even be foiling 18 months ago...), still only their first or second iterations, and if their all the crews competing were equally well practiced racing them.
While in our view AC72s are the coolest boats in the world and have replaced ORMA 60s as top boat porn on thedailysail's office wall, introducing tomorrow's technology today has also come at a high price, both figuratively and literally, in the colossal manhour exercise necessary to the design, engineer and build and then run and maintain them. For this Cup they have proved to be vastly expensive boats.
Part two of this article where we blame everything on the Deed of Gift comes tomorrow.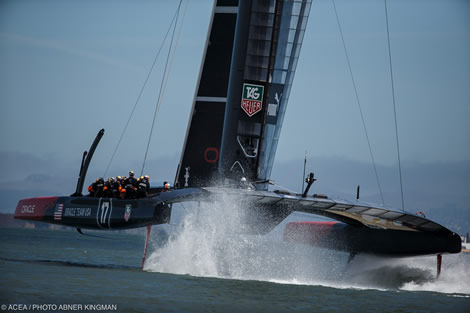 Back to top
Back to top