China's Oman Sail
Following on from China Team, participant in the 32nd America's Cup and subsequently in the America's Cup World Series, another new Chinese sailing campaign has emerged in ChinaSpirit.
Previously with China Team, ChinaSpirit CEO is Noëlle Smulders, who last year announced plans for her new team to compete in the 35th America's Cup, whenever that might be. However ChinaSpirit's first foray out on to the water took place this weekend at the Extreme Sailing Series Cardiff, where their catamaran was skippered by Kiwi match racer Phil Robertson.
Also lurking in the background in Cardiff was French heavyweight Herve le Quillec, once upon a time a sailor with the Corum Sailing Team, but better known in recent years for running the increasingly large shore operations for Amer Sport, Brasil 1 and then the winning Ericsson and Groupama campaigns in the Volvo Ocean Race. At present, le Quillec is a consultant to ChinaSpirit and works on the management of the project while Noëlle Smulders focuses more on the marketing and fund raising.
Phil Robertson originally came into contact with Smulders when they were both at China Team. Smulders was part of that campaign's management at around the same time as Robertson became its helmsman, having taken over the China Team AC45 for the America's Cup World Series events from Venice and on - last in a lengthy succession of skippers including Mitch Booth, Charlie Ogletree and Fred le Peutrec.
Since Smulders' announcement about ChinaSpirit's AC intentions last year, the campaign's goals have evolved and today its emphasis is much more on the development of the sport of sailing in China and in particular yacht racing. Effectively ChinaSpirit now hopes to achieve in China what Oman Sail has managed in Oman, albeit the challenge being somewhat larger. For starters, China has a population of 1.36 billion at last count, compared to the Gulf State's more compact 2.8 million. Also ChinaSpirit is an initiative of an individual rather than the government, which is the case in Oman, although the long term aim even there is for the operation ultimately to clean its face, with government funding replaced by corporate backing.
Sadly, to date the Chinese government hasn't been persuaded to follow a similar line to the Omani government's forward-looking initiative that is so fantastically multi-faceted, from creating a 'new sport' and elite sportsmen and women that can become role models and a source of national pride, to the more immediate and longer term fiscal benefits of hosting events and developing marine-related tourism and a local marine manufacturing industry.
While at present there is no opportunity for government funding of ChinaSpirit, crucially the Chinese government has endorsed ChinaSpirit.
Le Quillec explains the importance of this: "If you want to have doors opened to you, you need to have the blessing of the government, because people don't know much about sailing in China. If you are endorsed by the government, it is like a label that allows you to go and talk to people."
For ChinaSpirit, this endorsement came after six months of negotiation, including meetings with the Chinese Yachting Association and its Shanghai representatives as well as numerous talks with other bodies that administer sport in China.
However compared to Oman Sail's work in their country, China does have several huge advantages. Firstly it already has established sailing stars. China is well on its way to becoming one of the world's leading sailing nations at an Olympic level, with Lijia Xu adding Laser Radial Gold in London to her bronze from Beijing, while women's windsurfer Yin Jian won silver in the RS:X in Athens and gold in Beijing in the RS:X.
Phil Robertson observes that the reason for China's success in Olympic sailing, over and above having a colossal population from which to cherry pick, is the substantial government funding of sailing. Obviously it would be fantastic if ChinaSpirit became the next step for Olympic sailors looking to move on and already various Olympic sailors such as Lijia Xu are on the periphery of it. "At the moment there is no professional sailing in China, apart from the Olympic sailors who are locked in by the government," observes Robertson.
But there are one or two Chinese sailing 'names' not in the Olympics. Famously Guo Chuan was China's first participant in the Volvo Ocean Race, but since then has become China's first ever non-stop singlehanded round the world sailor. He has also competed in the Mini Transat, so one imagines that a Vendee Globe has to be on the cards for him in due course. After Chuan's Volvo Ocean Race lap in 2008-9, Teng 'Tiger' Jiang Hu followed in 2011-12 on board Team Sanya with Mike Sanderson.
The sole Chinese sailor competing on the ChinaSpirit Extreme 40 in Cardiff over the Bank Holiday weekend was former Clipper Round the World Race sailor, William Wu. "He was the first guy we got involved, but we are also trying to get some fresh young blood in," says Robertson of Wu. "He is an instructor as well."
However while these 'names' can now act as role models to entice more Chinese sailors into yachting, it is equally important that ChinaSpirit backs this up developing sailing at a grass roots level. While Smulders lives in Hong Kong, ChinaSpirit is based out of (and represents) the Shanghai Yacht Club where the intention is to set up the campaign's first base and sailing school. Le Quillec imagines a step after this being the establishment of a winter training camp in Sanya, where the Volvo Ocean Race stops.
Racing schedule

As to its racing campaign, to date ChinaSpirit has signed up to compete in the final three events of the Extreme Sailing Series this season and the intention is for this circuit to be the cornerstone of its campaign in 2014.
Wu was the sole Chinese sailor on board in Cardiff, but Robertson says this was because ChinaSpirit's participation came together right at the last minute. The intention is to sail probably with two Chinese sailors on board for the Extreme Sailing Series events in Nice and Rio, with more in the shore crew, again following Oman Sail's example.
Also on the cards for ChinaSpirit this year is the annual and ever-growing China Cup International Regatta, sailed in October in IRC and one design classes such as the J/80s and Beneteau First 40.7. In November, this is followed by the Royal Hong Kong Yacht Club's Tommy Bahama Around The Island Race. In both of these the intention is to get more Chinese sailors afloat.
Beyond the Extreme Sailing Series and the more local regattas, there are of course the options are legion.
Le Quillec likes the way Oman Sail campaigns across multiple platforms from the MOD70, to the Extreme Sailing Series to the women's program to Sail Arabia-The Tour in the Farr 30s, along with the dinghy classes and the profound desire by Oman Sail boss David Graham to get Omani sailors to compete in future Olympic Games. "Oman is a very good model for us in that respect: they are multi-platform, doing different races every year in different classes. That is what we want to do."
However, as ever, he stresses this will come down to how much money they can raise from Chinese companies or overseas companies looking to get a foothold in China. "For next year our program will depend on the money we get and the deals we can make. Hopefully the Extreme Sailing Series will be the priority and other races. The Tour of Arabia would be a good, or other events like that – medium range, international, good level (of competition), with good media return – that is what we are aiming at. Maybe in 10 years time, we will try for the America' Cup – we'll see what happens."
Robertson's WAKA Racing team, a card holder on the Alpari World Match Racing Tour is also likely to become part of ChinaSpirit.
In addition ChinaSpirit wants to become the Chinese partner of some yacht racing circuits and already holds this position with the Alpari World Match Racing Tour, presumably with the aim of finding the funding to host a Tour event in China.
But in years to come it could well escalate to Volvo Ocean Race or America's Cup campaigns. The time frame of all this depends upon the funding of the program as well as the speed at which Chinese sailors can be trained up. Having Chinese sailors integral to a crew in a bigger campaign such as this, is vital, Robertson observes: "If it is going to be a Chinese team, there has to be Chinese involved. Having us Westerners sailing their boats doesn't really work. It won't last - it has to be sustainable."
Le Quillec agrees and adds that it shouldn't be hurried. "China has a strong culture, it is a country that is very nationalistic. So if you want to create interest, you need to make it national. We need to go gradually, step by step, and first prove that we deserve to be here and the crews to do a good job and have the opportunity to get consistent and not do it as a one-off."
Watch this space.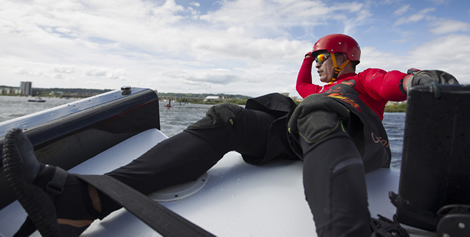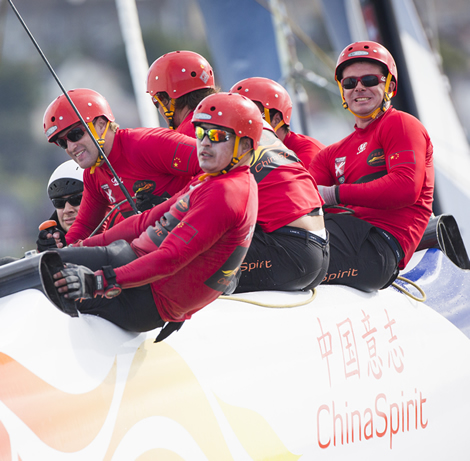 Back to top
Back to top