Hooligan out in front
Today was a wind lottery for the 157-boat fleet entering the second half of Audi Hamilton Island Race Week being staged in the Queensland Whitsunday Islands.
With light winds and plenty of tidal flow, the 30th anniversary event has been a test for navigators and tacticians, and today delivered up more of the same, quickly snapping crew from their layday reverie.
Marcus Blackmore's gun-metal grey TP52 Hooligan with its awesome line up of Richie Allanson, Tim Wiseman, Sam Hunt, Dan Slater, Billy Merrington, Malcolm Page, Will Oxley, among others, and consistent top three finishes is creeping towards a Race Week trifecta in the IRC Racing division.
Navigator Will Oxley navigator, two-time Australian Olympic gold medallist Malcolm Page as tactician and four-time Olympian Dan Slater from New Zealand as strategist really showed their credentials today. The pair put Hooligan into a private breeze line to the top mark in the first race and went on to beat Ernesto Bertarelli and Brad Butterworth on the much bigger Wild Oats X, which has been loaned by the Oatley family, to the finish line.
"We are in good shape," said Blackmore this afternoon. "The guys down the back of the boat are doing a great job."
Last year Blackmore backed up his 2011 IRC win, also stamping his name on the 2012 Audi IRC Australian Championship. This year he's seven points clear of main rival, Rob Hanna's Shogun V, with two days of competition remaining. Third on the series pointscore after seven races is Sam Haynes' Rogers 46 Celestial.
On the IRC Racing course north of Pentecost Island Race Officer Greg Sinclair reported between 3-9 knots and significant wind shifts early afternoon. It was touch and go whether they ran a third windward/leeward race this afternoon. Sinclair went for it and that third race ended up being the best of the day with an 8-10 knot easterly creating magic conditions.
Grant Wharington's 100-footer Wild Thing edged in front of the Mark Richards-skippered Wild Oats XI in two of today's three races, but the six-time Sydney Hobart line honours winner prevailed on both occasions giving them the perfect score of seven firsts over the line.
In the MC38 division Chris Hancock's Vino is the slim leader in a division perfectly separated by two points between every boat. High class tacticians such as Michael Coxon, Jamie MacPhail and David Chapman and many experienced owners and crew are making the most of the conditions on these latest one-design boats, a new addition to Audi Hamilton Island Race Week.
In the new Multihull Division, Matt Johns' brand new one design, Australian-built carbon fibre Box 8.5m catamaran called Box Office is leading the way.
The crew of just three is having a blast at Race Week with plenty of spray flying, even in the light winds. One of the pitfalls of being more than an hour ahead of the entire fleet contesting today's island course is the crew must know the course. There is no one to follow around the track. They never erred in their navigation and blitzed the other multis on line honours, but weren't quick enough to get the double, Ian Johnson's Salacia taking out the important corrected time win.
"The room for growth in multihulls at this event is amazing," said Johns, who is sailing with two Airlie Beach locals.
Windward-leewards are on the menu tomorrow for Performance Racing, MC38s and the First Fleeters, the rest will complete an island course on the penultimate date of racing.
Tomorrow's forecast is for SE to E winds 8-14 knots.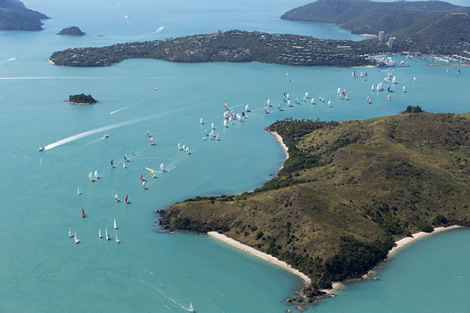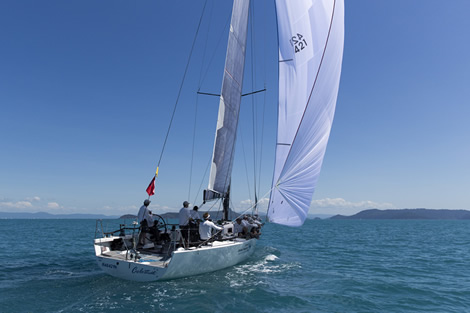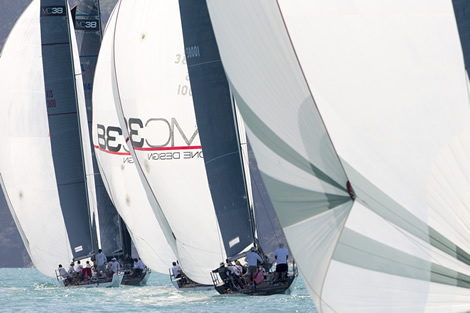 Back to top
Back to top