Supersonic Gavia
After a tough day yesterday when after five starts were attempted, the opening race of the Gazprom International Dragon Gold Cup, eventually saw 13 boats black flagged, today's one race on the Bay of Douarnenez was more straightforward, albeit still challenging for tacticians with the the easterly gradient fighting and the westerly sea breeze.
The race got underway in 6 knots with two Russian teams (34 and 77) OCS.
It was the left of the beat that proved to be the best bet as Gavia Wilkinson-Cox demonstrated. Her Jerboa moved into the lead after the first mark rounding and from there dominated the fleet, extending her lead.
"That's the first time I've won a Gold Cup race!" said Wilkinson-Cox. "We were the first British boat to finish yesterday and we are the first British boat to finish today and the first lady's boat - that's perfect. The boys gave me a textbook race. We always believed there was potential on the left and we followed our determination. The race committee was perfect today and look we're sailing in shorts! I love to sail in Douarnenez. The first time I sailed here was the first time I got to sail out of England".
Full results here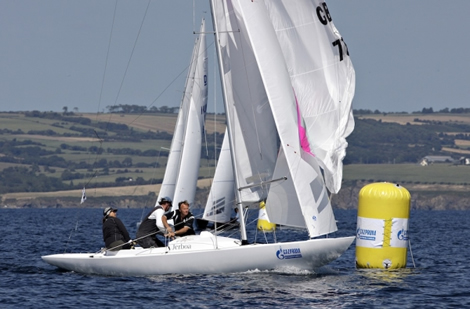 Back to top
Back to top